Archived News
Labor market impacts college hiring season
Wednesday, August 18, 2021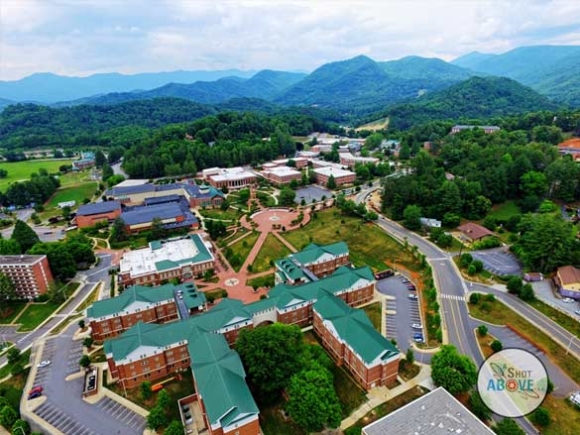 Western Carolina University.
Amid a nationwide struggle to fill open positions in a multitude of sectors, higher education institutions in Western North Carolina say they're not experiencing more vacancies than is typical as they navigate their most hiring-heavy season of the year. However, in some instances filling those vacancies is taking longer than in years past.
"While it appears we are recruiting at a much higher rate in 2021, it is not significantly different than 2019," said an emailed response written by Western Carolina University Vice Chancellor for Human Resources and Payroll Cory Causby and Director of Employee Relations, Talent Acquisition and Development Nancy Ford. "The difference is in the number of applicants. As of Aug. 12, we have seen a 24% decrease in the number of applicants over 2019."
As of Aug. 12, WCU was advertising for 39 staff positions and 49 faculty positions, a total of 88. At that same time in 2019, the total was just slightly less, at 79 — 34 staff positions and 45 faculty positions.
Greater competition in the local and regional job market, together with salary escalation for service-level positions, have made recruitment more challenging, Ford and Causby said. Some people have chosen not to return to the workforce due to "COVID-related factors," and the lower number of applicants means it's taking longer to fill each vacancy.
"Of most concern is the reduced number of qualified applicants, particularly in housekeeping and skilled trades, which affects facility care and maintenance," they wrote. "Academic offerings and student services are being covered."
At Southwestern Community College, some positions still draw a robust pool of qualified candidates, while others have been more difficult to fill — but those positions have been challenging to hire for several years, since before the pandemic.
"If I were to just guess at the primary concern in our candidate pool, I would say it is the low salaries offered in community colleges and the fact that we are entering our third fiscal year without a base salary increase," said SCC Director of Human Resources Lisa Sizemore. "Candidate pools are lean where the salaries are not competitive in the market and with universities."
Meanwhile, Haywood Community College Director of Human Resources Sara Phillips said she's not seeing a huge disparity in the applicant pool, which is "mostly consistent" with what's been the case in years past.
As of Aug. 5, HCC had 10 full-time vacancies and 18 part-time vacancies, compared to five full-time and 19 part-time openings at the same time in 2019. Despite the higher number of full-time vacancies this year, Phillips said that the number is in line with what she's seen historically. Summertime usually features more openings as the college gears up for the fall semester.
Likewise, though Southwestern Community College does not keep records on current openings, vacancies don't appear to be any higher than in a typical fall semester, said Director of Public Relations Tyler Goode. Likewise, the college is not seeing an out-of-line spike in retirements and resignations. During the 2020-21 academic year, 19 people retired or resigned. While that's up from the 14 that left the college in 2019-2020, it's less than the 21 retirements and resignations in 2017-2018 or the 25 in 2016-2017.
Still, colleges are seeing the effects of the tight labor market.
"We have a comprehensive recruitment process and given the market conditions right now, we are moving through those steps at a quicker, but still thorough, pace," Phillips said. "We've also added a few different tactics to our advertising lately, such as heavier posting on social media, posters at targeted locations and asking our employees to share opportunities out widely with their networks."