Archived Reading Room
A story of immigrants gone missing
Wednesday, August 11, 2021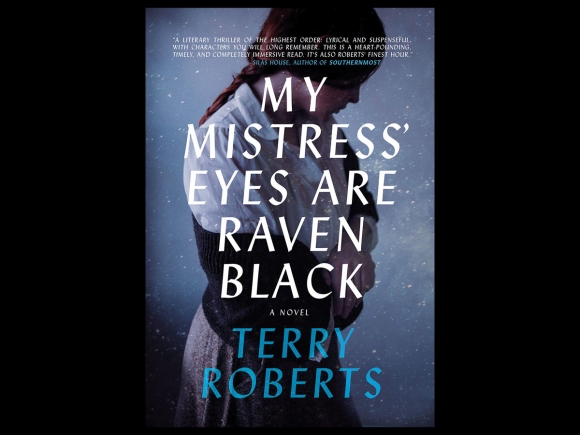 Asheville's own Terry Roberts is back again with another page-turner in the form of a brand new novel just released late last month.
My Mistress' Eyes Are Raven Black (Turner Publishing, 2021) is a little different from his previous novels set here in Western North Carolina. This new one is set and staged on Ellis Island in 1920. In a Raymond Chandler meets Sherlock Holmes meets Hercule Poirot mystery, Roberts lends us Stephen Robbins, the main character from his first novel A Short Time To Stay Here, who has migrated from over in Hot Springs to New York City. We meet him there at his workplace downtown at the famous Algonquin Hotel, where he is being recruited to help with an investigation into the disappearance of a young woman who had come to Ellis Island migrating from Ireland and has vanished into thin air.
In his usual elegant, conversationally descriptive style, Roberts takes us right into the fray of the storyline. Robbins has moved to Ellis Island and is introduced to one Lucy Paul who works for the AMA there on the island and who will become Watson to his Sherlock Holmes:
"My name is Lucy Paul in case you're interested. American Medical Association. Ethicist, activist, and all-around pain in the ass. Sent to find out why the current death rate in the hospital here is so much higher than before the war …. Why stop with your Irish girl [Ciara McManaway]? Between the missing and the dead, we have two or three disappearances a week around here."
To which Stephen replies: "Why does that seem so outrageous? As far as I can tell, your little oasis here is so fully staffed by human beings—and after all we are the world's most vicious species." And from this introductory conversation Stephen and Lucy become team/mates, working and romancing together to try and unravel this aforementioned mystery. Sleuth like, our team takes us on a tour of the old Ellis Island of the 1920s in detailed prose and where we find ourselves in the island's morgue and with the more vocal Lucy referencing a young Hebrew girl on one of the slabs and stating: "People die who have no business dying. Did you see a wound on that girl? Any sign of disease? Anything that would carry off someone who had barely reached puberty?"
From this beginning, Roberts sets us right down in the midst of the controversies and his story that reads like something out of True Detective magazine. "He [my boss] said there was a conspiracy on the island to prevent unwanted people from entering the country. Leftover from the war," says Stephen. We're introduced to The Nameless Man who is Robbin's Bureau Of Investigation boss heading this investigation, as well as introductions to the other major players in this detective drama. We're also introduced to what is called the Immigration Restriction League, a covert political organization, and then to "The Congregation," which is a group of some of the head honchos there on Ellis Island, revealing a conspiracy that Roberts' ramps up, giving us conflict, violence and adventure.
Without giving away any spoilers, Roberts' tale from the 1920s is something of a mirror image of what is currently going on in the U.S. today, as the novel's heroes Stephen Robbins and Lucy Paul make their way through twists and turns, dormitory corridors and plot lines of bigotry and intrigue — with a little "wartime loving" and loneliness along the way. At times Robbins pines for his native North Carolina mountains, those same mountains we read about in his earlier novel A Short Time To Stay Here. "During the war, I was the inspector general of the German internment camp at Hot Springs, North Carolina. A hell of a long way from here and not just in miles. Even so, the internment camp during the war years reminds me of Ellis Island now. A huge anthill of a place with thousands of aliens living out their day-to-day lives."
And then later he reminisces: "That night as I lay curled with Lucy Paul a thousand miles away, I stand on that beach with my own fly rod in hand, casting into the still water beside the downstream furrow below one of the ledges, a place trout like to rest as the buffet of stream life flows by their noses ... casting lazily, arm rising and falling through long habit."
But this is not a nostalgic story of memories of home, but rather a commentary on life in post-World War I America and the struggle for power, dominance and repression to achieve the status quo. Roberts gives us all we can handle, yet eloquently — as is his style — so that we come away refreshed and cleansed and maybe feeling a little blessed for the positive things we do have.
[ PS: And, yes, Lucy Paul really did have black eyes.]
Thomas Crowe is a regular contributer to The Smoky Mountain News and author of the historical novel The Watcher (Like Sweet Bells Jangled).
Meet the author
Terry Roberts will be at Malaprops Bookstore in Asheville at 6 p.m. on Aug. 18 to talk with author Wayne Caldwell about My Mistress' Eyes are Raven Black. Limited seating with virtual presentation also. www.malaprops.com