Archived News
Medical cannabis advancing through General Assembly
Wednesday, August 11, 2021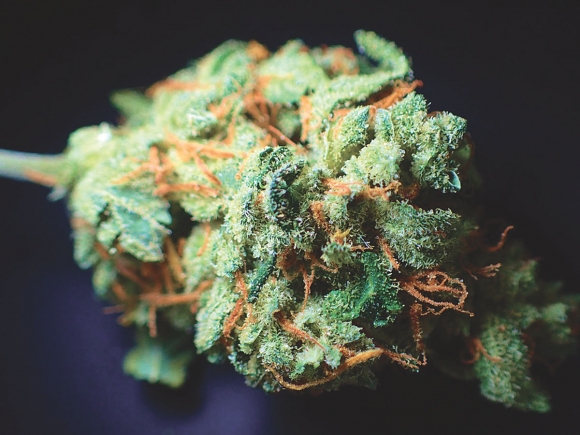 Now that the Eastern Band of Cherokee Indians has decided to move forward with a medical cannabis initiative, the rest of North Carolina looks to the General Assembly to see if it will follow suit.
"I've got mixed emotions about it," said Sen. Kevin Corbin, R-Franklin. "I don't have a problem with medical marijuana. I think there's probably a place for it but I do have concerns about enforcement and about smoking."
The Compassionate Care Act of 2021 was filed this past April in the N.C. Senate by a bipartisan trio of lawmakers, Bill Rabon, R-Bladen, Michael Lee, R-New Hanover, and Paul A. Lowe, Jr., D-Forsyth.
Since then, it's been through a milieu of committees including Rules, Judiciary, Finance and Health Care. As of Aug. 4, it had been re-referred to the Judiciary Committee, and will also revisit Health Care and Rules if those committees deem it favorable.
Legislative findings in the act state that "… research has found that cannabis and cannabinoid compounds are effective at alleviating pain, nausea, and other symptoms associated with several debilitating medical conditions," and that as of this May, 36 states and the District of Columbia had removed criminal penalties associated with the medical cannabis industry.
The act also makes clear that it is designed only to establish a medical cannabis system and "… is not intended to change current civil and criminal laws governing the use of cannabis for nonmedical purposes."
If enacted, the Compassionate Care Act would utilize a model present in other states that hinges on the possession of a registry identification card.
To qualify for a registry identification card, patients would submit to the N.C. Department of Health and Human Services a written certification issued by a physician that says the benefits of medical cannabis use for that patient outweigh the risks.
Only those patients with HIV or AIDS, ALS, Crohn's or Parkinson's disease, sickle cell anemia, PTSD, MS, wasting syndrome or severe nausea related to hospice care would be eligible, although a 13-member Medical Cannabis Advisory Board could add further qualifying conditions in time.
Children under the age of 18 would only qualify for medical cannabis with parental consent and would not be able to utilize inhalation as a method of delivery — opening the door to oils, infusions or extracts.
Under such a regulatory structure, physicians would be free to prescribe a 30-day supply to patients, their caregivers, or if under 18, their parents.
As proposed, the Compassionate Care Act would also establish a nine-member Medical Cannabis Production Commission charged with licensing medical cannabis producers and regulating production facilities. The Commission would also be responsible for guaranteeing an equitable distribution of production facilities across the state while preventing oversaturation.
Persons wishing to become medical cannabis producers would pay a $50,000 non-refundable application fee and then $5,000 for each supplier, but must also demonstrate five years of medical or adult-use cannabis business experience. Applicants must be state residents for at least two years by the time of application, but may partner with nonresidents that have industry experience.
Initially, 10 supplier licenses would be issued, allowing licensees to operate up to eight retail dispensaries, two of which must be located in Tier 1 (economically distressed) counties. In Western North Carolina, that's Mitchell, Rutherford, Swain, Graham and Cherokee counties.
Licensees must agree to begin cultivation of medical cannabis within 120 days of licensing and must also begin selling medical cannabis within 180 days.
Each year, NCDHHS would be required to report to several joint legislative committees on the number of registry identification card applications and the number of qualified patients served by each dispensary, as well as the number of suppliers, production facilities and dispensaries in each county.
The Act would also establish the North Carolina Cannabis Research Program, which would produce further research regarding the efficacy of medical cannabis in treating the conditions for which it may be prescribed.
Medical cannabis products would be exempt from sales and use taxes, but suppliers would pay NCDHHS 10 percent of gross revenues derived from the sales of medical cannabis each month.
That revenue would be used to support the medical cannabis regulatory system and the research program. Excess revenues would end up in the state's general fund.
A July 19 fiscal impact opinion from the state's Fiscal Research Division doesn't contain a revenue estimate for the Act, but statistics from the Marijuana Policy Project show that in states with existing medical cannabis industries, around 2.28 percent of the more than 239 million people eligible for medical cannabis use avail themselves of it.
Corbin's concerns about enforcement center around people with seemingly minor health issues, like back pain, being able to acquire registry identification cards improperly, but he also has a problem with the Act's provisions allowing the prescription of smokable cannabis flower.
"When it comes down to it, I'll have to look at the bill, but if it's smokable I'm probably a no on that," he said. If a bill permitting only oral cannabis consumption for medical reasons advances, he said he'd probably vote yes.
Fellow Republican Rep. Mark Pless, who represents parts of Haywood and all of Madison and Yancey counties, said that if the Compassionate Care Act comes over to the House, he's outright opposed.
"I don't see a need for it," said Pless. "I understand they're trying to open up options, but there are 36 states that have already done that. If people need that, they can just go live in one of those states."
Mike Clampitt, a Republican representative who represents the other parts of Haywood County in addition to Jackson and Swain counties, has long been on the record as a supporter of medical cannabis.
"I've had a lot of discussion on the Compassionate Care Act," Clampitt said. "I'm supporting it. I'll go back to campaign trail — somebody was grilling me on it, and I had made sure I was clear. I've made no bones about it in the past."
Clampitt added that under no circumstance would he support recreational cannabis in North Carolina.