Archived Arts & Entertainment
Good times around the bend: Keith Moseley of The String Cheese Incident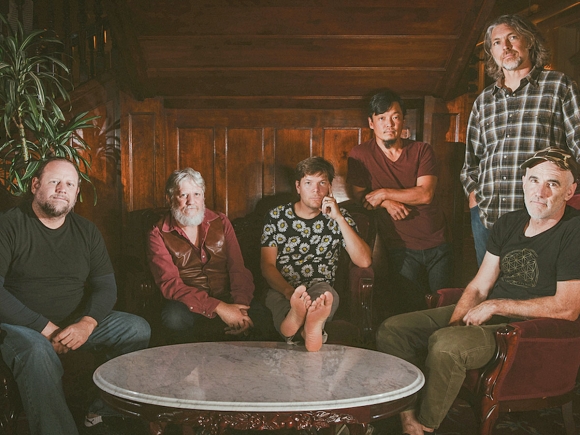 The String Cheese Incident. Bassist Keith Moseley is second from right. (photo: Scott McCormick)
A potent blend of rock, bluegrass, folk and electronica, The String Cheese Incident remains an innovative, intriguing force of nature and melody within the American musical landscape.
Formed in Colorado in 1993, the group evolved steadily from a jam-band into other realms of the musical spectrum, making additional stops in the unknown depths of sonic improvisation and limitless possibilities of electronica and digital formats — something SCI were pioneers in doing within the jam-band community (and through the advent of its highly-popular annual Electric Forest festival).
Almost three decades into its ever-evolving career, the trajectory of SCI continues onward and upward, this whirlwind of sound and purpose rolling from coast to coast and seemingly everywhere in-between.
Anchoring the band within harmony and rhythm is powerhouse bassist/singer Keith Moseley, who spoke at-length about SCI being back on the road, and what it means to still be onstage with the same bandmates who started this journey with him those many years ago in the Rocky Mountains.
Smoky Mountain News: Y'all are back on the road. What's it been like to get into the rhythm of things after being away from the stage for so long?
Keith Moseley: Well, at this point, we're not all living in the same place. Two of us were in Colorado over the lockdown. And the rest of the guys were all spread out.
So, we had two solid weeks of rehearsal getting back together, which was great. Just running through the tunes, hanging out, having some laughs, remembering "who sings tenor on what part" and "who takes the first solo in that song." [Laughs].
And then [our first] shows [back last month] went great. I mean, it was amazing to kick off the run in Colorado on home turf, to see so many familiar faces and friends at the shows. Honestly, it's kind of like riding a bike — we got right back into it and it felt pretty good.
SMN: Do you think performing means more now after the void of what has happened over the last year and a half?
KM: That's a good question. It's definitely put everyone in the mindset that you can't take anything for granted. You can't assume that you're just going to go out and do what you've always done.
By the time we got back out [touring], I think everyone's definitely really appreciative of still being able to play music for the fans, and for ourselves — to do what we love to do and be able to make a living at it.
You can't take it for granted. It's a special thing, and we're all super thankful that we're able to get back out there.
Being shutdown and not able to work, it's frustrating from a mental standpoint. It's what we do. We play music with other people and perform. So, the livelihood part of it went away, the money part of it went away, which was stressful.
But, also just kind of your whole purpose went away, as well. Being able to get out and perform just disappeared. It definitely took a toll on my psyche — it was a challenging time.
SMN: Aside from all the chaos of everything in the outside world, were you able to at least reflect on what it is you do, and also just the idea of what it is to be human?
KM: Yeah. I mean, I wish I could tell you that I took up baking and I wrote a book, all those things that you sometimes see that people did. But, I didn't do that. [Laughs].
And yet, there was a yin and yang, two sides to it for me at times. It was really a great blessing to be able to spend extra time with my family and with friends. There were some real great moments, in that way.
And there was a lot of self-reflection, a lot of times to kind of reassess what's happening career-wise to my art. I definitely fought some depression and became OK.
The silver lining was to go camping with my family. I was off in the summer, which I never have time off in the summer. I did a lot of online yoga, which was good for me, and really just focused and recommitted to the things that were important.
SMN: The band has been together some 28 years. What is it y'all are still going after? Is it still the interactions onstage? Or is it something bigger than that?
KM: Well, I think, creatively, we're writing as good of songs now as we ever have. And that's exciting. We continue to evolve — as people and as players. With the time away from each other, it's good to get back together and reconnect and discover how the bandmates that I've had for 25-plus years are growing as people.
It's fun to just keep the friendships alive, and continue to challenge each other musically — to grow and to adapt. We've always sort of pushed each other, pushed the boundaries with each other musically, and sometimes personally.
[In those early days of the band], it was a lot of "us against the world," this common goal of "let's get out and prove that we can do this." We didn't have a lot to lose. We were kind of at the point where we had all just committed completely to doing the band together, to try and make a career of it — no one really had anything to come back to.
That opportunity to grow together – as musicians and as people — has been a strong bond for us over the years.
Want to go?
The String Cheese Incident will perform Aug. 20-22 at the Salvage Station in Asheville. For more information and/or to purchase tickets, go to www.stringcheeseincident.com/tour/ .