Archived Arts & Entertainment
I'm floating in the blimp a lot, I feel the feeling I forgot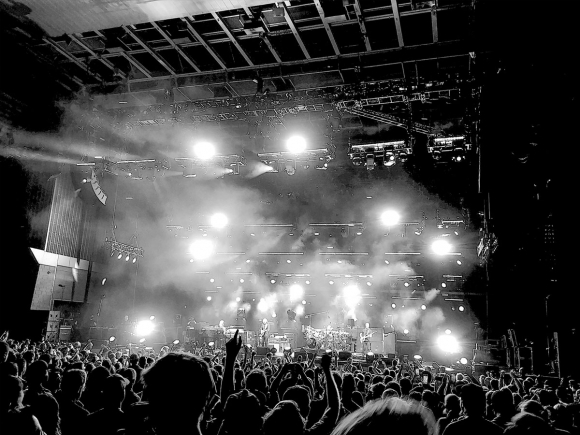 Phish, Nashville. (photo: Garret K. Woodward)
I knew it was going to happen. But, I just didn't know when it would.
It was right as Phish wandered into its sacred melody "Fluffhead" onstage in Nashville last Wednesday evening when I started tearing up.
Chills emerging from the ground beneath my feet. Through my legs and meandering up and down my spine. Goosebumps. Blurred vision at the sake of dabs of wetness emerging from curious eyes left in utter awe of the spectacle unfolding in Music City.
Surrounded by thousands upon thousands of music freaks at the Ascend Amphitheatre (just a couple of blocks from Broadway in downtown), I stood there in a sea of faces, completely immersed in the moment, unabashedly lost in sincere sorrow and joy simultaneously — all wrapped into one band, one show, one song.
Each tear shed was one memory I seemingly had with my late cousin, Nate, who unexpectedly passed away in June. Some seven years older than me, he was like an older brother, someone who taught me the good, bad and ugly of what to expect as a growing teenager, soon-to-be-adult.
He was also the person who first exposed me to the legend and lore of Phish. It was on his bedroom stereo at my aunt's house. She and my mother downstairs sharing a glass of wine on the porch. Nate and I blasting Phish upstairs. This many years later, the quartet has resided at the absolute core of my eternal being since that initial introduction in 1994.
At that time, I was nine years old, a little kid born and raised in the North Country. A mile from the Canadian Border. A thousand miles from my eventual hopes and dreams, ultimately my current reality.
Gaze out the bedroom window from the second floor of the farmhouse (my childhood home) onto the endless acres of cornfields, a nearby railroad line where the loud engines would rumble by to destinations unknown.
I attended a Catholic elementary school where life was pretty boring and vanilla by fourth grade. The world was black and white, this existence of good versus evil, taught to us each afternoon from the Catholic nuns in the classroom, from the Catholic priest atop the altar at mass each Sunday morning
Listed as song number nine from Phish's seminal 1989 rock opus "Junta," "Fluffhead" is this purposeful psychedelic odyssey — one of musical experimentation, human discovery and rollickin' good times.
Nate would crank "Fluffhead" on the stereo and explain to me what "Fluff" actually was, which is LSD. I had clue what LSD was or what it could do to a person. I sat on his futon, absorbing all of Nate's knowledge and endless stories about his LSD trips over the past few years (one involved streaking down a dirt farm road 'round midnight under a canopy of stars).
My first LSD experience would come a few years later, around age 13. Middle school transgressions with a small piece of white paper placed on the tongue at a bowling alley, our parents not picking up my cronies and I (thankfully) for several hours.
Life was (thankfully) never the same after that day in the bowling alley. Our skulls forever cracked open to the never-ending adventures and opportunities bestowed to us, now truly one with the universe.
And it was 18 years ago last week when I first saw Phish live. The "IT" festival (Aug. 2-3, 2003). Middle of nowhere. Northern Maine. I was 18 years old. Just graduated high school. Took off to "IT" on a whim. No ticket. My best friend, Ben, and I riding along in my 1991 Plymouth Acclaim. Barely enough money between us for gas and beer.
We drove 12 hours straight through the late night and early morning, only to make the Sunday set with an hour to spare. Snuck into the festival in a bread truck (traded the driver some weed to hide under thousands of hot dog buns).
I vividly remember when Phish jumped into "Pebbles and Marbles." That was the melody and moment that shifted the entire trajectory of my life and purpose. Standing in the mud, a teenager from the North Country leaving his hometown for college (a couple of weeks later), I thought to myself how wild and wondrous the universe is (and remains).
That moment forever transformed me. I knew that I was leaving my past back in that small town — all things familiar and embracing — and heading into the unknowns of adulthood, of college some 300 miles and three states away.
Then, there was heading to the glorious "you had to be there" mess that was Coventry with my ex-girlfriend in 2004, all of us in the audience, again amid tears of sorrow and joy, thinking "this was it," our beloved band was done, gone for eternity.
And all those random shows throughout my adult life since Phish's comeback in 2009: Knoxville, SPAC, Essex, Darien Lake, Dick's Colorado, Bonnaroo 2019, Charleston, etc. Skip ahead to the here and now, and there I was, age 36, at Phish Nashville Night Two.
"Fluffhead" broke me open. Lot of deep emotions were pouring out. Thinking of my late cousin and other loved ones gone from this earth. Thinking of family and friends far away. Thinking of the current state of society and "where to from here?" And what it means to be in the presence of live music, in the presence of "The Phish from Vermont."
My gratitude was overflowing, too. Thankful to be in that moment and feel those pure emotions. And I knew you were there alongside me, Nate. You exposed me to this band when I was a little kid in the mid-1990s. And you forever changed my life because of it.
In Nashville, tearing up by myself in a sea of vibrant, cosmic souls about you, about not being on this physical earth anymore, and about how much I love and miss you. You made me a Phish Phreak, and from those early days. And I will always carry that torch proudly. The music remains. And so do the memories we shared, together.
Life is beautiful, grasp for it, y'all.