Archived News
As COVID rages, Canton Labor Day events debated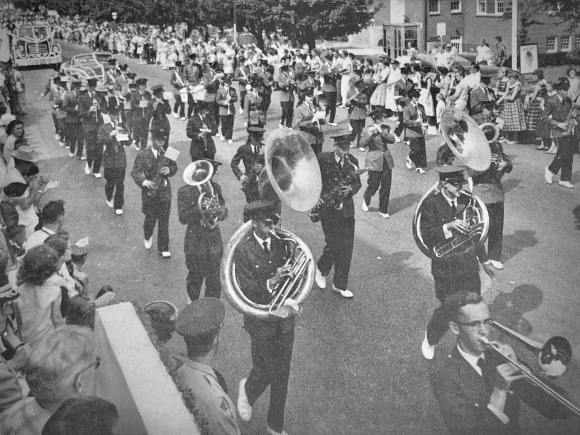 Sponsored by the Canton Lions Club, the Canton High School band marches in the 1957 Canton Labor Day parade.
The Log photo
After the Canton Board of Aldermen/women spent nearly three hours on Aug. 9 going back and forth with Haywood County Medical Director Dr. Mark Jaben over how — if at all — the town's iconic Labor Day Festival could be held safely, a rare split vote with a tiebreaker cast by Mayor Zeb Smathers set the stage for ongoing debate.
"It's not going to get any better," said Dr. Ralph Hamlett, who was joined by Mayor Pro Tem Gail Mull in voting against the musical performances. "As the evidence keeps coming and with the questions that Dr. Jaben answered, the forecast for [COVID} is that it's not going to get better in the next two weeks. We're still at a place where numbers keep spiking, and our health system is strained."
COVID-19, in conjunction with regular summertime accidents that cause hospital visits, has understaffed medical facilities near capacity. Hamlett also expressed concern about how outbreaks could affect the school year.
"I've got to make a decision where I can look at myself in the mirror and know that decision was in the best interest of people in Haywood County," Hamlett said. "I'm glad to see people get vaccinations, but we're still only at 42 percent in Haywood County. That does not bode well. You can ask people to social distance, you can ask people to mask up, but there's nothing in place for enforcement. It has nothing to do with people's liberty. It has to do with safety."
Along with Alderman Tim Shepard, Alderwoman Kristina Smith voted to let the performances continue.
"My philosophy has been innovation over cancellation," Smith said. "I wanted to make sure we were looking at all opportunities to have the event. My rationale is that the information that Dr. Jaben presented was, as always, very thorough. Some of the stuff he said really hit home for me, so the approach we would take is multi-layered."
Smith said they'd encourage people to act responsibly at the events, but that the implementation of safety protocols for the Sept. 5-7 festival is still a work in progress.
"This is an ever-evolving thing. We'll follow any protocols the state implements, but that was not discussed (at the Aug. 9 meeting)," she said.
With Shepard and Smith for, but Hamlett and Mull opposed, Smathers was forced to cast only the second tie-breaking vote in his four years as mayor. Last summer, in similar fashion, Smathers broke a tie when he opted to open the town's pool.
"It was absolutely a wonderful discussion back and forth," Smathers said, explaining his "yes" vote. "I hate we could not come to a consensus, but then as now, town staff has the ability to balance safety and uphold the tradition" of the 114th Labor Day Festival — the oldest in the South.
"Being outside helps," Smathers said of the performances, which include headliners Diamond Rio, Doyle Lawson and Joe Lasher. "If this was an indoor situation, it would be different. We play a role as a town in hosting it, but people coming also play a role in making responsible choices for themselves and their families and that's very important."
Diamond Rio was also the headliner of last year's festival, which was cancelled. The town was still on the hook with deposits of more than $80,000 to various performers, and if the event was cancelled this year, the town would lose the money, but Smathers said that was a lesser consideration, because "the safety and ability of the staff to hold the event is foremost."
Although they were on opposite sides of the issue, Smathers, Hamlett and Smith all agreed that there were no ill feelings and that the board would continue to work together to ensure a safe, wholesome event as in years past.
"We are a team here in Canton," Hamlett said. "While we may disagree, we're not disagreeable."
The board also voted 4-0 to hold the annual parade.
Further discussion over the Labor Day festival will take place at the town's next regular meeting, scheduled for 6:30 p.m. on Thursday, Aug. 12.