Archived News
Highway dedicated in honor of Beloved Cherokee man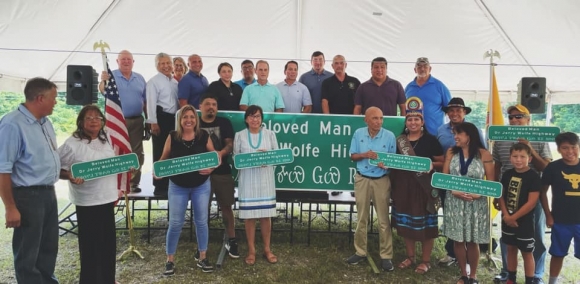 Jerry Wolfe's voice crackled across the speakers telling one more story.
"If you're ever lost in Great Smoky Mountains, don't panic; the worst thing you can do is get excited, get upset."

The voice coming from a recording continued during Tuesday's ceremony to dedicate a western North Carolina highway in his honor.

"Look under a rock, look under a log, you're looking for a possum. A possum, he'll lead you back to the highway. Just don't get run over with him."

The more than 100 people who came out to honor the late Wolfe laughed as his grandson, Brandon Stephens, stopped the recording.
Everyone either knew Wolfe or knew of him.
He was a Beloved Man.
Reflective green-and-white signs stating "Beloved Man Dr Jerry Wolfe Highway" in English and Cherokee were erected Tuesday. They are bookends to a 4.2-mile stretch of U.S. 441 through the Qualla Boundary between U.S. 74 and U.S. 19.
"Jerry personified what it meant to be Cherokee, the core values of what it means to be Cherokee," Eastern Band of Cherokee Indians Principal Chief Richard Sneed said. "He lived those. He personified them, and he shared them with all of us. When I think about where we are today as a people, I think it's imperative that we give back through the example Jerry set for us."
Wolfe was the first person in more than 200 years to be bestowed as Beloved Man by the Eastern Band of Cherokee Indians when he received that prestigious title in 2013 for unique contributions to the Cherokee people. He died in 2018 at 93.
Several people honored Wolfe on Tuesday, including Stephens, Sneed, EBCI Tribal Council Vice Chairman David Wolfe, EBCI Tribal Council Chairman Adam Wachacha and Vice Chief Alan Ensley.
They told stories of him telling stories. They shared lessons they learned from him about stickball, about stone masonry, about life, history, culture and tradition.
The N.C. Board of Transportation unanimously approved a resolution to dedicate this corridor in honor of Wolfe in December.
Parts of the resolution read, "Dr. Wolfe served with distinction in the U.S. Navy during World War II, including D-Day and Victory in Europe Day, " and "Dr. Wolfe was dedicated to proliferating the Cherokee language, teaching Cherokee history and culture and preserving the Cherokee game Indian ball," and "Dr. Wolfe served as a true testament of a Cherokee leader and should be recognized."
The Eastern Band of Cherokee Indians Tribal Council, Jackson County Board of Commissioners and Swain County Board of Commissioners unanimously passed resolutions seeking the highway designation for Wolfe. In addition, Jackson County commissioner Gayle Woody, American Legion Steve Youngdeer Post 143 Commander Lewis Harding, and Sneed each penned letters supporting the effort.
Born in 1924, Wolfe served in the Navy from 1943 to 1950 as a Signalman Second Class and as the only Native American in his Division. Following his active service, Wolfe returned to Cherokee to build his life with wife, Juanita, a life devoted to his family, his community and his culture.
He worked as a stonemason on the Qualla Boundary, he became active in tribal veteran events, and served as an ambassador of Cherokee in all his travels. Wolfe volunteered at least several days per week at the Museum of the Cherokee Indians starting in 1987 until his death in 2018.
Wolfe received the North Carolina Folk Heritage Award in 2002, he was awarded the Patriot Award in 2014, and in 2017, he was bestowed with the Order of the Long Leaf Pine and received an Honorary Doctorate of Human Letters from Western Carolina University.
As Tuesday's ceremony under a tent beside U.S. 441 drew to a close, Stephens shared one more lesson his grandfather taught.
"When you go into a community, the first impression is of a highway," Stephens recalled Wolfe telling him. "And that highway will take you places. It can be rough, or it can be kind to you, so it's befitting that a highway dedicated to our grandpa, our dad, our father, our uncle, our little brother."