Archived Outdoors
'Let's protect it': For retiring Mountain Wildlife Days director, wildlife outreach is a calling
Wednesday, August 04, 2021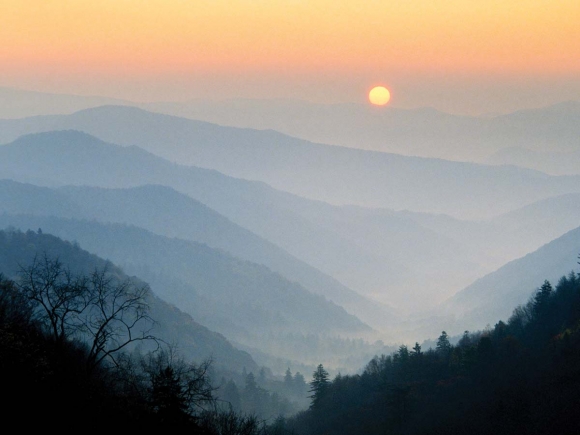 The mountains of Western North Carolina contain some of the most biodiverse ecosystems on the planet. Bill Lea photo
With his 90th birthday now approaching, John Edwards is retiring from his two-decade-long role organizing one of the region's largest annual celebrations of mountain wildlife — but he hopes a successor will pick up the mantle.
"I always loved the mountains, and I always loved the wildlife," said the 89-year-old Sapphire Valley resident. "That's just part of my likes in life. When you've got a bear and its cubs walk through your yard, it's a little special, and that frequently happens where we live. I just said, 'Well, how do we help protect these wild lives and wild places?'"
It was a question he began asking in earnest 21 years ago, and Mountain Wildlife Days turned out to be the answer. The annual two-day event in Sapphire wrapped up its 17th annual event July 17, drawing more than 450 people to experience live animal presentations, guided hikes and birding experiences, a creation-inspired musical program, a silent auction and more. Funds raised from the event pay for educational wildlife presentations throughout the year. In 2019, those presentations reached 1,400 people.
"Without John, it just wouldn't have happened," said Jeff Alt, a volunteer with Mountain Wildlife Days since 2012.
But 21 years ago, when Edwards first felt the call to do something in support of mountain wildlife, what is now Mountain Wildlife Days began as something much smaller.
Edwards, an Alabama native, had retired from a longtime career coaching basketball and baseball, first at the high school and then at the college level. His last job was at Anderson University, located in South Carolina about 90 minutes from Cashiers. Edwards was a town kid during his growing-up years in Alabama, but after moving to Anderson, he found himself close to — and entranced by — the wildlife of Western North Carolina.
"When I was coaching at Anderson University, we came to the mountains frequently as a getaway," he said, "and that kind of got me started into the appreciation of not only the beauty of the mountains but the wildlife too."
Eventually, he and his wife Phyllis moved to Sapphire, and they discovered Pigeon Forge's annual Wilderness Wildlife Week — an entire seven days highlighting wildlife and wild places. They made the trek to Tennessee for several years and loved it. Edwards was inspired to bring something similar to the plateau.
"I started with just an event here, one there," he said, but over time the effort grew into the annual two-day celebration known as Mountain Wildlife Days.
"We are big believers in creation, and we feel like a higher power gave us this gift for us to enjoy, and let's protect it," said Edwards.
Over the course of 17 Mountain Wildlife Days events, he's worked to instill that passion for protection in others, and it all begins with making people aware and appreciative of the wildlife around them.
"The interest that he imparts to children through these programs is remarkable," Alt said. "You see kids come in that are more interested in their smartphones, and all of a sudden their attention is turned to some wild animals that are right there in front of them. They've seen photos and videos, but they've never seen them in person. Suddenly it becomes important."
A black bear cub climbs a tree. Bill Lea photo
In 2013, Edwards launched an initiative aimed at planting those seeds year-round — not just over the course of a two-day event in July. Now known as the Wildlife Days Western North Carolina Wildlife Outreach Program, since its launch it has brought wildlife education to thousands of people, mostly children. Funds raised during the main Mountain Wildlife Days event and silent auction pay presenters to bring their animals to schools and other venues around the region.
"That's been the thing that's developed that's pleased me more than anything," said Edwards. "Because not only do we have this event, but there's an opportunity to take this to the schools, and we have. In the past few years we've had thousands of children that's been affected each year as a result of the funding that we can provide to the presenters."
In the beginning, the event didn't generate enough money for that kind of thing. In fact, early on, Edwards had to "take chances financially" to get things off the ground.
"Now this is a paying event, and it provides enough funds to continue it down the road," he said.
To be clear, said Edwards, it doesn't pay him. All his efforts are on a volunteer basis. But he does pay the presenters.
"Most of them, they're financially dependent on some kind of funds to present a program," he said. "It costs to have five wolves and feed them every day."
While Edwards doesn't plan to organize another Mountain Wildlife Days event, there is money in the bank to keep funding outreach presentations over the coming year. And if someone steps up to take things over, Edwards said he's ready and willing to help where he can.
"It has been exciting for me and for the people who have been involved with it," he said. "We have a lot of enthusiasm for the event. And I'm hopeful somebody will continue it."
Get involved
To help Mountain Wildlife Days live on into 2022, contact John Edwards for more information at blackbears66@gmail or 828.743.9648.