Archived Opinion
The 'new normal' just isn't acceptable
Wednesday, August 04, 2021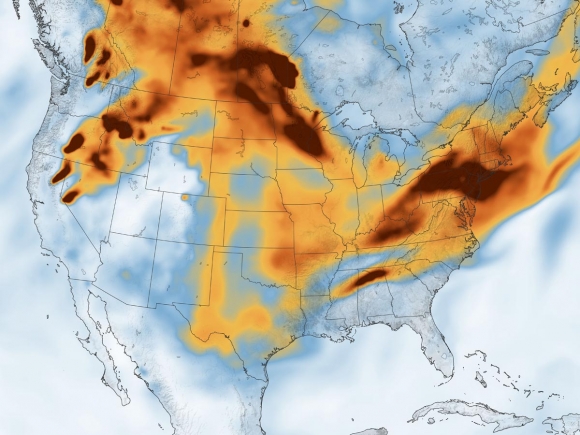 Black carbon mass density, July 21, 2021. https://earthobservatory.nasa.gov/images/148610/smoke-across-north-america
"It's the new normal."
It was the husband who had spoken. The couple we had encountered were lean, fit and tanned, obviously spending a lot of time outdoors.
We learned during our brief conversation that they resided in southern Utah. We were in the Adam's Gulch area of the Sawtooth National Forest in Ketchum, Idaho, navigating our mountain bikes through some challenging boulder-strewn terrain; they were hiking the same area. Since we were headed opposite ways on the trail, our conversation started with questions about what lay ahead.
In the "it's a small world" department, we learned their daughter had lived in Asheville for a time, her husband a brewer at one of the popular South Slope establishments.
The day we met them was a little hazy due to forest fires further west, but for those of us who live in the Smoky Mountains it didn't seem too bad. For residents of arid southern Utah, though, the smoke from distant fires was discomforting and more than a little depressing.
"This is what we have been having for 10 years or so," the husband continued, referring to smoke-filled summers that rob the high pine forests of the signature crisp, clear air and deep blue skies most of us associate with the Rockies. A friend lends them a Ketchum condominium for a week each summer, and they say the air quality due to fires has been consistently bad for the last decade.
As I sit on my porch at 3,600 feet just outside of Waynesville, it's cool and cloudy, typical weather for this time of year. But this region is also afflicted by the wild weather vicissitudes that have been big news this summer but have been afflicting our planet for several decades as a warming climate is being blamed for giant wildfires, catastrophic floods, worsening droughts, record-setting heat waves and various superstorms.
During our month-long road trip in July through New Mexico, Colorado, Utah, Idaho and Montana, the air quality worsened noticeably as we headed north. When you drove out of steep, protected ravines and into flatter valleys, it was depressing, especially in one of the most beautiful places in this country — western Montana. At times the smoke clouded out everything, long stretches of highway where the towering mountains on both sides of the valley were not even visible.
This is from a column in the Missoula, Montana, newspaper from late July:
"Now the region's most precious perk is threatened by a warming planet and the drought, intense heat and erratic weather it's causing. The raging fires, so big they are visible from space, are changing the physical landscape of the West. They're blotting out the sky in this swath of the country and robbing the people of their time in nature. Last week, Missoula had the sixth-worst air quality in the nation.
"… The long-term effects of choking smoke are only recently being examined and the evidence thus far is not good. A study underway in a nearby town of Seeley Lake, Mont., has shown a significant decline in lung function for residents who endured hazardous air quality back in the 2017 fires. In Alberta, Canada, new research revealed persistent lung damage in firefighters who battled a 2016 wildfire. Definitive research is pending, but it seems that smoke fallout could very well be the West's — and then the country's — next health epidemic."
The scientific evidence is piling up around climate change, especially the droughts (which contribute to the wildfires) and the heat waves. According to U.S. Global Change Research Program, heat waves are three times more likely to occur now than in the 1960s. The length of these "heat wave seasons" on average are 47 days longer than in the 1960s. In large cities, the "urban heat island effect" — from concentrated energy released from buildings, cars and industries — is escalating. Some estimates say the fallout from climate change is costing the U.S. $100 billion a year in health care costs, storm damage and other efforts.
During our time out West in the upper Rockies the one constant was those pleading for rain. If it clouded up no one complained, and in fact locals all had the opposite response — they were overjoyed, hoping for precipitation to knock down the smoke and help with the fires. Unfortunately, I think we saw two good rains during our 30-day sojourn.
We can argue over the cause, but there's no denying climate change is real. What we can do is pursue clean energy goals, reduce our own carbon footprint, and most of all pay attention to what's happening. We live in one of the most beautiful places on earth, and we've improved our air quality over the last 20 years. I don't want a return to horribly hazy days of the 1990s, having to tell visitors that it's just "the new normal."
(Scott McLeod can be reached at This email address is being protected from spambots. You need JavaScript enabled to view it.).
Leave a comment
4

comments
Spot on Mr. McLeod.

Saturday, 08/07/2021

I used to live out west and drought is a fact of life there. It has everything to do with the normal climate of the west and has nothing to do with the myth of "global warming."

Friday, 08/06/2021

On my return trip from Maine recently I drove through heavy haze in Massachusetts, NY, and PA that was generated primarily by the fires plaguing the northwest. This IS a national (and international) issue, and it will affect all of us eventually - probably already is, and we just don't realize how much yet.

Thursday, 08/05/2021

amen, amen, amen!!

Wednesday, 08/04/2021