Archived News
Delta variant rolls back pandemic progress
Wednesday, August 04, 2021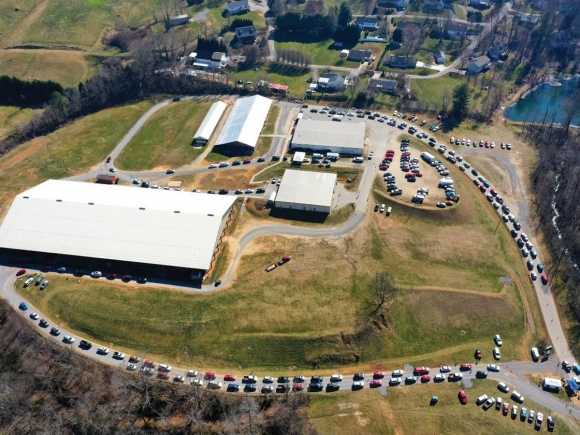 Haywood County holds mass vaccination clinics at the fair grounds last spring. Vaccinations are still readily available throughout Western North Carolina. File photo
Like much of the U.S., North Carolina's efforts to recover from the COVID-19 Pandemic are backsliding as the Delta Variant of the virus has caused cases to trend upward once again.
COVID-19 testing, positive cases, hospitalizations and deaths are once again on the rise after a couple of months of declining stats that had a majority of people returning to their normal lives without masks. As of Aug. 3, seven Western North Carolina counties are already in the red zone as far as case counts, with Haywood still in the orange and Macon County about to go into the orange.
"The Delta Variant has become a game changer. The number of North Carolinians in the hospital with COVID-19 has more than doubled in the last two weeks, the 14-day rolling average of new daily cases has increased nearly 200%, the positivity rate is at its highest in more than five months and we're starting to see clusters and outbreaks again. We have had more cases in the last two weeks than we've had in months," Haywood County spokesperson Allison Richmond wrote in a press release.
On July 1, 391 people in N.C. were hospitalized with COVID-19 related illness. On Aug. 1, 1,359 people were hospitalized. On July 1, 296 new COVID-19 cases were reported. On Aug. 1, 3,302 new cases were reported.
Haywood Regional Medical Center now has 13 COVID-19 related admissions with several patients admitted to the Intensive Care Unit, according to Haywood County Medical Director Dr. Mark Jaben.
"Mission's numbers are up and so are the numbers at Harris," he said. "Looking at the numbers from over the weekend we continue to see an upswing and there's nothing to indicate it's even beginning to level off."
Looking at the people who have tested positive for the virus in the last several weeks, Jaben said the age ranges have been about the same — about 20 percent of each age group. On the other hand, about 97 percent of positive cases are occurring in the unvaccinated population.
"That's the group that's going to bear the brunt of this variant," he said. "There are breakthrough cases of vaccinated people testing positive, but those cases have been mostly mild or asymptomatic."
Two more clusters were reported in Haywood on Tuesday morning — Woodland Baptist Church in Waynesville and at Shelton Laurel Salvation Army in Fines Creek. Outbreaks were reported July 16 at Haywood Nursing & Rehabilitation and Haywood Lodge & Retirement Center's Spicewood Cottages facility in Waynesville.
While N.C. Gov. Roy Cooper has not called for another mask mandate across the state, many government agencies, businesses and individuals have taken it upon themselves to institute their own mask policies based on the most recent recommendations from the CDC.
As of Aug. 2, masks are once again required inside of all Haywood County facilities. This requirement does not impact the Haywood County Justice Center — decisions regarding that building will be made by the court system.
Hospitals that had loosened up on visitor restrictions during the pandemic have now gone back to stricter guidelines to prevent spread. As of Friday, July 31, Haywood Regional Medical Center is limiting visitation to one person per patient at a time and prohibiting visitors under 18 years old. Visitors are not allowed in the emergency room to visit COVID-19 positive patients. Visitors will continue to be checked for symptoms upon entering the hospital and must wear masks the entire time.
"We continue to closely monitor the prevalence of the virus in our community as we adapt our operations to safely care for and support our patients. With increasing cases in our county, we feel additional visitor restrictions are an appropriate tactic at this time," said HRMC CEO Greg Caples. "As always, our hospital's top priority is safeguarding the health and wellbeing of our patients, providers, employees and community. We continue to encourage everyone who can get vaccinated to do so to help stop the spread."
Steve Heatherly, CEO of Harris Regional Hospital and Swain Community Hospital, said they've seen more inpatient COVID-19 cases in the last few weeks, but not yet at the same levels as the hospitals experienced last winter. Based on a survey he conducted a few days ago, a vast majority of positive cases being hospitalized have been unvaccinated.
"The importance of getting the vaccine can't be overstated enough," Heatherly said. "We're not at the surge level we were in the winter, but we have a relatively small ICU and a relatively small staff, so it only takes a little bit of a deviation from our normal to find ourselves at capacity. There have been times in the past month we've been unable to admit additional patients to the ICU based on the mix of patients and staff."
When mask mandates were lifted earlier this year, the scientific data was showing that fully vaccinated people were less likely to transmit the virus, but that all changed with the Delta variant circulating.
"With the original virus, we knew if a person was asymptomatic and infected, there was only a 10 percent chance of them passing it on, but we don't know yet what that percentage is for the Delta variant, but we do know it's four to five times more contagious than the original," Jaben said.
Jaben can assume the number of positives is probably underreported because people just aren't getting tested and assuming it's just a cold or allergies. He said contact tracing has also been challenging lately, with up to 40% of positive cases won't answer the phone or provide any information when health officials contact them.
"We can expect that what we're seeing now will go on for next two to three weeks because of the incubation period," he said. "Our only saving grace maybe is that the population at most risk is half of what it was last year because half are now vaccinated."
Leave a comment
1

comment
It should be mandatory that masks should be worn, just as before, and keep 6 feet apart.
Children should wear masks in school.
Everyone should be vaccinated.
Lets hope and pray there is a solution before it gets worse.

Thursday, 08/05/2021