Archived News
Leibfarth falls short of Olympic medal
Wednesday, August 04, 2021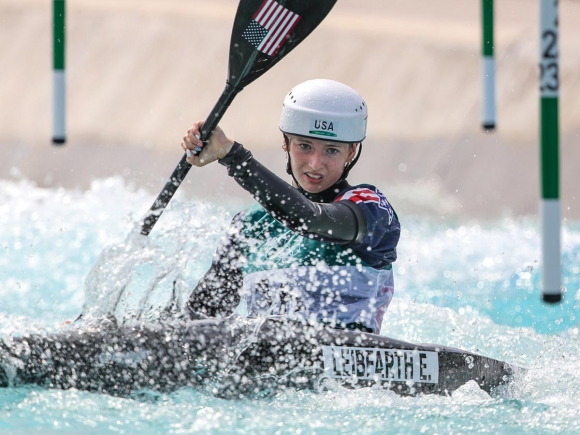 Bryson City paddler Evy Leibfarth navigates a kayak heat in Tokyo. ICF Photography photo
Bryson City Olympian Evy Leibfarth will leave Tokyo without a medal, but the 17-year-old is already setting her sights on the 2024 games in Paris.
"Didn't have the runs I wanted this race, and ended up with 12th in K1 and 18th in C1," Leibfarth said in a July 29 Facebook post. "Still so happy to have this amazing experience, and looking forward to taking what I've learned into the next races, and hopefully, the next Olympics! Thank you Tokyo."
Leibfarth competed in the kayak and canoe slalom events — the only American woman to do so — and made the semi-finals in both. However, she did not qualify for either event's final race. While she narrowly missed the kayak finals with a 12th-place time just 0.97 seconds behind the slowest qualifier in 10th place, Leibfarth came in last of the 18 canoe slalom semi-finalists after accruing 50 penalty seconds on what would be her last run in Tokyo, held at 1 a.m. Thursday, July 29, Eastern Standard Time.
The penalties gave her a total time of 183.32 seconds, 72.73 seconds behind first place Jessica Fox of Australia, who would go on to earn a gold medal in the event. Great Britain's Mallory Franklin took silver and Germany's Andrea Herzog won bronze in what was the first-ever Olympic women's canoe slalom event.
Despite not making the finals, Leibfarth said it was "an amazing experience" to race in the debut canoe slalom event.
"Thanks to all the other girls for making it so special," she wrote in a July 31 Facebook post.
While this was her first Olympics, Leibfarth is no stranger to whitewater competition. In 2019, when she was still 15, she won two medals during a pair of World Cup events held in Europe and ranked in the top 10 in three additional events, making her the youngest athlete of any gender or nationality to win a Canoe Slalom World Cup medal.