Archived News
Mask mandate back in Cherokee; Masking encouraged but not required in N.C.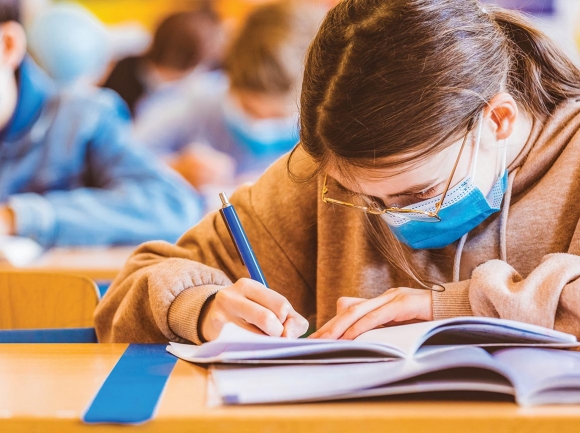 The indoor mask mandate is back on the Qualla Boundary following a July 29 executive order from Eastern Band of Cherokee Indians Principal Chief Richard Sneed.
"While the EBCI experienced a lull in positive and active cases over the last few months, there has been a resurgence of COVID-19 in our community," reads the order. "The protection of our community members is of paramount importance to me, my fellow elected officials, the EBCI Public Health and Human Services Division, and our Cherokee Indian Hospital Staff. This resurgence in positive cases warrants the reinstatement of the mask mandate for indoor use."
As of 7:45 a.m. July 30, masks must be worn in all EBCI government offices. Employees may remove masks when working alone in an office with the door closed, and visitors under the age of 2 do not need masks. EBCI program lobbies will remain open to masked visitors.
Additional restrictions will become effective at 5 p.m. July 30. After this time, masks must be worn indoors at all government, retail and commercial buildings. Exceptions include while seated and actively drinking at restaurants, movie theaters and bars, or when in an office with the door closed. Masks are not recommended for children under the age of 2, and while they are not required for outdoor gatherings, individuals are instructed to "be mindful of taking the necessary steps to protect themselves, their families and our fellow community members," the order reads.
Older people and those with compromised immune systems should avoid large gatherings.
The reinstated mask mandate on the Qualla Boundary comes following a July 27 guidance update from the Centers for Disease Control recommending that even fully vaccinated people wear a mask indoors in "areas of substantial or high transmission," which currently includes all but a handful of counties in North Carolina.
The updated guidance also states that fully vaccinated people, especially immunocompromised people or people at risk for severe disease, might choose to wear a mask regardless of transmission levels, and that fully vaccinated people with a known exposure to suspected or confirmed COVID-19 be tested three to five days after exposure and wear a mask in public indoor settings for 14 days, or until receiving a negative test result. Universal masking for all teachers, staff, students and visitors in schools is also recommended, regardless of vaccination status.
In a press conference this afternoon, Gov. Roy Cooper stopped short of reinstating a mask mandate but said he was issuing an executive order requiring state cabinet agencies to verify their employees' vaccination status and to require unvaccinated employees to get tested at least once a week and to wear a mask. The school mask mandate expires June 30, with individual school districts allowed to set their own mask rules.
While he did not issue a mask mandate, Cooper said he recommends that North Carolinians follow the CDC's health protocols.
"Everyone in a county with high rates of virus spread, including those who have been vaccinated, is encouraged to wear a mask in public and in indoor settings like we are today," he said. "And in North Carolina that's already 80% of our counties."
Six of the seven westernmost counties currently have a high level of transmission, with the exception of Macon County, which has a moderate level. Macon has the highest proportion of its population vaccinated of those counties, at 49%.
The last two weeks represent the fastest increase in case counts since the pandemic started, said Dr. Mandy Cohen, Secretary of Health and Human Services, but most of those cases are occurring in unvaccinated people. Since early May, 92% of cases have occurred in people who are not fully vaccinated. The extremely contagious delta variant is driving much of the increase. While a person infected with the original strain of COVID-19 would infect an average of two to three other people, a person infected with the delta variant infects an average of six other people.
Leave a comment
2

comments
Seven Stars player here who won't be returning to Harrah's until they stop the mask idiocy.

Sunday, 08/08/2021

The CDC has been lying about masks and has quietly admitted that masks have no affect on the spread of viral disease. Mask mandates are simply a mark of cluelessness.

Wednesday, 08/04/2021