Archived Opinion
Our epic RV adventure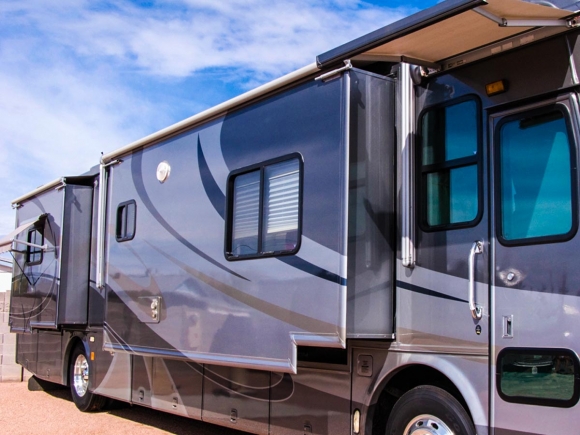 This week's column comes to you from a campground picnic table in Hershey, Pennsylvania. My boyfriend and I are on a weeklong RV adventure with our cumulative seven children. In January, we decided against a yearly beach trip and instead created a plan to visit three different amusement parks via giant recreational vehicle.
Deciding on the amusement parks was the easy part. We knew we wanted to visit Cedar Point, which is known for its history and thrill-seeker roller coasters. I personally wanted to visit Hershey because I love the story of Milton Hershey. The kids were on board, so Hershey Park was added to the list. The chocolate-themed rides and attractions intrigued them. Lastly, we decided on Kings Dominion as our first stop because it has a couple new coasters and is on the way to Hershey.
Simply planning the trip was a feat unto itself. We had to reserve park tickets and campsites very early, especially with COVID restrictions in place. In fact, when we reserved everything at Cedar Point, all campsites were full at their internal campground. I checked the website every day hoping someone would cancel and a site would open. Luckily, one finally did.
Hershey has its own campground within a mile of the park and when visiting Virginia, we stayed at a KOA next to Kings Dominion. We also developed an agenda that had us visiting the amusement parks during the week in an attempt to avoid crowds. As a bonus, we made an overnight pit stop at my sister's house in Great Falls, Virginia.
Meal planning has also been an interesting experience. We planned out every meal so we wouldn't get stuck with starving children in an amusement park and end up spending an arm and a leg on fried, tasteless food. The fridge in a Class A RV is impressively large, so we are able to store an abundance of provisions. We've stopped at grocery stores, markets and Walmart along the route to resupply fruit, meat and other fresh items.
Before hitting the road, our dining room table and floor were overwhelmed with food items, camping equipment, towels, cooking utensils, board games and a bunch of other stuff. We felt ready, but are you ever really ready to stay in an RV for eight days with seven people?
When Matthew pulled into our neighborhood with the RV, our mouths dropped a little. It looked huge! Everyone has found it interesting that one doesn't need a CDL to drive such a large vehicle. Nonetheless, Matthew is confident with his driving skills and has been an excellent pilot.
Neither of us has ever lived the RV lifestyle, and we haven't stayed in a camper since we were kids. Through Google searches, trial and error, and asking neighboring campers, we've learned a lot along the way. I've been especially impressed with Matthew's ability to hook up water, sewer, cable, electric etc. without ever having done it before.
I understand how and why people get addicted to this type of life, why retirees sell their unnecessarily large homes and hit the road in an RV. There's something simplistic and freeing about a nomadic life. It also makes you consider exactly what you need to survive and relax, helps you weed out all those random possessions you don't even use much less need.
We'll need a debriefing session when we get home. Certain aspects of our trip have gone swimmingly and others need a little polishing before we do this again. We've also been making a mental list of items, tools and gadgets that would make life on the road more efficient.
But for now, we're not worried about all that. In fact, I'm signing off to pack it up and hit the road. We've got one more amusement park to visit.
Ohio, here we come!
(Susanna Shetley is a writer, editor and digital media specialist with The Smoky Mountain News, Smoky Mountain Living and Mountain South Media. This email address is being protected from spambots. You need JavaScript enabled to view it.)
Leave a comment
1

comment
Susanna, I've enjoyed reading your articles for many years. Now I want to hear even more about your RV adventure. I hope you have a sequel coming up soon.

Friday, 07/30/2021