Archived News
Macon approves emergency funds for KIDS Place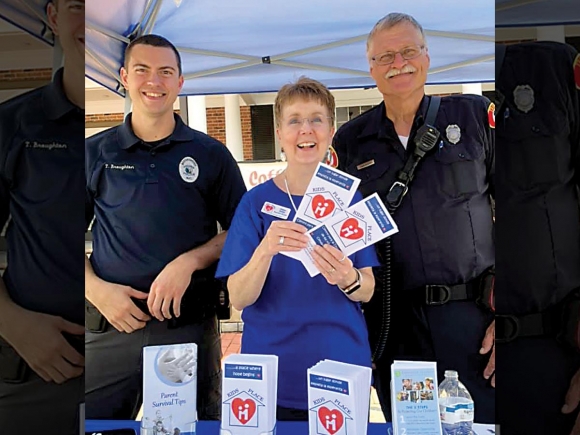 Highlands Police Officer Tim Broughton, (from left) KIDS Place Executive Director Alisa Ashe, and Franklin Fireman Greg pictures at Safety Day in Downtown Franklin. Donated photo
Macon County commissioners recently approved $55,000 worth of emergency funds to KIDS Place Child Advocacy Center to ensure the nonprofit can continue to offer services to children who've experienced trauma.
Executive Director Alisha Ashe came before the board at the July 13 meeting to ask for some assistance to make up for funding cuts being made at the national level. While Ashe said she was told last fall to expect cuts up to 35 percent from the Victims of Crime Act funding, she learned a few weeks ago that the actual cut in funding for KIDS Place would be 67 percent for the coming year.
"In our 30-year history, we've never come before this board to make this kind of request. I didn't anticipate that we would need to," she told commissioners.
In addition to the cut from the Victims of Crime Act, which is a national pot of money collected from white collar crimes to distribute to those impacted by crimes, Ashe said grants have been harder to come by in recent years.
"We're working with national partners to get that fixed and they'll be voting on that issue soon. There's widespread support in Washington. It's not a quick fix though — the trickle down to KIDS Place will be three to four years," Ashe said.
A competitive grant KIDS Place has received for the last two years to provide additional mental health services and expand medical services that are hard to access in a rural community was also discontinued. Without the grant, KIDS Place wouldn't have the state-of-the-art equipment it has and more children would have to be sent all the way to Asheville for evaluation.
"The competitive grant was for $171,000 over two years and it was cut," she said. "What it meant for us is that our base funding went from $315,000 to $109,000."
Ashe said she's been working to cut their budget to "bare bones" and still needs $105,000 to meet that bare bones budget. She said she was confident the organization could raise $35,000 in the community by reaching out to its loyal donor base.
"But it's hard because everyone is hurting," she said. "We're asking the county to give us $75,000 to help us continue to provide services for these children without cutting our services."
For the most part, KIDS Place operates fairly quietly, and that is by design, Ashe said, but the organization does provide valuable services for the county. When a law enforcement officer answers a call that involves a child in trauma, they know they can call KIDS Place to schedule a forensic interview for the child.
The organization spends $5,000 to train each interviewer on staff to provide that service in the community. Without that service, the county would have to contract it out and pay $1,200 for each forensic interview.
"In six months, we've done 43 interviews at the request of DSS and law enforcement and 21 medical exams, which would cost $2,000 a piece if they went somewhere else. Therapy can cost $120 an hour," she said. "From January through June, numbers have doubled — that's a 30 percent increase in child sex abuse cases."
Commissioner Paul Higdon said he appreciated what KIDS Place does, but as he has said before when other nonprofits have come before the board for funds, "We need a better protocol for this type of funding." The county still offers a community funding pool — a pot of $75,000 that is available annually for nonprofit services through an application process.
Higdon has been consistent in his stance that nonprofits should apply for that funding and that commissioners shouldn't be voting on individual requests from organizations outside of that funding process.
"Do we skip this year's community funding pool to give KIDS Place the money?" Higdon said. "I'm elected to manage taxpayers' dollars and it's a tough call for me."
"If we do that, then the other nonprofits suffer. This is an emergency situation," said Commissioner Ronnie Beale, before making a motion to approve $55,000 from the county's fund balance for a one-time emergency use for KIDS Place.
Commissioner Gary Shields, who serves on the KIDS Place Board of Directors, seconded the motion.
"If we didn't have KIDS Place, imagine what it would cost us — $75,000 is a drop in the bucket," Shields said.
Commissioner Josh Young pointed out that the town of Franklin did away with its community funding pool a couple of years ago, suggesting Macon County should do the same.
"We're asking every nonprofit to come beg us for that money set aside each year," he said.
On a personal level, Young said he'd be willing to help fundraise for KIDS Place as an individual and through his business, but he couldn't support taking funds from the county's fund balance.
Commission Chairman Jim Tate said he had been "riding the fence" on the issue the last few days because he doesn't want to set a precedent. However, after talking to his wife about the issue — who is a teacher and a preschool leader at church — he said he decided providing the emergency funding was the right thing to do.
"I have to vote my conscience on this issue," he said.
The motion to approve $55,000 for KIDS Place passed 3 to 2 with Young and Higdon in opposition.
For more information or to make a donation, visit www.kidsplacecac.org.