Archived News
Swain to support Medicaid expansion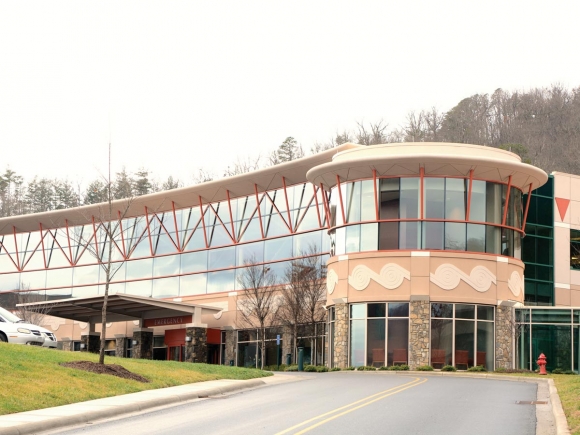 Cherokee Hospital Authority leadership recently asked Swain County commissioners to support a resolution to expand Medicaid in North Carolina. Donated Photo
Swain County Board of Commissioners plans to pass a resolution showing the county's support for Medicaid expansion in North Carolina following a presentation from Casey Cooper, CEO of the Cherokee Indian Hospital.
"In North Carolina, there are 600,000 people who would be eligible for coverage with expansion and Swain is among the highest number of uninsured working adults," he said. "Western North Carolina suffers disproportionally. Swain is ninth in the state for highest uninsured working adults. It's a little startling. Most people are one catastrophic illness away from bankruptcy to be quite honest."
Cooper told commissioners during a July 8 meeting that closing the Medicaid gap is one of the Eastern Band of Cherokee Indians' No. 1 priorities right now and showing state lawmakers that Western North Carolina counties also support it would be critical as the General Assembly works toward a budget.
In his presentation, Cooper said 23 percent of working adults in Swain County are uninsured and that an estimated 1,100 residents would gain access to coverage with Medicaid expansion, according to data from the Cone Health Foundation.
Expansion would mean new jobs in Swain as well as an estimated $3.9 million in new business spending because of the ripple effect from more health care spending. In Cherokee, another 1,000 people would become eligible for Medicaid and would create another $7 million in revenue for the tribe's health care system.
"The tribe is already funding this $7 million worth of services, but this care just isn't being provided elsewhere or the hospitals are absorbing it as unfunded care," Cooper said.
In his conversations with Steve Heatherly, CEO of Harris Regional Hospital in Sylva and Swain Community Hospital in Bryson City, Cooper said closing the health insurance gap would represent $5 million a year in increased revenue for the Swain and Harris health care system.
Cooper also tried to clear up many of the rumors he's heard from those who are opposed to expanding Medicaid. He said one of the biggest misperceptions is that people who receive Medicaid are unemployed and unwilling to work.
"About 63 percent of uninsured are working adults — these are working poor folks," he told commissioners. "And women represent the largest portion of uninsured adults in business sectors. A lot of times these are single moms with a couple of kids that are on Medicaid but they themselves are going without coverage."
Right now, Cooper said even health care plans through the Affordable Care Act's marketplace are out of reach for many people. He said if a person makes more than $7,000 a year, they don't qualify for the ACA subsidies, which makes the ACA marketplace plans unaffordable.
When ACA first passed, the federal government incentivized states to expand Medicaid by promising to pay 100 percent of the state's cost for the first three years and 90 percent of costs after that. Still, North Carolina and other states chose not to expand because they didn't trust the federal government to keep that promise in perpetuity.
"At the end of year three, expansion would cost North Carolina $5 billion a year but because of ACA the cost will be matched by the feds at 90 percent, the state's match is $500 million a year," Cooper said. "People say that's still too much but it's not a bad return for the match and the hospitals and insurance companies have agreed to fund 90 percent of the state match through assessments so now it's only $100 million — that's a $350 million return on investment."
Cooper added that the latest stimulus package added more incentives for states to expand Medicaid, which means North Carolina is eligible to receive an additional $1.7 billion in the two years following expansion.
"The feds want us to expand because they know closing the gap works," he said.
The question that always gets asked is, "What if the feds change their minds on matching?" To that, Cooper told the board that the matching incentives are written into an amendment of the Social Security Act and changing it again would literally take an act of Congress to amend the act, which is unlikely to garner enough support from both the Senate and the House.
The Cherokee Hospital Authority operates with 800 employees and $100 million in gross revenue a year. The authority has seen substantial growth to the tribe's health care system since taking over management from the federal government in 2012, Cooper said.
Since the Qualla Boundary is located partly in Jackson and Swain counties, Cooper said it only makes since for the hospital authority to be able to provide health services for non-natives in the community as well. Expansion would make that possible.
"We want to make services available to non-natives, especially for behavioral health and substance use, but the challenge is federal regulations requires us to only do that if the service can't be reasonably available elsewhere in the area," he said. "The second criteria is we have to charge the minimum of cost and finally we have to demonstrate that it doesn't result in a decline in services for natives. We feel comfortable we can meet those criteria if more people in the community had health coverage."
Being able to access the resources on the boundary would help surrounding county agencies save money and time, especially when it comes to finding a behavioral health bed for someone suffering from a mental health or substance abuse emergency.
Swain County Commission Chairman Ben Bushyhead said law enforcement officers are required to sit with someone who has been involuntarily committed in the emergency room until a behavioral health bed can be found for the patient. Sometimes it can take days for a bed to open up and often that bed can be on the other side of the state. The lack of behavioral health beds in the state has cost local law enforcement agencies a lot of money in recent years.
"That's been a huge expense for us," he said.
Commissioner Kenneth Parton asked Cooper if he was worried an expansion of Medicaid would not cause a flooding of people into the Cherokee healthcare system.
"No. We have quite a bit of capacity because we built to future forecast. Also because we anticipated that to have sober healthy communities we knew we'd need extra capacity," Cooper said. "If there's paying demand, we could provide more services."
Swain County Commissioner Kevin King said he wanted to brag on the Cherokee Hospital Authority for how they've administered health services for the past several years. What the tribe has done has set an example for the state's roll out of Medicaid Transformation.
"Cherokee hospital has taken managed care to the next level. What they've already done with their members is what the state is trying to do now," King said. "Cherokee has case managers that walk with a person through the entire process and plugs them into any service they need. The state is basically copying what's already taken place on the boundary."
Cooper said he's hopeful that expansion could happen in North Carolina this year. While it's in Gov. Roy Cooper's budget, expansion isn't included in the House budget and doesn't look like it will be in the Senate's budget either. However, he said he's heard that when both chambers bring their budgets to conference there will possibly be a negotiation on expansion.
"That's the rumor so it's paramount to send a message to the House and the Senate that it's OK to expand," Cooper said.
The commissioners voted to draft a resolution to support Medicaid expansion and would present it for approval at the next meeting. The vote passed 4 to 1 with Commissioner Parton opposed.