Archived Outdoors
Bryson City paddler to appear in Olympic semifinals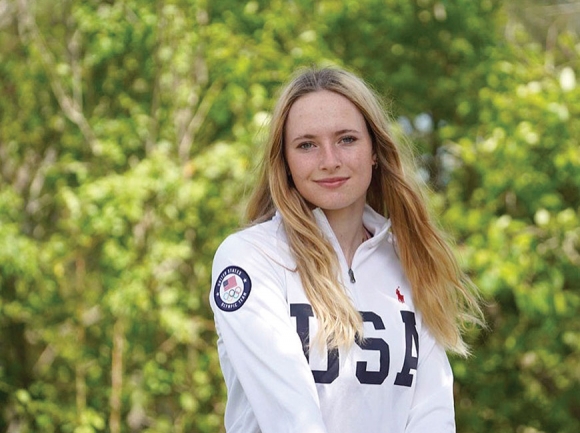 Evy Leibfarth
Bryson City Olympian Evy Leibfarth, 17, will advance to the semifinal women's kayak slalom competition following her performance in the qualifying rounds Sunday, July 25.
The rounds were held at 12:50 a.m. and 3 a.m. Eastern Standard Time, and Leibfarth finished 20th place in the first heat with a time of 125.85 seconds, including two penalties. In the second heat she moved up to 14th place improving her time to 111.7 seconds, which also included two penalties.
Under Olympic rules, each competitor runs both heats, with the faster time used for qualification purposes. Thus, Leibfarth goes into the kayak semi-finals ranked at 15th out of 24 semifinalists. In the semi-finals, each competitor does one run. The top 10 semi-finalists then move on to the final, with medalists determined by the results of that single final round.
The kayak semifinal will be held at 1 a.m. EST Tuesday, July 27, and the final at 3:15 a.m.
The kayak competition is not the only place Leibfarth will look for a medal. She will also paddle in the first-ever Olympic women's canoe slalom competition. The heats for that event will be held at 11:50 p.m. EST Tuesday, July 27, and 2 a.m. Wednesday, July 28 Eastern time. The semi-final will be 1 a.m. Thursday, July 29, and the final at 2:55 a.m. July 29.
Though she's only 17, Leibfarth has been making waves for years now. In 2019, Leibfarth became the first woman to win two individual classes at the U.S. Team Trials. When she did it again this May, she tied up her own record.
Born in Sylva and residing in Bryson City, Leibfarth cut her teeth on the cool mountain waters of the Nantahala River. She learned to paddle as a 4-year-old and entered her first slalom race at the tender age of 7. Leibfarth comes by her passion honestly — her father is a former U.S. national team coach; her mother is a former raft guide and kayak instructor.
Find Olympic schedules and results at results.nbcolympics.com/results.