Archived Outdoors
Pilot program will bring shuttles, paid parking to Laurel Falls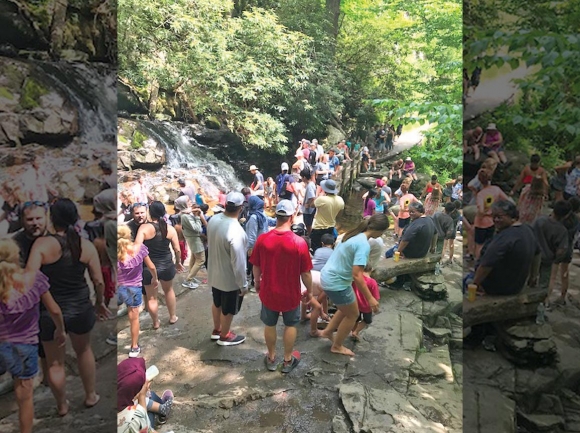 In a virtual public meeting this evening, Great Smoky Mountains National Park officials unveiled a pilot plan to manage congestion at Laurel Falls Trail.
Between Sept. 7 and Oct. 3 this year, visitors will need to make a parking or shuttle reservation to visit the popular site. After the period ends, park staff will evaluate the results and public feedback to formulate long-range plans for the area.
During the pilot project, parking at the trailhead will require a reservation at www.recreation.gov with a fee of $14 to cover administrative costs. Shuttle service will cost $5 per person, with parking available for $10 per car.
Park managers propose implementing these temporary measures to assess their effectiveness in reducing congestion, enhancing visitor safety, and creating a more enjoyable Laurel Falls Trail experience. Information gathered during this pilot will be used to inform the alternatives developed in the previously announced Laurel Falls Trail Management Plan, which is also open for preliminary public comment. Public commenting on the Laurel Falls Trail Congestion Management Pilot Project is open through Aug. 7, 2021.
Further information about the pilot project and its implications for the park's future will be available in future Smoky Mountain News reporting.
Leave a comment
6

comments
We won't be back after what has been done to Laurel Falls parking. This is ridiculous.

Tuesday, 09/07/2021

I like the idea of shuttling people to Laural Falls. This area has become a hazard when driving in SMNP. But I don't like the idea of reservations or parking fees. The time has come for the park to look into having an entrance fee like the majority of NPs. This would allow expansion of parking areas and shuttles to other popular park areas (Alum Cave) as well as create revenue for much needed park maintenance and improvements.
Make the Laural Falls parking lot restricted as handicap only for wheelchairs.

Sunday, 08/15/2021

For a family of five it would be $25.00 plus $14.00 parking. I don't agree with this. Families go to the mountains to hike and enjoy free family time when they just want to Spend time together without the expense.

Thursday, 08/12/2021

Isn't Laurel Fall part of the Smoky Mountains which the agreement when the Smokies was established as National Park no fee?

Wednesday, 08/11/2021

How long will it be to do all of the parking areas? Not a good thing!! It ought to still be first come.

Sunday, 07/25/2021

How long will it be to do all of the parking areas? Not a good thing!! It ought to still be first come.

Sunday, 07/25/2021