Archived Outdoors
Staying alive: MountainTrue protects A.T. ash trees as research progresses against invasive threat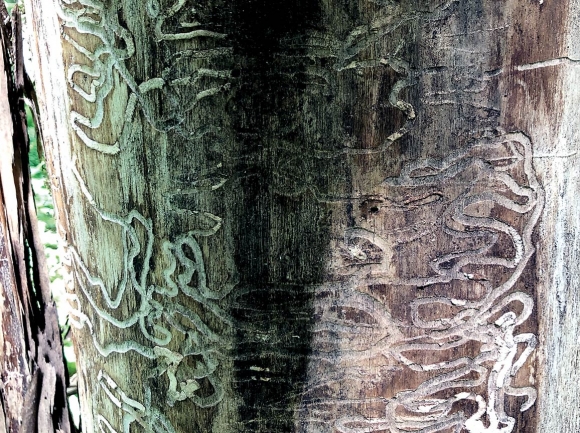 Emerald ash borer larvae create tunnels called 'galleries' as they chew through the tree's living tissue. Donated photo
For millions of years, ash trees have grown tall and strong across the landscape today known as the United States — but for now, keeping them alive requires regular treatment with expensive chemicals and $2,000 worth of specialized equipment.
"We've been using a stem injection technique that requires you to actually drill holes into the stem of the tree," said Josh Kelly, public lands biologist for MountainTrue.
Just last week, MountainTrue's crew was treating trees along the Appalachian Trail near Max Patch, inserting small plastic plugs into the tree trunks. They then filled the plugs — which contain a gasket to keep liquid inside — with $500-per-liter insecticide using a $2,000 injector equipped with an air hose and pressurized air tank.
MountainTrue first treated ash trees in 2017 using an insecticide guaranteed to protect the trees for one year, but in 2018 switched to a more expensive chemical that offers three years of protection. Now they're revisiting all the trees they treated in 2018.
"So much of the time is just hiking out to get to the trees, so labor is real expensive," he said. "The chemical is super expensive as well, but we did the math and figured out that even though it was a more expensive chemical, the longer time between treatments made it economical."
The treatment appears to work. The ash trees that didn't receive injections are all dead.
The invasive emerald ash borer has decimated North American ash populations since its first detection in 2002. APHIS photo
Expensive protection
MountainTrue's efforts are keeping more than 1,000 ash trees in Western North Carolina safe from the invasive emerald ash borer, a beetle that was initially discovered in the U.S. in 2002. Since it was first found chewing through Detroit-area trees, the metallic green insect has spread throughout the eastern half of the U.S. and Canada, arriving in North Carolina in 2013.
Originally from Asia, the beetle typically kills trees within five years of infestation. Adult insects lay eggs on the tree's bark, and when the eggs hatch, the larvae bore down and feed on the layers responsible for moving water and nutrients through the tree. Eventually, they girdle the tree, killing it.
Right now, the only surefire way to keep an ash tree from succumbing is to use the expensive treatment method that Kelly's team is carrying into backcountry areas around the region.
Including labor, one year of protection for a 20-inch-diameter tree costs $25-30. Most of the funding comes from the Appalachian Trail Conservancy, which is using money from its N.C. license plate program to pay MountainTrue to treat 890 ash trees along the trail in North Carolina. Not only would their death impede the aesthetic beauty and ecological functionality of the forest, but it would create a safety hazard and maintenance issues when they inevitably fell across the trail. MountainTrue also treats a couple hundred other trees in backcountry areas of the mountain region.
Currently in the midst of giving all 1,000-plus trees an additional three-year reprieve, Kelly expects to do it again in 2024, and possibly yet again in 2027. But soon, he hopes, the injections won't be necessary.
"If we're lucky," he said, "the emerald ash borer starves itself to death by killing all its host trees and we may be able to stop treating at some point."
Bring on the wasps
The future of the ash tree is an uncertain one, and experts say there are multiple possible endings to its story.
The emerald ash borer feeds exclusively on ash species — though not the mountain ash, which is not a true ash and belongs to an entirely different family — and the white fringetree. In its native Asia, it has multiple effective natural predators to keep its populations in check, but that's not the case here. So, once it completes its ravage of the North American ash population, its numbers could crash down to nothing.
Of course, timing and the effectiveness of rules limiting its ability to travel from state to state will impact how that plays out. Infestations in different regions are occurring on different timelines, and the same mechanisms that allowed the beetle to spread initially could let it jump back and forth between different areas. And often, when the beetles kill the above-ground portion of the ash tree, the roots will sprout up again. The larvae can't inhabit trees that are less than an inch in diameter, but if the beetles are still around when the sprouts reach that size, there could be a reinfestation.
"Probably the best thing that people can do right now if they have an ash tree they want to save is to use chemicals, but there are some longterm sustainable management approaches that are being researched," said Kelly Oten, an assistant professor and extension specialist in N.C. State University's Department of Forestry and Environmental Resources.
One of those approaches? Fighting fire with fire.
After the emerald ash borer arrived in the United States, researchers traveled to Asia and brought back 12 species that prey on the beetle in its native range. After extensive testing, four of those 12 species were approved for release in the U.S. All four are wasps — "really, really tiny wasps" said Oten, that don't sting people — that lay their eggs on or in the ash borer, eventually killing it.
The first wasps were released in 2007 where the ash borer made its earlier appearances in the Midwest and New England, and the species are becoming established there, said Oten. North Carolina has hosted such wasps since 2013, with nearly 100,00 being released since then. Current N.C. State research is evaluating whether those releases were successful.
While there are native species that eat emerald ash borers, they're not as effective as the beetle's natural predators.
"We have woodpeckers that attack trees that are infested with emerald ash borers," said Oten. "We also have many native parasitoids that attack some of our native woodborers and as opportunities presented themselves, they also started attacking emerald ash borers. In both cases, though, it's simply not enough to keep the population low enough to save trees, which is why we're looking for the natural enemies."
A crewmember inoculates an ash tree near Max Path. Donated photo
Lingering ash
Perhaps the greatest hope for the ash tree, though, may lie within the tree itself. In places like Michigan, where the ash borer hit first and has already swept through virtually the entire ash population, some trees still stand.
"Those have been termed 'lingering ash,'" said Oten. "In areas where the emerald ash borer have been infesting for quite some time, they have determined that about 0.1% of ash might have resistance."
If that's the case, then the ash tree may eventually rebuild its population after the ash borer completes its initial ravage.
About 20 years ago, a stand of about 32,000 ash trees was planted just outside of Raleigh. If the 0.1% resistance figure holds true in North Carolina, Oten expects that 32 of those trees will remain following infestation — the results will indicate whether the 0.1% figure observed further north holds true in the South. While those northern areas have a significant number of pure ash stands, in North Carolina ash tends to grow mixed in with other species, making survivors harder to spot and the Raleigh-area stand important to study.
Nevertheless, confirming resistance — and, hopefully, repopulating the landscape — will be a time-consuming process lasting decades.
"It takes some time for them to grow, and if the way we establish (resistance) is to subject them to the pest, then we're looking at a very long time," said Oten.
If scientists establish that the trees are resistant to the ash borer, the next step will be determining which genes control resistance and then using that knowledge to spur the ash population on to a new life — similar to current research aimed at resurrecting the American chestnut. Though, unlike in the case of the chestnut, this approach would not require mixing the native species' genes with that of a nonnative species.
Chestnut and ash are far from being the only trees under threat from invasive pests. Disease has devastated the American elm and the white walnut, with the hemlock wooly adelgid decimating hemlock populations and emerging disease boding ill for black walnuts and oak trees. Just as the approaches being used to save the ash tree borrow from lessons learned by chestnut researchers, so might the solutions to the emerald ash borer problem have implications for the future of other tree species facing invasive foes.
"Every time we work with a new invasive and come up with solutions for how to manage it," said Oten, "those solutions become models for how we might manage similar pests once they are reintroduced."