Archived Outdoors
Conservancy marks land protection achievements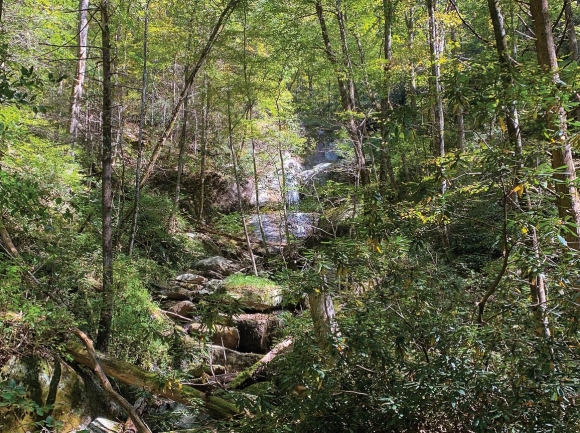 Burntfield Branch flows through the heart of a recently conserved property in Caldwell County. Foothills Conservancy photo
The Foothills Conservancy of North Carolina celebrated a pair of conservation achievements in recent months that together protect more than 650 acres of land in Rutherford and Caldwell counties.
One of the most notable transactions in the conservancy's 25-year history was an Earth Day gift April 20 of a 322-acre tract within a corridor of the National Wild and Scenic Wilson Creek in Caldwell County. The donation fills in a missing segment of protected public lands along the river, bordered on three sides by the Pisgah National Forest. It includes 2.3 miles of river that is designated for recreation under the Wild and Scenic River System.
On June 29, a donation of 222 acres in the Thermal City area of Rutherford County marked the first of a two-part planned gift by the Cameron family. In their estate, David and Martha Cameron will bequeath their remaining 101 acres to the conservancy, with their son Rob Messick also participating in the 222-acre donation now completed. The property includes unique features such as a balanced rock the size of a van and various rare plants.
On July 13, the conservancy purchased 118 acres in the Globe area of Caldwell County along N.C. 90 and Johns River. The property is surrounded on three sides by the Pisgah National Forest and will soon be officially added to the national forest. It contains an undeveloped portion of the existing Johns River Valley Camp property and a stream called Burntfield Branch. The acquisition will bring new public fishing and access opportunities to the area as well as a wildflower trail and protection for a section of the Johns River that starts near Blowing Rock.