Archived Opinion
Chickens make a stand despite our efforts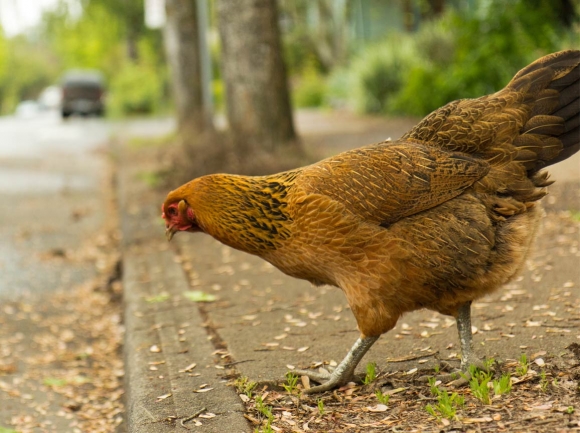 Five chickens appeared one bright summer morning in our driveway. I was still half asleep, stumbling through my morning routine of grinding and brewing the coffee, and then stepping out onto the front porch to water the fuchsias in matching hanging baskets on either side of the front steps.
I had no more than opened the door when this assembly of chickens scattered in every direction in a great burst of clucking, thrashing, and flying feathers, and then reassembled at a safer remove some twenty steps away, their heads bobbing like little boxers dodging invisible punches. I stood there and they stood there, all of us seeing what would happen next, each taking the measure of the other. A moment passed, and then another. There were two white chickens — brilliantly white — and three rust-colored chickens, although upon closer inspection their feathers glinted red and gold in the morning sun, really quite lovely.
I stood there, unlovely, in some SpongeBob SquarePants boxer shorts my kids bought me for Christmas 10 years ago and a pair of torn flip-flops, trying to figure out where in the world these chickens came from. You see, we have a very strict provision in our homeowners' agreement that precludes us from owning anything other than your garden variety domestic pets — your Schnauzers, your golden retrievers, your calico cats, and what have you. No goats or pigs are permitted to live among us. No turkeys, no peacocks, and certainly no chickens.
I thought the chickens might be Roger's, a neighbor up the road who has some beautiful farmland, or maybe the folks across the ridge who keep cattle in the pasture that borders our property. I didn't know why these particular chickens crossed the road, but I guessed they'd get bored pecking around in our driveway and mosey on back home by the time I showered, dressed, finished breakfast, and came back outside in another hour or two.
Nope, the chickens were still there, skittish but just a touch calmer than before. I went out town to attend to some errands and go to the gym, and when I got back hours later, the chickens had taken shelter from the glare of the midday sun under some hedges in front of our house.
"Looks like we have chickens," I said, upon entering the house.
"Yeah, I saw one a little while ago," Tammy said. "There's more than one?"
"There are five," I said. "We have enough for a basketball team."
"Well, they're not ours," she said.
"Try telling that to them," I said. "They seem to have asserted themselves."
Two or three days passed, and the chickens stuck around, roaming the property, including the pasture adjacent to our lot. Every time we went outside, they popped up in a new place, but never far away. Of course, it wasn't very long before our three dogs (two miniature dachshunds and a chihuahua) became aware of — and then obsessed with — the chickens.
"Trouble is brewing," I said.
My son and I decided to escort the chickens off our property for their own good. We walked them down the driveway, the chickens beside us more or less in single file, more obedient than any of our dogs have ever been, and said our goodbyes as the chickens continued to amble on down the road.
The next morning, they were back again. I was in the bedroom getting dressed and heard a terrible commotion outside, my wife screaming about something. I ran outside to find my son holding the older dachshund and Tammy holding one of the rust colored chickens, small and trembling, in both arms. A little while later, as I was packing my car for a trip to the landfill, I heard more shrieking around back, and I found that the younger dachshund and the chihuahua had cornered and pinned one of the white chickens under two bicycles parked near our storage shed.
We were able to rescue both chickens. Tammy carried each of them up toward Roger's and turned them loose, hoping they could get on home well enough from there. She said they were walking fine and seemed okay, considering the circumstances. The other three had vanished and we thought, well, that's the end of our chicken experience.
It was no more than a few days later when the other three returned, and now they've taken to the trees when the dogs are out. They will huddle together on a branch twenty feet off the ground and stare at those yapping dogs without flinching or any apparent concern whatsoever.
As far as I know, we are not in violation of our homeowner's policy. We didn't choose these chickens. We didn't name them. We didn't build a coop or buy them feed. They chose us. I don't know how the story ends, but I do know that when I got home yesterday, the white chicken came racing across the yard to greet me. We've come that far.
(Chris Cox is a writer and teacher who lives in Haywood County. This email address is being protected from spambots. You need JavaScript enabled to view it..)
Leave a comment
5

comments
loved this.

Wednesday, 07/28/2021

Another good one, Chris!

Sunday, 07/25/2021

Hey Chris, need a rooster to go with that flock?
; }
*t

Thursday, 07/22/2021

Hey Chris, need a rooster to go with that flock?
; }
*t

Thursday, 07/22/2021

Thank you for this, Chris Cox. It's an enjoyable read. Quite refreshing.

Thursday, 07/22/2021