Archived News
Parents oppose Pride Month display at Macon library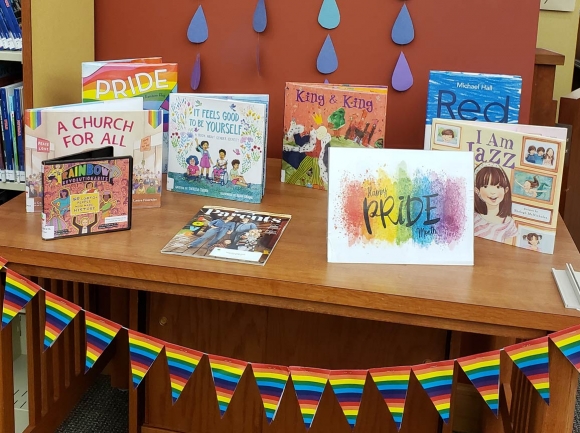 The Macon County Public Library provides a number of diverse educational opportunities for youth, but a book display promoting Pride Month in June led to several parent complaints at the last board of county commissioners' meeting.
Jim Gaston of Cowee told commissioners during public comment that the display of LBGTQ related books in the children's section of the Franklin Library was unacceptable.
"I'm not going to try to persuade all of you to the reasons why this type of celebration of confusion is wrong and unacceptable but if you truly know your constituents throughout Macon County, I'm confident you already know the vast majority of people would be against glorifying anal sex and gender confusion to our children and grandchildren," he said.
Gaston went on to say he didn't want to see the children of Macon grow up in a place that looks more like California or New York.
"We all love the library and appreciate its services to community, but it's not in the best interest of Macon County to do something so devastating for children even thought he tiny minority that would support gay pride tends to be the most obnoxiously vocal," he said. "Keep Macon County free of all the moral decay and cultural calamity that is attacking our entire country."
Rebecca Tipton said she heard about the display from friends and went to check it out for herself. While she wouldn't mind those books being available at the library as a resource, she said they shouldn't have been openly displayed to be "celebrated and championed" in the children's section. She said she has an 8-year-old daughter and wouldn't feel comfortable with her picking up a book about a San Francisco activist named Harvey Milk.
Tipton said showcasing such material could initiate awkward conversations parents aren't ready to have with their children on the very sensitive issues of gender, sexuality, politics, philosophy and religion.
"Transgender has become popular since 2015 with Caitlyn Jenner. I don't want that forced on my child. The transgender agenda has been pushed uncritically — a lot of the darker aspects of it are masked in the culture and glossed over," she said. "It's made to look very pretty and easy for people to change their genders but it really is not. I respect others' rights to live as they choose but I'm against medical malpractice of doctors changing genders of children with hormones and surgeries."
Steve Connell echoes sentiments made by Tipton and Gaston. He asked commissioners to consider adding stipulations to the funding the county provides to the library every year.
"I know you can't tell them how to spend the money but maybe you can tell them what not to do with it," he said.
Brittney Lofthouse, a reporter with Macon County News and The Southern Scoop, told commissioners she came to talk to them in her official capacity about a different topic but after hearing the parents that spoke before her, she felt the need to address the Pride Month display as a resident and a parent to three young children.
"I didn't know about the library display. I'm sad I didn't see it because I would have taken my son to see it and help celebrate the people who just want to be included and welcomed and loved," Lofthouse said. "Unlike the other people who have spoken tonight, I have absolutely no fear of any of my three children being subjected to that type of book on a shelf or having that kind of conversation with them at any point as a parent."
To say something shouldn't be on public display because they don't agree with it would go against everything a public facility is supposed to offer in the community. She agreed with Gaston's statement that most people in Macon County would be opposed to such a display, which she said was more reason it needed to be shown. As LGBTQ youth are more likely than their peers to commit or attempt suicide because they have nowhere else to turn, education and understanding of these issues was important for the community.
"This is one month where people can feel included and loved somewhere in this county. I'm proud of our library for what they did. Don't go there that month if you don't like it," she said.
Karen Wallace, the director of Fontana Regional Library System, said the library received a total of 34 positive comments and 24 negative comments about the display that she said included about a dozen age-appropriate books and other materials. The library had a total of 21 circulations from the display and all items have since been returned.
"The display was up during June to coincide with Pride month, a nationally recognized month that appreciates the contribution, work, and participation of gay, lesbian, bisexual, transgender, and intersex Americans in our culture and society. The display was up for two weeks before we began to hear objections," she said. "We routinely highlight this and other national initiatives throughout the year by way of our displays. Such displays are not a promotion on behalf of the library, but rather an effort to raise awareness about our resources and to ensure that the community will recognize the library as a safe, inclusive place to access information and services that meet the needs of a diverse community."
Wallace alerted both the local and regional library boards about the complaints and said both boards support the library staff's efforts to provide resources to everyone.
"I think we all recognize that some of what we have available will not resonate with every individual. Over the past 30 years, I've had a few objections to the library's books, movies, programs and displays. When that happens, we encourage people to choose something that the library offers that will be more in line with their values and interests."
Leave a comment
20

comments
This issue has absolutely nothing to do with constitutional rights and everything to do with morality. No one in the USA is preventing someone from being homosexual. I support everyone's civil liberties as long as they do not harm others. (Non aggression principle our founders believed in) But, if you think that handing out needles to drug attics or murdering babies in the name of "choice," or burning and looting cities in the name of virtue is a good idea, you will probably support exposing children to gender confusion leading to suicides, celebrating ungodliness, and glorifying anal sex is just fine and dandy to produce pedophiles who will molest children in the name of unity, tolerance, and love. Congratulations woke America!

Sunday, 07/25/2021

This issue has absolutely nothing to do with constitutional rights and everything to do with morality. No one in the USA is preventing someone from being homosexual. I support everyone's civil liberties as long as they do not harm others. (Non aggression principle our founders believed in) But, if you think that handing out needles to drug attics or murdering babies in the name of "choice," or burning and looting cities in the name of virtue is a good idea, you will probably support exposing children to gender confusion leading to suicides, celebrating ungodliness, and glorifying anal sex is just fine and dandy to produce pedophiles who will molest children in the name of unity, tolerance, and love. Congratulations woke America!

Sunday, 07/25/2021

If you do one display for one belief or group do for all no discrimination

Saturday, 07/24/2021

If you do one display for one belief or group do for all no discrimination

Saturday, 07/24/2021

I agree with those who do not want their young children to be exposed to LGBQ books in the children's section of the Library. Children are not little adults nor do they have adult maturity. The complexities of this subject and others will cause confusion for them. Unfortunately, there's already enough
confusion going around in today's world. Those without the truth of the Bible and belief in God are without hope. I am also against the boards siding with the Library. The Library Director should not have the right to place these books in the children's section. Jim, Rebecca, Steve and other parents absolutely have the right to talk with their children about this subject at the proper time, place and age as they deem necessary.
Sue

Saturday, 07/24/2021

I agree with those who do not want their young children to be exposed to LGBQ books in the children's section of the Library. Children are not little adults nor do they have adult maturity. The complexities of this subject and others will cause confusion for them. Unfortunately, there's already enough
confusion going around in today's world. Those without the truth of the Bible and belief in God are without hope. I am also against the boards siding with the Library. The Library Director should not have the right to place these books in the children's section. Jim, Rebecca, Steve and other parents absolutely have the right to talk with their children about this subject at the proper time, place and age as they deem necessary.
Sue

Saturday, 07/24/2021

Hey Pablo, did God tell you to say that because my God never would and as for trusting you... Well I trust you like I trust Donald Trump?. Stop the hate.

Friday, 07/23/2021

Hey Pablo, did God tell you to say that because my God never would and as for trusting you... Well I trust you like I trust Donald Trump?. Stop the hate.

Friday, 07/23/2021

My name is Robert Wilkerson and I have a 13 year old son that believes he is gay and I am not going to call him un moral or anything else that is closed minded ignorance. I know you don't want your precious children to wear masks in school to protect others you don't want for children 23 and over to be told they have to be vaccinated either
Those after all are infringement s on your constitutional rights. Well I have lung disease and I don't want my constitutional rights imposed on either. My son is gay I don't want his constitutional rights imposed on either. My sister in law had an abortion and even tho my beliefs are that it is murder she doesn't need her constitutional rights to be infringed on either so why can't we all show a little decency and respect for others and quit whining about your rights and know others have them as well. Maybe even understand that this is a diverse country where we are all supposed to be treated equally instead of worrying about how our own selfishness needs are being infringed on we all have rights get over it if u don't want it child vaccinated or to wear a mask you all have a decision to make maybe private school maybe walk your child past those displays at the library if you want them to grow up closed minded or you can't figure out how to explain diversity and compassion to them. We all have rights we all have to give and take grow up this is America not Russia.

Friday, 07/23/2021

The display looks very nice. The books are arranged in a symmetrical fashion and invited the public to peruse at their leisure.
It's wonderful that the library has made these resources and materials readily available to promote tolerance and love within the community. Great work.

Friday, 07/23/2021

Homosexuality is a mental illness.

Friday, 07/23/2021

Let's be perfectly clear…People in my camp do not hate gay people. We have been called homophobic, intolerant, unloving, blah blah blah. We've heard it all before. We love gay people more than "pride" supporters because we are willing to tell them the hard truth so they will avoid condemnation from a Holy God. Others who subscribe to mainstream groupthink are totally misguided and are lying to gay people in an effort to be seen as virtuous. In reality, according to the Bible (that has never been proven wrong), they are tying a millstone around their neck and casting themselves into the ocean. Just stop belligerently forcing this unnatural lifestyle on the public and people will not oppose you. Children should not be exposed to anal sex lifestyle anymore than gay pride supporters want their children exposed to becoming KKK members!

Friday, 07/23/2021

The library is a public library, funded by all of the public's money - including LBGTQ people. You have every right to your religious beliefs, but not the right to foist them upon others who do not believe in the same things. If it is not your religious beliefs that are causing you to object to this display, then you are showing your homophobic prejudices.

Thursday, 07/22/2021

Ezra, do us all a favor and why don't you just go gargle on razor blades?

Thursday, 07/22/2021

Hey Felicia Henderson and Ezra, there is a place in hell for your kind. Trust me. You are going to join your buddies in the homosexual world because you are just as guilty as those sick characters.

Thursday, 07/22/2021

It's close minded people like Mr. Gaston is the reason children rebel and disown their parents and never forgive them because they don't understand why they feel the way they do. They need understanding and love just like anyone! It's people like Mr. Gaston why our country is hated and divided as it is! I am a married woman of 26years to my husband and we have friends who are gay and never met more wonderful people! If it weren't for so called religious people that forget what God's love is and change the wording of the bible to suit themselves so they can hate we could all get along better. Give up your hateful beliefs and you will be a happy person. Mind your own business!

Thursday, 07/22/2021

Homophobes and bigots no longer have a place in this world. If you can't handle the fact that the world does not care about your narrow-minded, hateful ignorance then keep it to yourself. I'm talking to you Joseph Hanover and Jim Gaston and the rest of you hypocritical, pseudo-Christian jerks.

Thursday, 07/22/2021

Homosexuality is an aberration and an abomination. PERIOD!

Thursday, 07/22/2021

It is a common bit of knowledge that our local libraries are and always will be a place to find recourses. It's a library. People looking for this kind of recourses will ask for them. Why celebrate confusion with a display? I don't agree with pushing this kind of thing on little children and I certainly don't like it being pushed on me. As a parent you raise your kids to talk to you about anything therefore when they want or need to talk they will. Why introduce confusion? This is going to cause more harm than good.

Wednesday, 07/21/2021

So happy to see so many parents against trying to push this ungodly behavior upon our children. Let them be children. It is not acceptable to be teaching this in elementary schools and who ever put this on display should be fired. Devil is hard at work

Wednesday, 07/21/2021