Archived Arts & Entertainment
This must be the place: The heart has its seasons, its evenings and songs of its own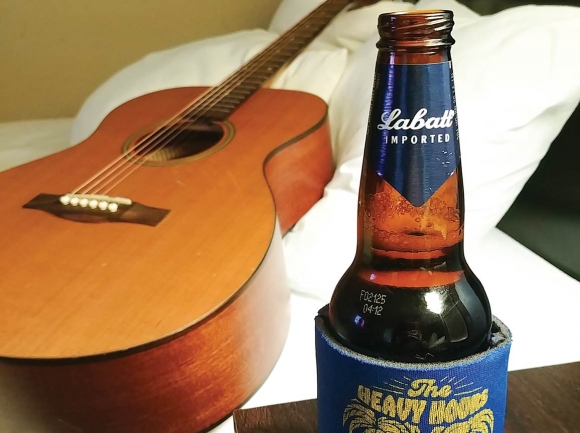 Days Inn. Carlisle, Pennsylvania. (photo: Garret K. Woodward)
Stepping into the lobby of the Days Inn just north of Carlisle, Pennsylvania, last Wednesday evening, I was immediately hit with the faint smell of cigarettes. The sign next to the front desk of the lodging establishment said "No Smoking: $150 Charge."
But, just before I thought to mention the irony to the front desk clerk, I heard some boisterous noise from down the hallway to the right. The sign on the wall said "Polo Lounge" with an arrow pointing in the direction of the late-night shenanigans.
"Hey man, what's going on in there?" I asked the clerk. He chuckled and replied, "Ah, it's just the motel bar. It's open for another hour, that is unless the bartender wants to stay open until 2 a.m. You can smoke in there, too, if you'd like."
The clerk handed me the keys to Room 118. Back the truck up to the patio area of the shabby room. Unlock the front door, absorb the musty smell of a $54-a-night motel room in south-central Pennsylvania. Unlock the patio sliding glass door. Pull the bicycle and cooler out of the truck bed. Grab the toiletries, extra change of clothes, guitar case, etc.
Twenty minutes later, I washed my face, threw on a fresh shirt (I was about eight hours or so into an 18-hour solo trek from my native Upstate New York to my Waynesville apartment) and wandered down to the Polo Lounge.
Open the door. Find a seat. Order a cold Budweiser draft. Cigarette smoke swirling above the heads of those at the bar counter or playing pool at the nearby table. That odd feeling of being in a smoking bar in the 21st century. Aside from sporadic cities still holding out in the Southeast, you don't really see or experience that much anymore (same goes for Bud on draft, too). Brush aside those initial thoughts and gaze at your reflection in the mirror behind the counter.
Earlier that morning, there I was in the driveway of my parents' farmhouse in Plattsburgh, New York. Packing up the Tacoma pickup with whatever was needed to bring back to Haywood County. Clothes. Guitar. Bike. Cooler. And several items that were my once owned by my late cousin, Nate, now in my possession following his funeral on July 9 (his untimely passing occurring on June 28).
My aunt, who flew to New York from her current home in Montana, had to clear out Nate's storage unit after the celebration of his life at the American Legion in our hometown (Rouses Point). All kinds of stuff, either of personal value or simply junk that he just didn't get around to getting rid of.
Going through the last few boxes of Nate's things, my aunt gifted me an array of trinkets that will forever remind me of him, someone who was like an older brother to me, a kind, yet troubled, soul who passed away far too early (at age 42).
She handed me one of his old, ragged Grateful Dead tour shirts (his favorite band). The shirt was XXL and is now safely folded up in my apartment closet. There was also the Boston Red Sox bottle opener (he was a die-hard Sox fan). There was the air-conditioner nobody needed, except for the "Damn Yankee" (me) who, in nine years living in Western North Carolina, had yet to get around to purchasing one.
Lastly, she dropped a large box of CDs at my feet, mumbling in a humble, sad tone, "He'd want you to have these." I dove deep into the box, unearthing dozens of live Dead recordings, Phish recordings, Dave Matthews Band recordings, and so on (and on). A treasure trove of shows and melodies for a lifelong music freak and audiophile like myself.
Music was the core of the bond between my cousin and I. When I was a little kid in the 1990s, he introduced me to all of those bands noted above. He'd play me all of those recordings on his badass stereo in his bedroom in that house on Liberty Street in Rouses Point. That was many moons ago, as they say. And yet, the memories are as vivid as ever, more so following his passing.
Hopping into the Tacoma, I waved goodbye to my mother standing in the driveway. I honked twice as I pulled away — in solidarity to family, to hitting the road again, to destinations unknown, and to dreams held high and in earnest.
With the North Country in my rearview mirror, it was down below the Mason-Dixon Line via Interstate 81. Pulled into the Blue Ridge Truck Stop at Exit 155 in Dorrance, Pennsylvania (just south of Scranton). Middle of nowhere.
A bright oasis on the lonely highway. I pop in there each time I pass through, mostly for the gut-busting deli sandwiches, freshly-made onsite. Sit at the picnic table in front of the truck stop. Eat the sandwich with gusto. Rambling thoughts like tractor-trailers flying by in the cool summer night.
The entire ride from Plattsburgh to Carlisle, the stereo was blasting the Grateful Dead, all of which from my late cousin's CD booklet. Though I'm a lifelong Dead Head, I tossed my CD booklet in the backseat of the pickup truck in favor of his collection.
Right around sunset, I found myself drifting by downtown Scranton, a blood-red sun falling behind the mountains in the distance. The "Without A Net" album was blaring out of the speakers. Windows rolled down. A steady breeze swirling around me.
"Eyes of the World," the incredible version with Branford Marsalis on saxophone (Nassau Coliseum, 1990) roared on. It was a moment of pure bliss. Behind the driver's seat, my late cousin's old, ragged Dead shirt (size XXL) and his well-worn Boston Red Sox hat (which still smells like his trademark Marlboro Red 100s).
Even though he passed away and such, I felt him there with me — in spirit, in that moment, enjoying that sunset and that melody, together.
Life is beautiful, grasp for it, y'all.
Leave a comment
1

comment
Nice per usual G....you can tell it like it is....as Papa would say.

Sunday, 07/25/2021