Archived News
Three arrested on meth trafficking charges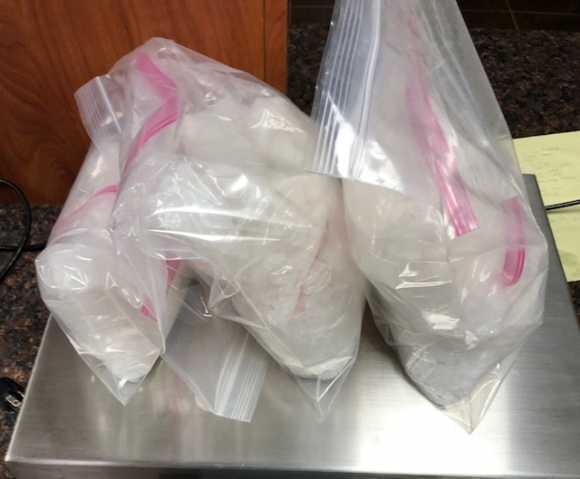 Jackson County deputies found more than 5 kilograms of suspected methamphetamine as a result of the incident.
Two Canton man and one Asheville man are being held on six-figure bonds after the Jackson County deputies arrested them on drug trafficking charges.
What became a drug bust began as a health and welfare check when deputies were dispatched to check on an individual at the Stardust Motel in Sylva at 4 a.m. Monday, July 19. Upon arrival, deputies noticed an occupied truck in the parking lot, near the room where the individual they'd been asked to check on was believed to be located. When deputies spoke to the truck driver regarding the welfare check, they smelled marijuana.
Deputies requested that the driver, later identified as 46-year-old Asheville resident Brandon Lee Nalley, step out of the vehicle, and they began investigating possible illegal narcotics. A small amount of suspected methamphetamine, marijuana resin and drug paraphernalia were found on Nalley.
Nalley told deputies he was there to see an acquaintance named Kyle, later identified as 44-year-old Canton resident John Kyle Jordan. While deputies continued searching the vehicle, Jordan exited the motel room identified for the welfare check, along with 56-year-old Canton resident James John Welch. Deputies asked for and received permission from Jordan and Welch to search their motel room to determine the health and welfare of the individual they had come to find.
In the room, they found about 5 kilograms of suspected methamphetamine, leading to issuance of a search warrant for the motel room and Jordan's vehicle, which was in the motel parking lot. When executing the search warrant, deputies found a half-kilogram of suspected methamphetamine and seized more than $20,000 in cash.
Nalley was charged with possession of methamphetamine, conspiring to traffic in methamphetamine, possession of marijuana, possession of drug paraphernalia and possession of marijuana paraphernalia. He is being held on a $250,000 secured bond.
Welch and Jordan were both charged with trafficking in methamphetamine, conspiring to traffic in methamphetamine, possession with intent to distribute methamphetamine, maintaining a dwelling for a controlled substance and possession of drug paraphernalia. They are being held on a $500,000 secured bond. All three men are being held at the Jackson County Detention Center.
Pictured below are (top to bottom) John Kyle Jordan, James John Welch and Brandon Lee Nalley.