Archived Opinion
Grateful for tribes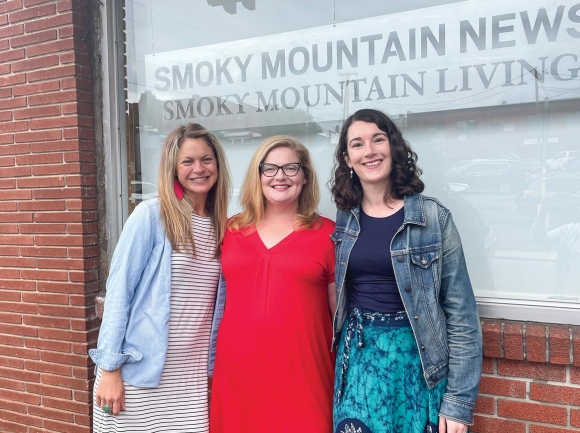 Left to right: Susanna Shetley, Jessi Stone and Holly Kays. Sophia Burleigh photo
Everyone needs a tribe, and sometimes we need more than one.
Being part of a common group of people who love and support you is a powerful part of life. I've often depended on others to carry me with their encouragement, advice and understanding. From friends, mom pods, family members, blogging and writing networks, professional groups and fitness cohorts, I've relied on tribes to flourish and move forward.
One of my tribes is a group of three women from The Smoky Mountain News — Jessi Stone, Holly Kays and me. We discovered that we're all writing novels so we decided to meet twice a month for lunch to review, discuss and edit our latest pages. We've coined ourselves Writers Club.
About a week before we meet, we send one another what we've written and prepare notes for the other two ladies. Writing is personal and listening to a critique, whether good or bad, can be intimidating, especially when you respect the other writers. We've had to be vulnerable during our meetings and put our raw words out in the universe. This vulnerability has strengthened us.
Over the past six months, it's been exciting to see the three storylines develop. Jessi's novel is a historical fiction piece about a young female journalist studying abroad in tumultuous Northern Ireland during the civil unrest of the late 1990s. Mine is a contemporary women's fiction piece about a single mom struggling to find her way in a new normal, only to stumble upon an unexpected sense of purpose through a controversial PTA project. Holly's is a realistic fiction novel about second chances and the complicated ties that bind, set in the beautiful surroundings of Western North Carolina. Interestingly, we all have female protagonists who end up finding love, some happily and some unhappily.
Writers Club is not only fun and cerebrally stimulating, it's also helping us grow as novelists and writers in a supportive, safe setting. These ladies are my friends and colleagues as well as fellow writers, so while the original intent of our meetings was to discuss novel writing, we often veer into personal and professional conversations, which is a cool thing about any tribe. It may start out with a singular goal but ultimately provides much more than that.
The first tribes existed 13,000 years ago, so the concept is nothing new to the human race. While the purpose of tribes may have evolved through the ages, the benefit remains the same. As people, we crave a connection to others. Research has shown that being part of a group helps one feel less lonely, isolated and judged. It also reduces distress, depression, anxiety and fatigue.
A sense of belonging is more impactful than we credit. A family is a natural, organic tribe but sometimes that given tribe is dismantled. My mom's passing and my divorce happened within 18 months of each other, so both of my core family units were upended simultaneously. If it had not been for other tribes in my life, the healing journey would have been even more lengthy and painful than it already was.
In primal times, tribes were based on ancestry and survival. Today's tribes are constructed on a number of factors including profession, hobbies, interests, athletic ability or spiritual affiliation. Whatever the nature of your tribe, be grateful you have one. Life is a complicated, beautiful journey, and it's no fun to go about it alone.
(Susanna Shetley is an editor, writer and digital media specialist with The Smoky Mountain News, Smoky Mountain Living and Mountain South Media. This email address is being protected from spambots. You need JavaScript enabled to view it..)
Leave a comment
1

comment
Thank you! You're lucky to have such support. Tribes are great, tribalism is exclusionary are harmful. Pick your tribe carefully.

Sunday, 07/18/2021