Archived Opinion
Let's talk about all the visitors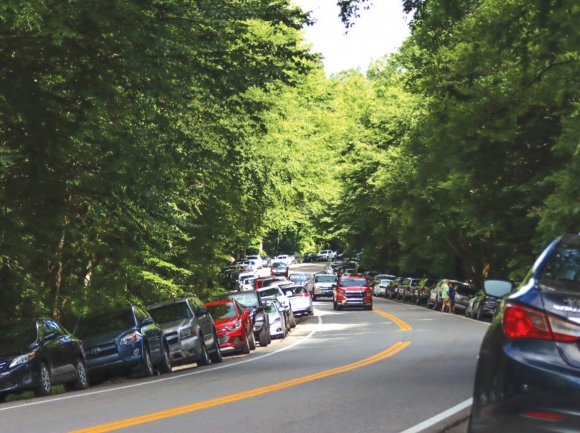 Alum Cave Trail overflow parking.
In the middle of the tourism season, is there any way to politely state the obvious: this region is being overrun by visitors.
The National Forest Service's new restrictions on the popular Max Patch area — no camping, no fires, no drones, no groups of 10 or more — come after over-use has left this beautiful spot in horrible shape. "Unfortunately, the level of use is causing a public safety hazard as well as serious damage to wildlife habitat," said Appalachian District Ranger Jen Barnhart.
That story was in last week's edition of The Smoky Mountain News, the same week we published a guest column by Casey Quarterman, a wilderness ranger who works for the National Forest Service. Casey discussed how each year more and more people come to these mountains to reconnect with the outdoor world but that many unintentionally cause damage to the wilderness they want to experience.
Last year, officials with the Great Smoky Mountains National Park held a series of online meetings to gather potential solutions to the problems it is having dealing with record numbers of visitors. Over the last decade, visitation to the park has increased by 32 percent even as staffing has decreased by more than 10 percent.
We've covered this issue in The Smoky Mountain News since our inception in June 1999, and in fact in our very first edition the cover story was about how the Great Smoky Mountains National Park was dealing with the funding and staffing shortfalls as more and more visitors came. In a region where tourism has become the largest industry and the biggest job creator, it's controversial to suggest that perhaps we need to slow down on marketing this region to potential tourists. This newspaper and our company make money on this kind of marketing, so I certainly know it's a delicate balance.
The growth of social media platforms is no doubt contributing to this problem. People tag the places they've visited and then dozens, hundreds or maybe thousands of others immediately see where they've been. Wilderness jewels whose locations were once passed along by word of mouth or described in obscure hiking books now are promoted by almost every person who visits them. It's a vexing problem that will be difficult to solve.
And it's not just the outdoors that is facing challenges. Lines out the door at restaurants are increasingly common, and this is happening as many are unable to find and train employees. This has led to cutbacks in hours of operation for some while others politely tell customers their service may not be up to par because of staffing issues.
This issue recently flared up in Buncombe County. Asheville Citizen Times Columnist John Boyle wrote a terrific column where he posited that Buncombe's tourism Development Agency did not need to spend $15 million on marketing Asheville, which was what its board proposed. Boyle argued — as I have in a previous column — that perhaps some of those marketing dollars should be re-directed to improve the lives of local citizens. State laws would have to be changed, but there's growing momentum for this to happen.
There are many challenges facing this region. We must deal with the affordable housing crisis, homelessness and mental health issues, rising jail populations, public education issues and more. Our elected leaders have their hands full.
We know we live in a beautiful place. We know others want to visit and enjoy it as much as those of us who call it home. But we must find that delicate balance where our wilderness areas are protected and where the quality of life for locals is as big a priority as attracting more and more tourists each year. There's no easy solution, but it's a conversation that needs to be front and center.
(Scott McLeod can be reached at This email address is being protected from spambots. You need JavaScript enabled to view it.)
Leave a comment
2

comments
I hear you! The locals here on Mt. Desert Island and towns including Bar Harbor, have been visited to the breaking point. Someone made a point that the tourists leave their cities with miles of slow moving traffic to come here and add to the miles of bumper to bumper traffic that we have to endure each summer. We have to leave the house an hour early to get to the doctor appointment on time. I sit at the end if y driveway sometimes ten to fifteen minutes waiting for a break to get out in the road. We have two lane roads here and there is enough traffic to warrant a four lane highway. We will hit the breaking point before long. Traffic accidents are unbelievable here. The town set up a reservation system to allow a certain time when visitors can drive to the top of Cadillac Mountain. It is impossible to park up there. We locals don't do much for enjoyment in our parks. We are small town people and it is so hard to deal with all the people and cars. We breathe a sigh of relief every September when the all start heading south.

Friday, 07/30/2021

I think anyone caught littering our towns and mountains, need to be fined. We welcome folks to our beautiful mountains and towns but they need to respect the fact that we want it to stay that way. Our roadways are not your trash can. Help us keep things beautiful here.

Sunday, 07/18/2021