Archived News
SCC's Health Science Center ready this fall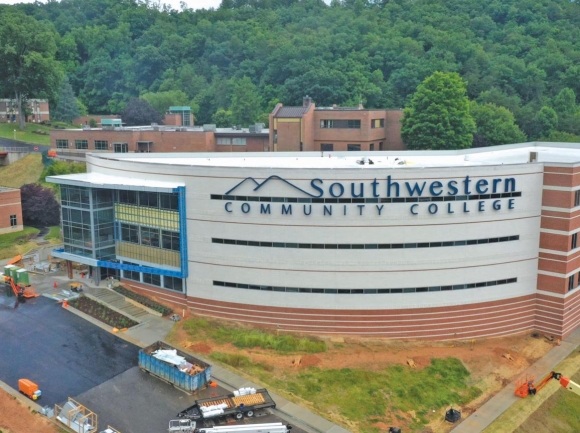 As workers apply the last few coats of paint and other finishing touches this summer, Southwestern Community College officials are making sure everything's ready to open at their new Health Sciences Center to students this fall on the Jackson Campus.
By the time the new school year begins on Aug. 16, SCC will be able to accept 144 more health sciences students than it could have a year ago. Existing programs are able to take additional students, and two new programs are being added: Surgical Technology and Opticianry.
Built at a cost of approximately $21 million, the 55,411-square-foot building will allow SCC to expand enrollment and instruction in each of its 14 existing programs and add two new ones (Surgical Technology and Opticianry), pending SACSCOC approval.
A number of programs will offer free community clinics in the new building as an essential part of the learning process, including Medical Assisting, Medical Laboratory Technology, Medical Sonography, Nursing, Occupational Therapy Assistant, Physical Therapist Assistant, Pulmonary Function Testing and Rehabilitation, Substance Abuse Counseling and Recovery and Therapeutic Massage.
Funding sources for the project include more than $13 million from Jackson County, $5.4 million from the ConnectNC bond and more than $2 million will be covered by an Economic Development Administration grant secured by SCC and Jackson County.