Archived News
Labor shortage a lesser challenge for many outdoor industry businesses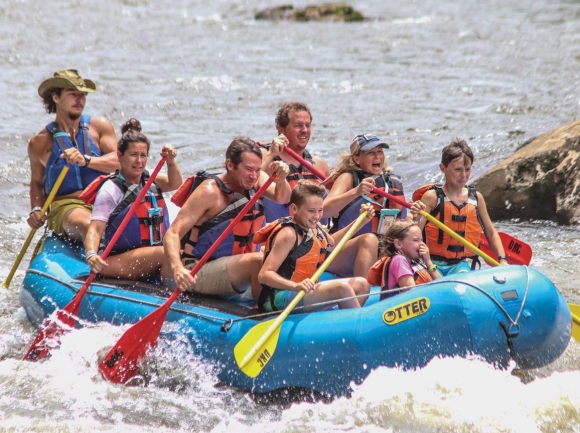 Rafters navigate whitewater during a guided Dillsboro River Company trip. tuckshot.com photo
While prominently displayed "now hiring" signs and sign-on bonuses attest to the difficulty many employers now face in staffing their operations, outdoor businesses have been largely exempt from the summer's labor crisis — just as they were from the faltering consumer demand that rattled many industries this time last year.
"We haven't experienced the same challenges," said Andy Williamson, executive director of Outdoor Gear Builders of WNC.
Many retail shops and gear builders who never really paused during the pandemic have been able to retain most or all of their employees. On the government side, the Blue Ridge Parkway and the Great Smoky Mountains National Park have both been able to fill their nearly 100 seasonal positions apiece this summer without recruitment issues — though housing in gateway communities was, as always, a challenging factor, said Smokies spokesperson Dana Soehn.
Though labor challenges certainly exist in the outdoor industry — Motion Makers Bicycles is still operating on reduced hours and Tuckaseegee Fly Shop is training up inexperienced recruits to plug the gap — it's not as monumental an issue in that sector as in other areas of the economy.
A look at the Outdoor Gear Builders' internal job board underscores that point, Williamson said. Traffic there has been about the same this summer as it was before.
Williamson attributes the outdoor industry's protection from the hiring crisis to two main factors: the fact that the industry has been charging full steam ahead since the initial lockdown last spring and therefore didn't lay off as many people as other sectors did, and the community feel many of the companies foster among their workers.
"While we do experience some of the symptoms that the other industries do, because of our region, because of our assets, because of the community, we were able to weather some of the storms a little bit better," he said.
Workplace culture key to retention
That's certainly been the case for Bryson City Outdoors, whose owners not only run the shop and taproom in Bryson City but also partner with Motion Makers Bicycle Shop at Fire Mountain Outpost in Cherokee.
"My business partner and I basically had made the decision when we first started the business that we're going to provide opportunities for people to make a living," said Brett Hackshaw, who co-owns the business with Ben King. "So I don't know if that has anything to do with it or not, but we never laid anybody off during the pandemic, and just have always tried to pay more than others. Three-quarters of our staff are on salary. This is not a tourist-related business to us. It never stops."
After a "horrendous" March through May of 2020, the business saw a surge of demand, leaving employees scrambling to meet the need. But everyone came together and made it happen — Bryson City Outdoors retained its entire full-time staff over the course of the pandemic, and it's not hiring now.
Mary Gelbaugh, who owns Dillsboro River Company with her husband Adam, has had a similar experience.
"We're a small, tight-knit group, and while we hire around 20 people (for the summer), we have most people return," she said. "They want to be here. It's a great summer job for high school and college kids. I had people contact me that want to work, and I told them I was already staffed up for the year."
Gelbaugh attributes that success to the "family-oriented" operation they've tried to build, investing time and energy in staff and building their skills and team spirit during off-hours as well as on.
"Whatever we're doing works, because they want to be here," she said.
Building experience in-house
Dale Collins, who with Bob Bennett co-owns Tuckaseegee Fly Shop in Sylva and Bryson City — and soon, in Waynesville — said that while he's been able to keep the shops and expeditions staffed, he's had to hire less experienced employees this year and invest more time in training.
"I think a lot of folks in Western North Carolina, when they start guiding, they have big ambitions to eventually move on to other areas of the country to guide, whether it be Colorado or Montana," said Collins. "And if they're not anchored here by any family ties or anything holding them to Western North Carolina, they're going to jump around, so we've seen that. We've certainly lost some guides to that."
Collins and Bennett are normally "very picky" on hiring, Collins said, looking for people to lead excursions and staff the stores who already know the ins and outs of the sport. Now, they're hiring a significant number of Western Carolina University students who come in with little to no fly-fishing knowledge.
In some ways, it's good — they're bringing new people into the sport and recruiting from populations that might not be as likely to grow up learning how to cast a rod. Two of the shop's recent hires are women.
Hiring hasn't been hard enough to stop Collins and Bennett from expanding their business to a new town. By Aug. 1, they expect to open up shop at 110 Depot Street in Waynesville. It's the availability of inventory — not labor — that pushes out the opening date that long. If they get their orders in earlier, Collins said, they might open sooner.
Housing challenges Asheville hiring
Inventory is a challenge for Motion Makers Bicycle Shop owner Kent Cranford as well, but so is staffing.
Motion Makers operates locations in Asheville, Sylva and Cherokee. While enough applicants have come in to fill open positions in Sylva and Cherokee, the Asheville store is about 40% understaffed. Normally, Cranford faces the reverse situation, with the Asheville store receiving a continual surplus of applications and the Cherokee and Sylva locations often struggling to find employees.
"I'm almost to that point where we're going to start actually putting ads on the job posting sites, trying to find people, because we're just not getting any applications," he said. "Normally we have tons of applications, and it's just never been an issue."
Cranford attributes the shortage partially to housing issues — new employees are typically bike enthusiasts who have worked at bike shops in other markets. One of the first questions he asks people who say they want to come work for him in Asheville is whether they've lined up housing yet.
"They don't necessary know how hard it can be to find a place to live," he said. "Now it's even harder than it has been, so new people aren't coming to Asheville to live at the moment."
At least not people who are planning to work in frontline outdoor industry jobs.
Cranford isn't convinced that the federal unemployment supplement is responsible for the shortage. It doesn't seem like enough to live on, and he knows of several employees who left during the pandemic but never signed up for unemployment benefits. However, he said, he had thought that he'd get some applicants from the food service sector when that industry got hit hard.
"I was kind of excited, because they're obviously great at customer service and know how to take care of them," he said. "We've had almost none from that side."
While Cranford has not yet raised base level wages, his employees are all earning more than they were before the pandemic due to the "pretty elaborate bonus structure" Motion Makers uses. With increased business, employees have in some cases been able to earn almost double their hourly wage over the past 15 months. However, Cranford said, he's evaluating whether the base level rates need to change as well.
While Sylva and Cherokee are sufficiently staffed, they're not staffed well enough to get back to pre-pandemic hours. Before COVID-19, Cranford's stores were seven-days-a-week enterprises. Since the pandemic, he's been down to six days a week and doesn't have the staff to add back the extra day. In Asheville, he's considering going down to five days a week to take pressure off his existing employees.
"We haven't done it yet, but it's been a conversation over the last several weeks," he said. "I hate that it's tourist season. If we're not open, they just go somewhere else."
Meanwhile, inventory is still a challenge, as it's been for bike retailers across the country since March 2020. While inventory comes in every day, any bike costing less than $1,000 is "just as rare as can be."
"I have backorders that date back to last July," he said. "People have prepaid for bikes that we still haven't gotten for them, and that's crazy to me. The demand is there. People are still waiting for them."