Archived News
Franklin Mayor Bob Scott won't seek fifth term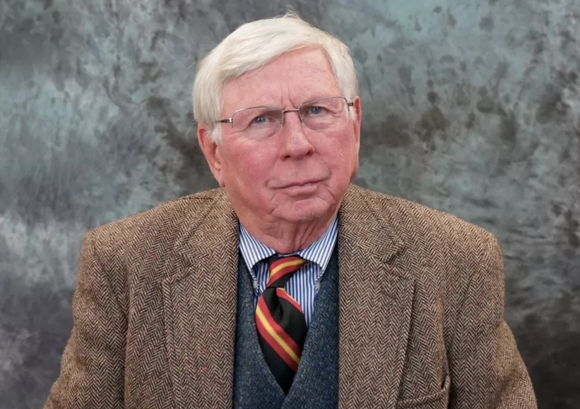 Town of Franklin photo
Editor's note: Bob Scott, longtime mayor of Franklin, announced today that he wouldn't seek a fifth term in November. What follows is Scott's statement, in its entirety.
It's time for me to pack up my bust of Harry Truman and my "No Sniveling" desk plaque and move on. I will not be seeking a fifth term as mayor.
Most politicians bow out saying "to spend more time with family." Which is code for getting out before an indictment or a scandal breaks. Not me. I am just too darn old. Franklin needs a new mayor.
I would have run again, but Council Member Jack Horton has filed to run for mayor. Jack is qualified and well known across the state. I can leave knowing that if elected, Franklin will be in good hands with Jack.
I will be gone in three months from Town Hall. I will leave knowing I had little support from some other politicians in trying to save our hospital from a for profit company. A huge disappointment. There were other ideas I had which were blocked, for whatever reason, in the last two terms I have served.
I do hope to get the skate park in place. Turn the Sunnyside property into public use with recreation facilities, and use federal relief funds to improve our infrastructure.
I campaigned on open government. In my four terms, the town got away from being a "who you know" town. It is now a "what you know" town. We have professionalized Franklin's government. We are a town we can all be proud of. Our employees deserve the credit. Not me.
We have had very few closed meetings during my time as mayor. My philosophy has been one of instead of finding a reason to go behind closed doors find a reason to keep the doors open. I always have believed the mayor and town council exists for only one reason. To conduct the public's business.
I hope the Town Council will keep working to preserve the fascination which makes Franklin a delightful place in which to live and work.
The toughest year of my service has been the year of the pandemic. Mayors across the nation became the lightning rod for anger and frustration. I certainly was. On social media I was called unique expletives I did not know existed. But on the other hand, I have had folks who understood town government. There was more support than anger. In looking back, I adopted the understanding that people were angry, scared and facing hardships. As mayor, I was a convenient politician to jump on. I was accessible I answer my phone. You can catch me ambling along our sidewalks.
I do have some future plans. I have hobbies I have neglected. I will return to writing and photography. America is in serious danger as Democracy is in peril. I will find some way to express my contempt of authoritarianism.
Please never allow Franklin to become partisan. We are just fine as a non-partisan unit. Please fight to keep it non-partisan from those who want to change it for political power.
Does anyone have a small backhoe I can borrow to clean out my office? I need it by the first Tuesday in November.
It has been a hoot to serve as mayor. My high school teachers would be astounded.
Leave a comment
3

comments
Mayor Bob you have performed a very good service for Franklin—indeed for all of us who live outside the town limits that call Franklin our home. I wish you could stay and go for more—but, as one of my engineer supervisors often said, "The enemy of good is better!" You made Franklin "better," and you can give yourself one of those Franklin awards you have passed out to people you felt deserving—including to a one first-time author and amateur sleuth for his first book, that you had encouraged that he write. You have affected many lives, and made Franklin a better place—It will be interesting to see what the next chapter of your life will be. Enjoy whatever you and wife Nancy have planned. Continue to count me as a friend. Good luck with the tasks still at hand for the next three months.

Tuesday, 07/06/2021

I am saving this article. A truly delightful read. I have visited your town many times in the past but had no idea it had such a thoughtful mayor. Best of everything for the future. My father has a back hoe.

Tuesday, 07/06/2021

Good work over there, cuz'.

Monday, 07/05/2021