Archived News
Post-COVID employment rebounds, but where are the workers?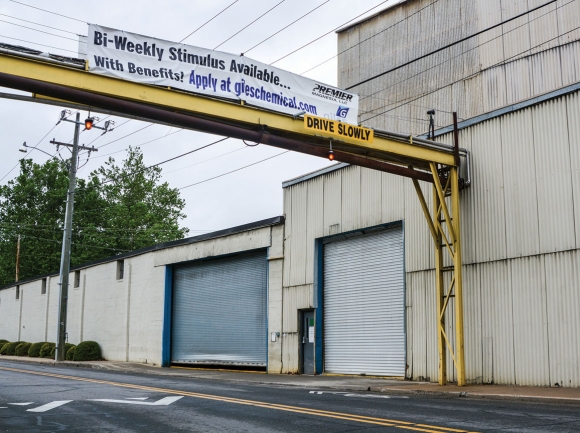 A clever sign in Frog Level announces job openings at Giles Chemical. Cory Vaillancourt photo
You've seen the signs, on marquees and placards, up and down streets in towns across Western North Carolina — Now hiring! Competitive pay! Start today!
Those signs are a welcome relief compared to the signs on local businesses around this time last year that mostly said, "Closed," but they're also a sign of a deeper problem. Some local businesses are still having a tough time finding employees, to the extent that their capacity to serve customers has been impacted.
The tight labor market shows a lack of supply across almost all economic sectors, but some sectors were hit harder than others, as were some regions, leading to an uneven economic recovery that affects women, people of color and people with low levels of educational attainment the most.
After spending the previous three years at 4.5 percent or less, total civilian unemployment peaked in April 2020 at 14.8 percent of Americans over the age 20, according to the U.S. Bureau of Labor Statistics . That's not the highest figure in U.S. history, but coming off a 50-year low , it is the highest in recent history.
Women and minorities bore the brunt of the layoffs; during that same month, the unemployment rate for women was 15.5 percent, versus 13.1 percent for men. Hispanics experienced 18.9 percent unemployment, African Americans 16.7 percent and Asians 14.5 percent, compared to 14.1 percent for whites.
Just as the national rate reached 14.8 percent, people without high school diplomas saw 21 percent unemployment. High school graduates with no college experience endured 17.3 percent unemployment, and those with some college experience or an associate's degree were still above average at 15 percent unemployment. Workers with Bachelor's degrees or more experienced unemployment levels of 8.4 percent.
North Carolina fared slightly better than the nation as a whole, topping out at 13.2 percent unemployment in April 2020.
But of 17 Western North Carolina counties, only six — Avery, Clay, Macon, Polk, Transylvania and Yancey — performed better than the state that month.
As of April 2021, only Avery and Macon counties have returned to pre-pandemic levels; most others are within one point of where they were in April 2020, however, even a small increase in unemployment percentage represents a tangible human toll.
Take Haywood County, for example. In April 2019, the unemployment rate was a healthy 3.6 percent. In April 2021, it was 3.9 percent. That may be just three-tenths of a percentage point, but it's an increase of almost 200 people, bringing the total number of unemployed in Haywood County to 1,106.
In the five-county region that makes up the Asheville Metro Statistical Area (Buncombe, Henderson, Haywood, Madison and Transylvania) it's clear that the region's manufacturing sector remained somewhat insulated from the economic effects of the pandemic. April 2019 employment totals hovered just over 22,000, but data from April 2020, revealed 19,500 people still working in the sector. April 2021 totals show almost full employment, at 21,400.
Not so for the region's all-important tourism industry.
In April 2019, there were approximately 29,700 people employed in the leisure and hospitality sector but when Gov. Roy Cooper shut down bars, hotels and restaurants a year later, less than 13,000 people still had jobs. This past April, employment totals in that sector show a rebound to 24,100 employees, but most of those "help wanted" signs appear outside the same bars, hotels, and restaurants that spent much of 2020 closed.
Some employers believe it's because of the additional $300 in federal unemployment benefits, but those won't last forever — in fact, Hendersonville Republican Sen. Chuck Edwards has introduced a bill that would have North Carolina join the other 26 states that have opted out of the program.
Other employers believe that even if everyone receiving unemployment benefits came back to work, there would still be a labor shortage. They've begun holding job fairs, offering sign-on bonuses, creating relaxed schedules and yes, even offering higher pay.
Conversely, some workers have given themselves raises of their own — by taking advantage of continuing or professional education opportunities to move into better paying jobs in other fields.
Over the next few weeks, The Smoky Mountain News will explore the labor shortage from a variety of perspectives, across a variety of industries, throughout North Carolina's western counties, hoping to answer that one simple question — where are the workers?
Leave a comment
3

comments
Really.. Mary Jane Curry should find these links interesting,, since she didn't bother to quote any source for her posting... There is a fact.. Trump took us to the Net Largest Exporter of Crude.. Energy Independence.. So,,, importing oil from Russia is absolutely Ignorant, if we were the net largest exporter...
And, people should wonder why Biden killed our Keystone XL pipe line, and then, lifted Sanctions on Russia so they could build their own, and then, since he killed all of the Federal Permits to secure USA collected oil, he started buying from Russia.... And, if you want some links to the information.. Here you go.. take your pick.. From the sources you mentioned to CNBC themselves...
BUT FIRST... FROM THE FLOOR OF CONGRESS!!! If that is not good enough... HERE ARE THE FACTS!!!
https://www.youtube.com/watch?v=cxhGW6Mqg-U
And, lots more.. How does it feel to be shown how Ignorant your LIES are??? Just curious??
https://www.youtube.com/watch?v=qJtZ9g8nhZI
https://www.youtube.com/watch?v=hPAwJ-6w4Z4
https://www.youtube.com/watch?v=IDBcuhDsSmE
https://www.youtube.com/watch?v=u8vfqXLNCek
https://www.youtube.com/watch?v=cF1NSefumys
https://www.youtube.com/watch?v=9JtLREbrKKo

Friday, 07/02/2021

Mark Thomas has fallen pret to foreign disinformation. He should use independent fact checkers and mainstream Republican or non partisan news sources instead of Fox and other enemies of our nation.
Example: that Russian crude oil was bought big- time in 2020 when Trump was occupying the White House:

'Deprived of access to Venezuelan crude by U.S. sanctions on the regime of Nicolás Maduro, and facing reduced shipments from OPEC nations since the cartel cut output, U.S. refiners (oil companies, not the government) turned to Russian oil in 2020 to fill the gap. The buying spree, combined with sharply lower Saudi shipments, catapulted Russia into the position of third-largest oil supplier to the U.S. last year.' source: Bloomberg Business March 24, 2021

Thursday, 07/01/2021

You mean the $300 Bonus on top of the other $300 Unemployment?? Ha..Ha..Ha... Say it like it is... .
$600 a week??? How many people on that type of Unemployment has EVER made that kind of money before that work for our Small Businesses.. It's pretty simple... Still trying to kill our Businesses in this State... Nothing New...
Still going for the Great China Reset?? And, ZERO Crude was bought from Russia under Trump, but, 6 Million Barrels under Uncle Joe, and 7 Million estimated for the next purchase... Who's Colluding with Russia??

And, the data on the Vaccines are coming out... The Deep State and Democrats are being exposed...
Listen to the Experts that Actually Have Credentials.... Not an Administrative Doctorate like Dr. Fauci.. We already know about him from his Emails released via FOIA... What a bunch of Frauds..

Only 10% of the Adverse Reactions are being Reported to VAERS, and this Trial is Missing All SAFETY Measures that should be in place... You might wonder why that is the case... No one else could be getting away with that.... Read and Listen to the Experts..
https://www.algora.com/Algora_blog/2021/06/27/dr-peter-mccullough-whistleblowers-inside-cdc-claim-injections-have-already-killed-50000-americans

Thursday, 07/01/2021