Archived News
Compensation, compassion go a long way at Sonoco Plastics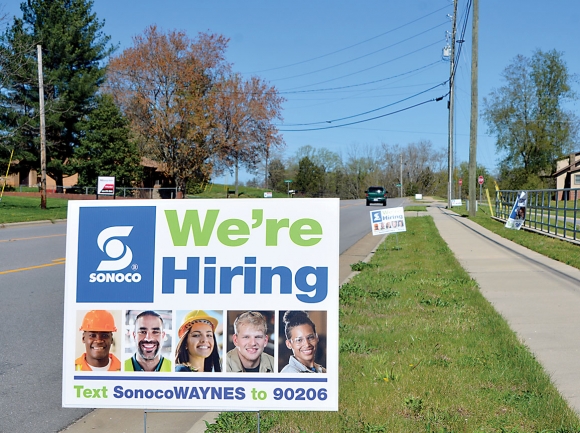 Sonoco Plastics in Waynesville is currently hiring for a limited number of positions. Cory Vaillancourt photo
Some employers are having trouble attracting or retaining qualified employees, but those businesses could likely learn a thing or two from one Haywood County employer that isn't facing that problem.
"One of our management team has been here for 30-plus years. We have individuals who are in some of the more entry level positions that have been here for five, 10, 15 years," said Laurie Davis, human resources coordinator at Waynesville's Sonoco plant. "I mean, we have some serious longevity at this plant, and I think it's because they know that it's a good place to work."
In stark contrast to employers in the leisure and hospitality or service industries, Sonoco saw a distinct upturn in business during the Coronavirus Pandemic last year.
"The product that we produce has really been in high demand," said Tony Murphy, plant manager. "If you think about it from a pandemic perspective, at its peak people wanted to limit the number of trips to the grocery store looking for non-perishables. Because we supply packaging for frozen foods, we did not miss a step. In fact, we've been expanding throughout the pandemic."
Indeed, Sonoco applied for economic incentives from Haywood County this past April, after plans for a $2.6 million expansion, expected to create at least 15 new jobs, were announced.
Currently, Sonoco employs about 115 people, not counting the increased production capacity soon to come online. Davis said that although there's always some employee turnover, it wasn't difficult to keep up with production demands during the pandemic – likely because of a generous compensation package.
New hires start at $14.69 an hour. After training, they move up to $15.46 an hour.
"We offer, I think, great benefits. We offer medical, vision and dental, we have a retirement program, it's a 401k with a company match. We offer paid vacation, paid holidays and we're still one of the few plants that does quarterly bonuses as well," Davis said. "I think we have a lot to offer."
Davis said Sonoco's Waynesville location on Howell Mill Road is currently hiring 12 entry-level positions, and three upper-level positions.
"We do have quite a few hiring strategies," she said. "Any of our employees, if they know someone who's looking for a job, we offer a referral bonus for that employee, if the employee gets hired and stays on. Our night shift positions are a little harder to hire for, so we offer a shift differential, which I think is fairly common in our type of environment."
Plans for a job fair at the plant are in the works, on the heels of two "virtual" job fairs held during the pandemic, but Davis said she also coordinates with NCWorks and Goodwill to source employees.
Murphy said the company likes to promote from within, and that internal job postings for more than 300 Sonoco operations across the globe offer employees not just career mobility, but geographical mobility as well.
All in all, Sonoco's corporate culture appears to have gone a long way in helping the company maintain the workforce it needs to compete on that global scale.
"Our biggest issue is we want people to think that they're part of a family, and that they belong to something," Davis said. "I think we're doing a good job on that. We like to foster our people if they want to move ahead in the company. I love to hire from within. It's one of my favorite things to. It makes me feel like these people want to be with this company and want to grow. We want to have people start wherever they need to start and then grow from there, because we think that people are the most important part, obviously."