Archived News
Sylva board approves agreement with Pinnacle Park Foundation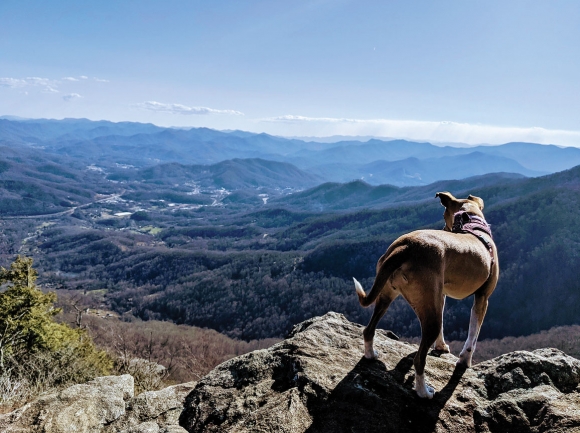 Overlooking Sylva, the Pinnacle offers one of the most dramatic views around. Holly Kays photo
The Sylva Board of Commissioners unanimously approved an agreement with the Pinnacle Park Foundation during its June 24 meeting aimed at moving along key conservation and recreation projects on the town-owned forest.
The board first discussed the memorandum of understanding during its June 10 meeting but delayed a vote to give its members more time to look over the agreement.
"We're not asking to usurp anything that the town has a right to do," said Pinnacle Park Foundation Chairman Jay Coward during the June 10 meeting. "We're just saying we would be happy to be your agent in getting this done for you."
The MOU's purpose, as stated in the document, is to authorize the foundation to "advise the town on present and future park matters" so that the two parties can "coordinate activities that will enable the park to serve the public and better enable the town to comply with the requirements of the (conservation) easement."
Pinnacle Park includes 1,088 acres of former town watershed acreage that was placed under a conservation easement in 2007. In 2019, the town purchased an additional 441 acres adjacent to the original tract.
Under the agreement, the foundation will be able to advise the town on plans, uses, facilities and activities in the park, including planning, designing, fundraising and coordinating with other entities. When the town specifically authorizes it to, the foundation will be able to enter into contracts on the town's behalf.
The MOU also gives the foundation the authority to organize and direct a volunteer organization, to be called Friends of Pinnacle Park, to maintain trails and other facilities on the property.
The town agrees to consider the foundation's recommendations "in good faith," to take action on those recommendations and to grant the foundation space on its agendas to take care of park business. Meanwhile, the foundation agrees to "faithfully perform" its duties and obligations, to report to the town annually at minimum and to meet with its board on a regular basis.
The agreement will remain in effect for five years, but the town can terminate it at any time with 30 days notice.
While the agreement doesn't have any specific language directing the foundation to conduct a botanical survey and master plan as was discussed during the June 10 meeting, Coward said the foundation would have the authority to do so under the language of the agreement.
During the June 10 meeting, the board also heard from certified nature and forest therapy guide Mark Ellison, who sought permission to pursue certification of the park's lower loop trail as a forest therapy trail under the Association for Nature and Forest Therapy. The board did not take action on that request June 10, and it did not appear on the agenda June 24. Ellison said he expects to discuss it with the board again during a July meeting.