Archived News
Leadership changes on WCU board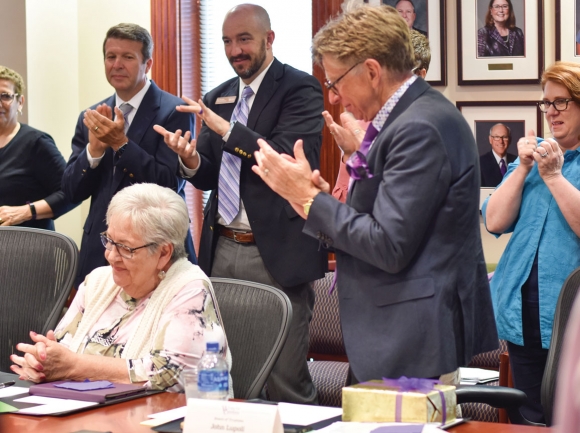 Trustees and university faculty applaud former Principal Chief Joyce Dugan (seated) during her last board meeting. Holly Kays photo
On Friday, June 4, three longtime trustees said goodbye to seats they'd held on the Western Carolina University Board of Trustees since July 2013.
In that year, former Principal Chief Joyce Dugan and John Lupoli of Highlands' Lupoli Construction were appointed by then-Governor Pat McCrory, and Kenny Messer was appointed by the Board of Governors. All three were reappointed to new terms in 2017, though Dugan and Lupoli returned as General Assembly appointees the second time around.
Trustee Casey Cooper, who is also the CEO of the Cherokee Indian Hospital, recognized Dugan's contributions to the board and thanked her for her "selfless dedication to improving the lives of others," her "belief in the power of education" and her leadership in blazing a path for him and others to follow.
"Throughout my life I've had many blessings, and this is one of them," said Dugan following Cooper's comments.
"It's been furthering my education in a sense," she continued. "It's been a pleasure working with so many people that are so dedicated to education and to this university, and are kind and good, thoughtful people. I've loved every minute of it."
Trustee Kathy Greely recognized Lupoli for his service, citing his extraordinary investment in the university in both time and monetary gifts, while Trustee Bob Roberts touted Messer's "unmatched" passion for WCU.
"My only charge to this board and to this university and executive committee and the chancellor is, let's not forget our mission," said Messer. "Our mission to improve the lives of Western North Carolinians and our students, particularly first-generation college students and particularly students that are from Western North Carolina. The personal touch should never go away."
The board also said goodbye to the leadership of Chairman Bryan Kinney, whose term on the board continues through 2023 but whose time as chairman has come to an end. Before taking on the chairman's role in August 2019, he served as vice chairman under Pat Kaemmerling.
"It is my hope that as we bring on new leadership as well as new board members, faculty and staff here at Western, that we will always try not only to ask them to support a marketplace of ideas, but that we also ask them to support the development of wisdom," he said. "Because it's my view, personally, that it is wisdom that sorts through all the ideas and chooses the ones that make us a better place and a better people. Let us as a board also always keep wisdom at the forefront of our choices as we do the university's business."
The Board of Governors-appointed seat vacated by Messer will be filled by Canton resident Timothy "Jake" Robinson, who is currently a member of the Catamount Club Board of Directors and recently received the WCU Young Alumnus Award. Robinson, CEO of Champion Credit Union based in Canton, also serves on the board of directors for the Haywood County Chamber of Commerce and Haywood Advancement Foundation.
The Board of Governors also reappointed current trustees Casey Cooper of Cherokee, Robert "Bob" Roberts of Asheville and Haden Boliek of Fayetteville. Cooper, Roberts, Boliek and Robinson will begin their new terms July 1 and serve through June 30, 2025.
The General Assembly has not yet named appointees to fill the seats vacated by Dugan and Lupoli. The Board of Trustees will select new officers from among its members at a later date this year.