Archived News
'Mayor Mike' steps down: Business as usual to continue at Fitzgerald Shoe Shop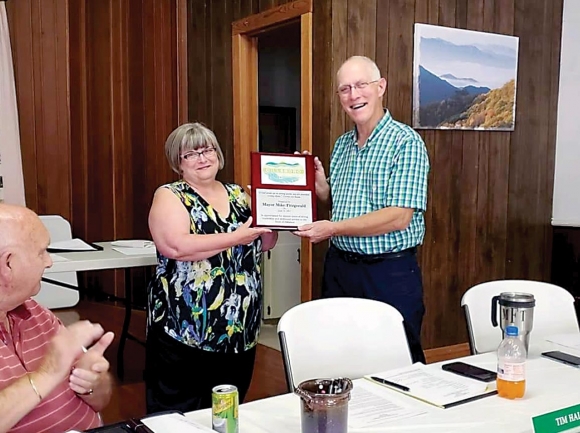 Mike Fitzgerald accepts a plaque recognizing his years of service form Town Clerk Debbie Coffey during his last meeting June 14. Donated photo
After 16 years and one week on the job, Mike Fitzgerald is officially retired from Dillsboro's town board— but not from his place as owner of the only remaining shoe repair shop in North Carolina's seven western counties.
"I think people were more concerned that I wouldn't be there rather than the mayor," he half-joked during a phone interview.
While people across the region have relied on Fitzgerald's shoe repair skills for about three decades now, those in Jackson County and particularly in Dillsboro have depended on his leadership through good times and bad since he was first appointed to the board on June 6, 2005. Four years later, he was elected to serve as the town's mayor, and he's kept the position ever since. For much of that tenure, he was also chairman of the Tuckaseigee Water and Sewer Authority Board, rotating off in 2018.
A resolution the board passed on Fitzgerald's last meeting — Monday, June 14 — said that he "worked tirelessly in his duties as mayor, serving with integrity, honesty and dignity" and that his "outstanding service to the Town of Dillsboro reflects well upon himself and the Town that he has led for sixteen years."
During that same meeting, Vice Mayor David Jones was sworn in as the town's new mayor. The board will appoint a new member to fill the vacant seat — and choose a new vice mayor — during its July 12 meeting. All six seats are up for election in November.
Fitzgerald resigned his post due to a move to Haywood County, which rendered him ineligible to hold a seat on Dillsboro's board. He has six children, with grandkids in Pennsylvania and California, but the closest are on the western edge of Haywood County. After his house sold, he made the move. Preparing to turn 70 this year, Fitzgerald wanted to be near his grandchildren.
"Family always come first," he said.
Fitzgerald doesn't have blood ties to the people he serves with in Dillsboro, but over the years that fact has become something of a difference without a distinction.
"The board members and the clerk and myself, we're all like a big family and we work really well together for the most part and enjoyed each other's company," he said. "Any disagreements we had were minor. It was easy to get things done."
During Fitzgerald's tenure, there was certainly plenty to be done. He won his first term as mayor in the midst of an economic catastrophe. The 2009 election came a year after the economic crash of 2008, which coincided with the Great Smoky Mountain Railroad's decision to move its main depot from Dillsboro to Bryson City.
"A lot of smaller businesses in our town closed up," said Fitzgerald. "We had a few that survived the whole thing. The restraunts were empty. We had Kosta's, and that was about it. Everything else was shuttered and shut down and dark."
Around Christmas time, he said, board members would go around putting lights in the windows of vacant buildings so they wouldn't look so deserted. The town has come a long way since then.
Most of Fitzgerald's tenure has seen a sharp focus on economic revitalization. Over the years, the town has installed more and better lighting, as well as visitor-friendly wayfinding signs. In February 2015, the board decided to set aside $25,000 for economic development incentives, later that year giving its first cash grant to Haywood Smokehouse, a $10,000 sum based on job creation meant to offset startup costs such as water/sewer fees and deposit checks.
By the end of 2015, shop owners were reporting a definite improvement in the downtown environment. The town saw a higher than usual net gain of businesses that year, and business owners experienced an increase in sale volume. It's hard to say exactly what spurred the change, or whether it was the overall mix of general economic improvement, economic development incentives and efforts by the town to define itself as something more than just an attraction for train passengers.
Growth continued, with Dillsboro becoming an increasingly bustling destination.
"We have just a bunch of eateries there," said Fitzgerald. "On Saturday and Sunday it's hard to find a place to park."
That's despite the fact that last year, nearly every business shut down for a prolonged period of time when the Coronavirus Pandemic began. Nobody knew what would happen to the tourist traffic that is the town's livelihood.
Luckily for Dillsboro, the town came into a cash windfall around that same time. Plans for a bridge replacement on Haywood Road had originally called for construction of a temporary bridge, but the engineering company proposed saving $3 million and more than two years on the $14 million project by foregoing the temporary bridge, causing a massive traffic detour during the anticipated nine-month construction period. The N.C. Department of Transportation allowed contractor Wright Brothers Engineering to keep half the savings, and in exchange for Dillsboro's consent Wright Brothers gave the town $450,000 of its share. Despite vehement opposition from Sylva, Dillsboro approved the deal and put $200,000 of the money into a grant program for local businesses.
Now, Fitzgerald is confident he's leaving the town in a period of health and growth and believes that with continued leadership of the sort he's already seen from the current board, it's likely to continue on that trajectory.
"Dillsboro is a small town, but it's a great place to raise a family," he said. "It's a great place to live, no matter who you are."