Archived Arts & Entertainment
This must be the place: White lace and feathers, they made up his bed, a gold covered mattress, on which he was laid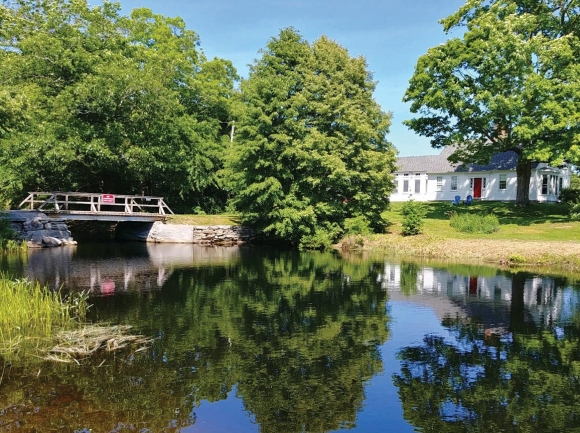 The Bristol swimming hole. (photo: Garret K. Woodward)
It was about 15 minutes into meeting Sailor Steve and Texas Jeff when I knew I'd met some of the wildest souls on this damn planet.
Sitting at The Contented Sole bar (and grill) in the sleepy Atlantic Ocean harbor cove that is New Harbor, Maine, last Friday night, I bellied up to the bar counter and ordered a local draft, the "Pemaquid Ale," and quickly befriended the duo.
I had just finished a seafood dinner with my mother (age 72), her best friend (age 60+) and her best friends' mother (age 97) at the seaside shack of alcohol and lobster (and whatever else they dragged up from the depths). The bill for dinner was paid and they headed back to their summer house around the corner.
The trio of hardcore female role models in my life said goodbye and left me there to (possibly) chat up the cute bartender, more so just to grab a nightcap and roll on into the final cosmic realms of my Friday night.
An hour later, there I was at the Sole, listening to wild-n-out tales of the high seas from Sailor Steve and Texas Jeff about hauling huge catches of scallops ("It's pronounced 'ska-all-ups,' Garret," Sailor Steve instructed) from the treacherous Georges Bank, some 300 miles into the Atlantic Ocean from New Harbor.
Earlier that day, I went for a trail run at Dodge Point Public Land, along the coast and just south of Damariscotta, Maine. Jogging through the northern woods, I thought of how I almost called the community home.
Aside from coming up here every summer since I was born (1985), I was offered a staff writer position at the Lincoln County News. It was April 2012 and I was 27. I'd been barely hanging on a freelance writer following the economic collapse of 2008, eager for full-time employment again in terms of the written word.
At the time, I was scraping by on sporadic $45 articles and substitute teaching at my old high school on the Canadian Border. Although I was offered the LCN gig, it didn't sit right with me. The whole situation didn't feel comfortable, and I've always been one to follow my intuition. I simply felt there was something better just around the corner.
Some close friends and family members said I was crazy to turn down the job, but less than two months later, The Smoky Mountain News received my resume and asked if I was interested in relocating to Waynesville, North Carolina, and working for them. The rest? Well, you know how it goes.
Leaving Dodge Point, I headed to the Bristol swimming hole (pictured) between Damariscotta and New Harbor. I've been jumping into its cool waters since I was in elementary school. Many a lazy summer day spent on the riverbank here, pondering the ways and means of life: as a kid, then a teenager, onward into adulthood.
At 36, a lot more salt and pepper in the hair as I saw my reflection in the water. I pulled up and immediately jumped in, only to swim up to the riverbank and find a warm spot on the ancient rock bed. I sat and thought of all the emotional weight of my past, and how much of that I truly want to carry presently into the future (which isn't much, truth be told, but easier said than done).
I thought of my existence before the pandemic: what my life was, where it stands today, and aspirations for tomorrow (and beyond). I thought a lot about those I dearly miss, either six feet under or thousands of miles away. I jumped into the cool waters and emerged onto the surface, once again in search of the oxygen needed to carry on.
New Harbor. Some 1,100 miles from Waynesville. Once I dried off along the riverbank, I meandered to the nearby dive bar, Shaw's Wharf. Filled with gritty lobstermen and tourists, it's open-air establishment with cheap beers and hearty conversation in a remote fishing cove. My kind of place.
I had such an urge to wander down there Friday afternoon, perhaps make some friends with the locals. I sauntered in. Sit down. Order a beer. Taking my first sip, I notice the back of the shirt of the person next to me. It read: "Wheels Through Time: Maggie Valley, North Carolina."
I was shocked, but not surprised, for the universe provides for the curious and adventurous. Not only is the museum less than 10 minutes from my apartment in Waynesville, but the late owner, Dale, was a friend who I knew from my travels and assignments. I introduced myself and said hello to the guy sporting the shirt.
His name was Gary. Older dude. Carpenter. Lifelong resident of New Harbor. He goes, "Well, I go to Western North Carolina to ride motorcycles and decompress." To which, I go, "Well, shit, I come to the Maine coast to go run and decompress." Smiles and laughter. Handshakes and head shakes in amazement.
Skip ahead to closing down the Sole later that night, I bid farewell to Sailor Steve and Texas Jeff, as well as the cute bartender. Plans were made in haste with them to do it all over again "tomorrow night."
Making my way back to the house, I could hear the waves of the mighty Atlantic crashing on the nearby beach, my gaze raised up and in awe of the stars hanging high in the night sky. I felt at ease, if but for a moment. I felt gratitude for the moment, fully immersed in "the now."
It's currently Saturday afternoon as I type this, so we shall see what mischief tonight will bring. First on the agenda right now? Back to Dodge Point and the swimming hole, probably back down to Shaw's and make friends with locals, as per usual.
Run 'round the circle of life up here on the Maine coast, this whirlwind of people and places (spaces and faces) that will forever hold a piece of my heart. It's a cherished piece that I can only retrieve, more so borrow back, whenever I find myself once again cruising up U.S. 1, over the Wiscasset bridge and down to New Harbor.
Life is beautiful, grasp for it, y'all.
Leave a comment
1

comment
Hum....ya have to put my age?.?......

Friday, 06/25/2021