Archived Arts & Entertainment
Scripting the flip: A conversation with Jon Stickley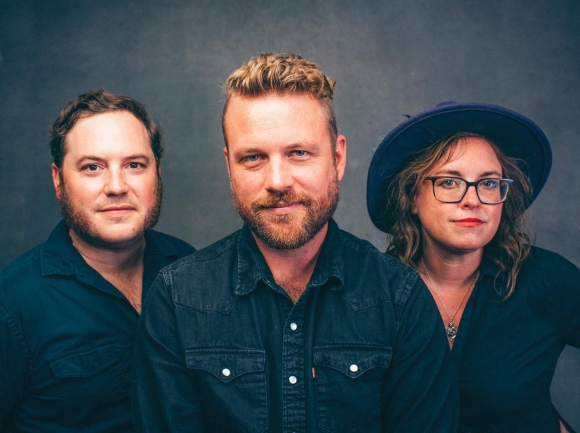 The Jon Stickley Trio. Hunter Deacon, (from left) Jon Stickley and Lyndsay Pruett. (Photo: Sandlin Gaither.)
A blend of jazz-fusion, bluegrass and avant-garde folk music, the Jon Stickley Trio is at the core of the current acoustic movement that's been roaring through the national and international scenes over the last decade.
Alongside the likes of Billy Strings, The Infamous Stringdusters, and Greensky Bluegrass — acoustic acts that resemble more of a rock show in presence and tone — the Asheville-based group has been making melodic waves of its own, where live performance and improvisation is the key to creativity and connection, something genuinely felt onstage and in the audience, too.
Fronting the trio is Stickley himself, this guitar virtuoso of unlimited scope and vision. In conversation, Stickley is introspective and reflective, but always looking to the future, whether artistically or professionally — this not-so-faraway reality where his band will rightfully be in big letters underneath the bright marquee lights.
Smoky Mountain News: After more than a year of no live music, you're back performing again. For someone like yourself who's constantly on the road, what was it like to have to stand still?
Jon Stickley: Our last proper trio gig [before the shutdown] was Feb. 28 [2020]. So, when we went past the year mark, it was honestly a little bit of a low point. It kind of floored me, you know? Just going on so long without playing live.
But, now that we've passed that mark and the vaccine is rolling out, I've got a lot of hope for what's going to happen. And I'm keeping an open mind and staying flexible with what we want to do and can do.
SMN: Aside from all the albums and projects you're involved in, you're a group who is well-known for its live performances.
JS: Yeah, and that's what we love about it, too. [Performing is] what we care about and it's what we enjoy — it's kind of why we're doing this. We missed playing music with each other.
[The shutdown] kind of refocused our energy in a really cool way, where we've gotten to get a little more into the live stream thing. And then, we've also been in the studio.
[Throughout all of this], we were able to kind of step back from the momentum of the ever-increasing year after year cycle, where you just want to go harder and harder and bigger and bigger, and you can kind of get lost in those endless cycles.
SMN: The cycles get broken and you step back. I think we all got a lot of clarity on what we want to do when we return to "normalcy."
JS: Well, it definitely is a silver lining. Myself included, you're always focused on the next thing to cover, next show to go to, and you get so wrapped up in it. You're like, "Oh man, I haven't been home in two years."
We've been building the [Jon Stickley Trio] for years now. So, every year we're doing more and more stuff focused on the future. And to have it just completely come to a stop — and I don't want to use the silver linings cliché — but I did get a baby out of the deal.
[My wife] gave birth during the shutdown, where now I get to spend time with both of them, where normally I'd be on the road. I'm able to be home and be a good dad. It's really brought a lot of clarity to my life and a lot of fresh inspiration.
SMN: With the nature of live streaming and it becoming part of the music industry now, what's been the biggest takeaway for the trio?
JS: I would say it was a growth thing. It's been really good for us. It's helped us in a lot of ways, to kind of re-examine our show. The first few streams that we did were extremely uncomfortable. You feel self-conscious with nobody there for an audience. It's coming through the soundboard directly into the internet.
The first one I played I did a Facebook live stream solo from my backyard in April [2020]. That was one of the most nerve-wracking things I've ever done — to just sit there and play guitar live to the internet. But you keep doing it and learning from it. And I grew a lot, I think, as a musician and a performer.
With the streaming, you have this ability to reach your national and global audience in a single event, as opposed to having to carry as your gear from town to town on tour.
SMN: And the shutdown probably revitalized and justified why you love performing, and why it's such an incredible space to inhabit, whether onstage or in the audience.
JS: [With the streaming], to lose that feedback and energy you get from live shows, that appreciation and connection, for that to all completely drop off, it made me really reflect on what I'm doing with my life.
Ultimately, I came back around to that [live music] just makes people happy. It makes people happy and it's more of a family, more of a community than I realized it was.
Being able to reach out through a live stream to our nationwide audience, it's like all our friends are coming out of the woodwork from all these cities that we've been to and all the friends we've made — it brought us all back together again.
And not just the music community, but humanity in general, being able to reconnect with each other [again]? It's pretty heavy. It's where I'm pretty mind-blown by the whole thing. I had a lot to focus on [during the shutdown], and I can't wait to get onstage again.
Want to go?
Presented by Plugged-In Productions, Jon Stickley Trio will hit the stage with bluegrass legends Travelin' McCourys for the "Grateful Ball" on Wednesday, June 30, at the Hazel Robinson Amphitheatre in Asheville.
Following sets by both bands, there will be a joint performance as the groups pay tribute to the Grateful Dead. Doors open at 5:30 p.m. Show begins at 6:30 a.m.
Tickets start at $25. For more information and/or to purchase tickets, go to www.hazelrobinsonamphitheatre.com.