Archived Arts & Entertainment
This must be the place: Somethin' keeps him driftin', miles and miles away, searchin' for the songs to play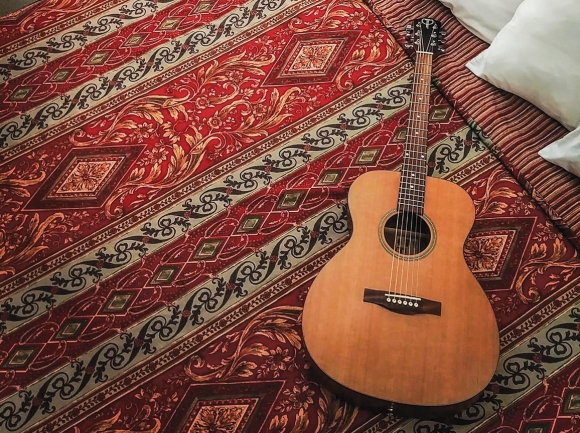 The Teton parlor acoustic guitar. (photo: Garret K. Woodward)
I was already 10 minutes late to my niece's seventh birthday party some 20 minutes away last Sunday afternoon.
Though I was in a hurry, I noticed my Teton parlor acoustic guitar atop the guest bed at my parents' farmhouse in the North Country of Upstate New York. Once I got my socks and shoes on, I couldn't resist the urge to pluck a few strings and radiate whatever emotion I was feeling at that very moment.
June 15 marks exactly one-year since my first guitar arrived on the doorstep. At the time, it was in the midst of the national shutdown. Once the shelter-in-place was lifted in North Carolina, I took off to New York to spend the summer with my family, something I hadn't done in years (and years).
In February 2020, my mother gifted me a ukulele for my 35th birthday. That previous Christmas, I had mentioned that my goal for the impending year was to learn an instrument again. Thus, she felt a ukulele was a good start — something easy to learn but without a huge financial obligation.
She handed me the $50 soprano uke towards the end of February 2020 when my folks were passing through Waynesville en route to Florida for the spring. I was thankful for the gesture, but with one thought in mind, "I hope that I'll have time to sit down and learn this thing."
A couple weeks later, the world came to a standstill and I found myself alone in my one-bedroom apartment amid a sea of books, vinyl records, Netflix account, and the uke sitting in its case in the corner nearest me. Eventually, I picked it up and started to learn a handful of chords, ultimately fully immersing myself in the small acoustic entity until further notice.
At first, it was all foreign to me, as is anything new that you're looking to incorporate into your life. With the uke, it was figuring out simple chords and even simpler songs. Slowly. Steadily. No expectations. And yet, completely into the process, wherever it would (and will someday) take me.
By June 2020, I was eager to make the transition from ukulele to acoustic guitar. The ole six-string. I felt it was something that I not only really wanted, but also deeply, more so intrinsically, was drawn towards. I put the uke down and bought a 1966 Silvertone guitar off of Reverb.com and awaited its arrival.
A few days later, the UPS dude rolled up to my folks' farmhouse and delivered the big box with the old guitar. It was intimidating at first, this huge dreadnaught guitar that was a few times bigger than my uke. I pulled it out of the old, beat-up case and tuned it up. I strummed the open chords and immediately connected to whatever cosmic magic resided within this instrument.
From there? It's been just about 12 months of pure enjoyment, this whole new avenue of purpose, passion, and plucking. As a lifelong music freak and 15-year music journalist, it's a real full-circle kind of thing to be able to (at least) play some chords and keep time/rhythm with friends of mine.
Some of these cronies are sheer guitar wizards, others legit industry professionals, the rest front porch pickers who'll teach you several years of melodic knowledge over some beers and burgers on the grill on an otherwise quiet Tuesday night in Balsam Gap.
Again, I have no expectations. I'm just, well, happy to be in the "here and now." Happy to learn a few new things in this ongoing journey with my trusty six-string. I find myself in constant awe of the littlest lesson I might scoop up by chance, or backstage at a show from a friend who just performed in front of a raucous audience.
The beauty of music, whether played live or learned on your own, is that it's meant to be shared — with you, with me, with any and all willing to take a chance on a band or the idea of diving a little deeper in their own personal quests, especially in the timeless realm of instruments, and continually evolving as a beautiful, curious human being.
Now? I can't walk by my guitar on the couch in my Waynesville apartment without picking it up. I can't walk by it even when it's atop the guest bed at my parents' farmhouse in the North Country, even though I was already 10 minutes late to my niece's seventh birthday party some 20 minutes away.
And the craziest thing? I wish I had picked up the guitar years ago, all of those past New Year's Eve resolutions to do so that never came to fruition. To all of you out there who have always wanted to finally learn to play an instrument? Do it. Do it now. You'll never regret it, especially if the process (and growth) of it sticks happily to walls of your heart and soul.
I think back to a year ago, with this huge dreadnought guitar in my hands, not knowing a single damn thing about how to play it. And yet, I couldn't wait to learn, even if it was a couple of simple chords those first couple of weeks.
And though I'm still in the beginner stage of "it all," I remain a sponge for any and all tips and tricks I may come across along the journey of life — musically, or just merely applied to an existence trying to find footing in this whirlwind of time and place, people and things.
Life is beautiful, grasp for it, y'all.
Leave a comment
1

comment
Love it G!!!

Sunday, 06/20/2021