Archived Opinion
Juggling the five balls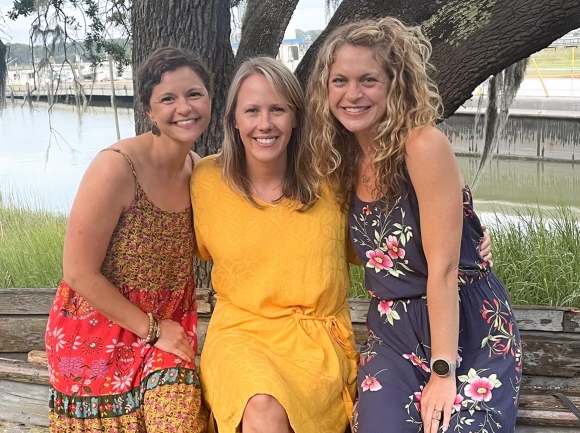 I recently went on a girls' beach trip to Hilton Head Island. It'd been a while since I enjoyed surf and sun with my female tribe. The last all-female excursion was in August of 2016, the same week my mom passed away unexpectedly. She'd been battling cancer but was projected to live much longer, so her death came as a shock. Every time I thought about a girls' beach trip, my stomach knotted. I associated the timing of my previous experience with my mother's passing.
Earlier this year when a close friend suggested we go on a beach trip this summer, I said yes. It was time to try again. For three days, we relaxed, read books, ate good food, went shopping, drank morning coffee on the balcony and took walks on the beach. I read two full novels during my time at the seashore, one of which was called Suzanne's Diary for Nicholas by James Patterson. It's a very un-Patterson type book, opposite of his typical suspense, thriller and mystery genres. It's a tale about the interwoven lives of three fragile humans, of love, hope and second chances.
One of the characters tells the story of the five balls. Life is like juggling five balls, which represent work, health, friends, family and integrity. Work is a rubber ball while the other four are glass balls. If you drop the rubber ball, it will bounce back or in a different direction. If you drop a glass ball, it will break, scratch, chip or otherwise be damaged. The lesson is if you have to choose a ball to drop, choose the rubber ball.
People, especially Americans, often place productivity and success ahead of more important things, and so often work gets in the way of authentic living. I'm fortunate to do work I love, but I haven't always been in this place. I went to school for many years to be a school psychologist, earning a bachelor's, master's and a specialist degree, only a year or two away from a doctorate. Three years of being a school psychologist and I realized that career wasn't for me. I was not working with kids and families in a counseling capacity. Instead, I was testing students to see if they qualified for an IEP (individualized education plan). And while there is a place for an assessment specialist in our school system, it wasn't what I bargained for.
I then ventured into the classroom and taught middle school English language arts for five years and after that, moved into the roles of lead teacher, instructional coach and reading specialist. After several more years when I had my second son, the yearning to be a writer was so great, I could not ignore it. I researched journalism programs and discovered I did not have the time or money to earn an entirely new degree; however, I could obtain a journalism add-on degree.
While working on the journalism degree, I started a blog about being a mom. This was in the early days of influencer marketing and online media. Back then, blogs were a space where people shared personal stories and thoughts. They were not landing pages for ads, affiliate links and other revenue producing widgets and tools. It was a time when we actually read one another's posts and commented, as opposed to worrying about social media likes or shares. It was a really cool phase in the blogging world and I'm grateful to have been part of it.
Almost five years after starting my blog my mom passed away and I got a divorce. I no longer felt like a perfect mom and wife who had the right to encourage others. Further, all I wanted to write about was grief and sadness. Around that same time, I started freelancing as a columnist with The Smoky Mountain News. Eventually, the part-time gig turned into a full-time job and I became a member of the SMN staff. When January 2022 rolls around, I will have been writing this column for six years. I also write for many of our other publications and digital platforms.
I tell the story of my career path because somewhere deep within me, I've always known the lesson of the five balls. I've always known I want my work to be fulfilling but never more important than the people I love, my health or my integrity. If your work ball isn't already rubber, you may have to make it that way. And once you do, you'll wish you'd made that change sooner.
At the end of our lives, are we going to look back on emails, deadlines and meetings? No, we're going to see the faces of those we loved, the adventures we experienced and feel pride for maintaining our integrity. Patterson's book landed in my hands serendipitously. Leaving that beach trip, I not only felt rested and refreshed but also energized to remember the lesson of the five balls and pass it along to others.
(Susanna Shetley is a writer, editor and digital media specialist for The Smoky Mountain News, Smoky Mountain Living, and Mountain South Media. This email address is being protected from spambots. You need JavaScript enabled to view it.)
Leave a comment
3

comments
What a beautiful and insightful piece. Thank you so much, Susanna :)

Friday, 06/18/2021

If I had my choice, I would skip the one on the left and take the other two with the one on the right being my first choice.

Friday, 06/18/2021

Just curious which one in the picture is Susanna Shetley and what are the names of the other ladies?

Friday, 06/18/2021