Archived News
'As normal as possible': WCU outlines plans for Fall 2021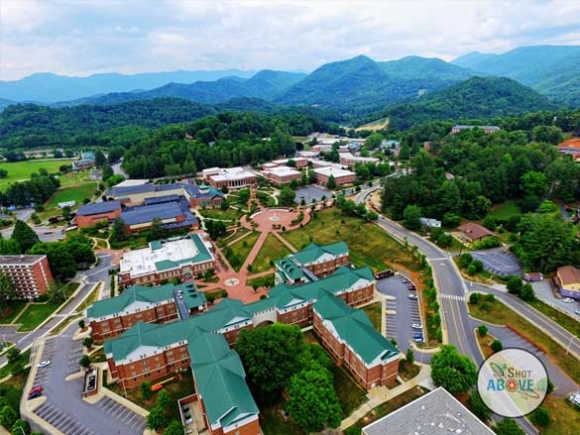 As the pandemic continues to recede, Western Carolina University is planning for a fall semester that "will look more like fall 2019 around here than fall 2020," Chancellor Kelli Brown told trustees during a June 4 meeting.
"In other words, it will — conditions allowing — be as normal as possible," she said, "and I know we are all looking forward to that."
During a meeting of the trustees' Academic Affairs and Personnel Committee the previous day, Provost Richard Starnes painted a picture of what the semester might look like, with the caveat that, from its start, the pandemic has been an evolving situation.
Classrooms will be at full capacity, and move-in, opening assembly, athletic events, marching band and International Festival will all "look pretty close to what we are used to seeing," said Starnes. The library will reopen to the public. In a March press release, WCU announced a return to full-occupancy residential living and normal hours and increased capacity for all buildings and facilities.
That doesn't mean the campus will operate exactly as it did in 2019. Students will still be required to wear masks in some situations, including while in class, and move-in will take place over a 10-day period rather than as a single-day event. Orientation will occur partially online and partially in-person.
Students will not be required to get vaccinated against COVID-19, but the university encourages them to take that step.
"We will continue to encourage students and all members of our campus community as well to get vaccinated," said Starnes.
Looking further ahead, students applying for admission in fall 2022 will not be required to submit standardized test scores. In May, the University of North Carolina Board of Governor's approved a one-year extension a waiver it originally issued last year.
On June 3, Brown sent an email to students, faculty and staff announcing that, in addition to a continued lifting of capacity limits and physical distancing requirements in campus facilities, face coverings would be optional for fully vaccinated people — with exceptions. Masks are still required in classrooms, lab settings, other instructional spaces, Health Services locations, the Cat-Tran and on a case-by-case basis for "designated indoor spaces or gatherings where close contact is likely to occur as determined by the appropriate Executive Council member." Face masks are still required for people who are not fully vaccinated.
Additionally, most COVID-19-related signage has been or is being removed, and all water fountains and sinks are being turned back on. Plexiglas dividers and hand sanitizer stations will remain in place for now.
"I am so very proud of how we have come together and managed the pandemic's consequences over the last year, and I thank you for all you have done to support WCU and our community at-large's efforts," Brown wrote in the email.
Perhaps the biggest task campus staff has before it is moving WCU from its reduced-capacity state of 1,763 classroom seats available to 4,220 seats. By July, Starnes said, staff will move more than 7,000 pieces of furniture from storage and other locations to get classrooms back at full capacity.
As to the likely size of next year's student body, that's still up in the air, Starnes said.
"Families are committing, but they're having a more delayed response to committing to attend," he told the committee June 3.
However, he said "if I had to bet," he'd say that WCU will see between 1,750 and 1,850 first-time, full-time freshmen next year. If that's the case, first-time, full-time freshman enrollment would be around the same level of last year's 1,780 figure, which represented a 14.5 percent drop from the 2019 figure of 2,083.
"I think we will have a first-year class that's not unlike what our first-year class was last fall," he said. "Maybe slightly above that. It seems to us that this is true for a number of schools."
Despite the dip in first-time, full-time freshmen last year, WCU saw an overall increase in enrollment for the 2020-21 school year — even setting a new record due to an all-time high freshman retention rate and increases in distance and graduate enrollment. Distance and graduate enrollment appears to be up for the coming year as well, said Starnes.
For the past six years, freshman-to-sophomore retention has been above 80%, but this year it will be just below that, with the figure sitting at 77.9% as of June 3. However, Starnes said he's pleased with that number given the circumstances.
"The fact that we were able to retain that large a number of students out of what has been just a class that has suffered through so many challenges, that's a really good thing," he said.