Archived News
Super PAC formed to oppose Cawthorn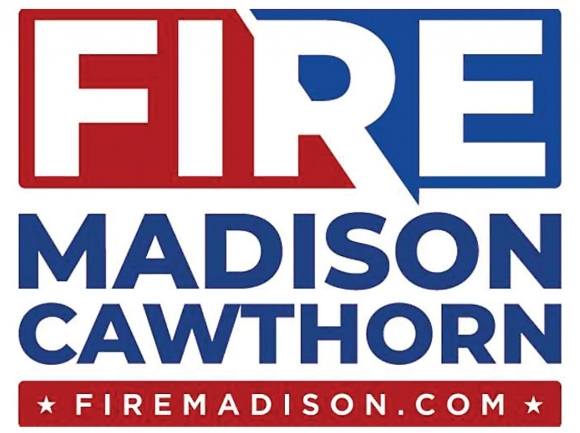 Retired Air Force Col. Moe Davis may have lost to Madison Cawthorn in last year's General Election, but that doesn't mean he's done speaking out against the young conservative firebrand.
"Since his first day in Congress, Madison Cawthorn has been a threat to our democracy. First, he peddled Trump's big lie about the election being stolen. Then, he betrayed our country and helped incite the violent attack on our Capitol and our Constitution," Davis said in a June 7 press release announcing the formation of Fire Madison Cawthorn, a Super PAC focused on defeating Cawthorn in 2022.
Davis, who won the five-way March 3, 2020 Democratic Primary Election with 47 percent of the vote, is listed as chair of the PAC's advisory board. David Wheeler, a two-time NC Senate candidate, will serve as the president.
Wheeler said that they've already confirmed one member of the advisory board, Andrew Aydin, a former strategist for the late Rep. John Lewis who happens to live in the district.
Right now, the group doesn't anticipate spending money on either Republican or Democratic Primary Election candidates, according to Wheeler.
"We've got 18 months until the election," Wheeler said. "We're focused on raising money. We raised $25,000 in the first two days with an average contribution of $32. We want to make sure this is grassroots-driven, and we'll keep up that grassroots fundraising work. In July, August and September, we'll spend time on higher-dollar donors who have expressed interest in making 5- and 6-figure donations."
Money, however, won't be the final arbiter of whether or not Cawthorn ends up being re-elected in 2022. Davis raised about $2.2 million — far more than any NC11 Dem in recent memory — but still lost to Cawthorn by just over 12 points. Cawthorn raised almost $4.5 million.
There was also more than $1.9 million in outside money spent opposing Davis, with only $490,000 opposing Cawthorn. If Davis and Wheeler are successful, they could help close that gap for the next election.
"We're under no illusion that this is going to be easy. It's going to be an extremely tough fight," Wheeler said. "But let's say we start with a 10-point advantage for Cawthorn out of the blocks. We've adopted The Lincoln Project's strategy — if we can help the Dem nominee shave 3 to 5 points, it makes the race competitive. The Dem will carry the burden of getting over the top, but if we can siphon off 3 to 5 points, we'll get a competitive race."
Cawthorn held a June 9 town hall by telephone, during which a caller asked him about the PAC.
"When I first heard there was a PAC that was called the 'Fire Madison Cawthorn PAC' that was being funded by a lot of socialists all across the country I said, 'Good.' To know that I am taking fire, that just tells me that I am above my target and that is the socialist agenda that's rising up in our country," Cawthorn said. "I genuinely believe the people of Western North Carolina have my back because I have never forsaken them, and I never will. As long as the people of Western North Carolina are watching my back, it doesn't matter what kind of money they spend against me, it doesn't matter what they do."
Wheeler has his own thoughts on that answer.
"Let's think about this objectively," he said. "If you're doing your job, why would a group of people go to the work of forming an entity to fire you?"
Leave a comment
6

comments
I know of David Wheeler. He ain't no Communist. A Socialist maybe but surely not a Communist.

Friday, 06/18/2021

I know of David Wheeler. He ain't no Communist. A Socialist maybe but surely not a Communist.

Friday, 06/18/2021

Here's my retort Mr. Wheeler, the self serving "Patriot". Trying to use your poor Uncle and Father in a way to validate and justify your distorted and dysfunctional views. And by the way, I would like to see what you just said to my face. I'll twist you into a pretzel you half baked Commie. You're a coward.

Friday, 06/18/2021

Harry - I'm not a communist. My uncle was killed while in the Navy. My father was a proud Marine. I'm involved in my community and trying to bring tele-health to all of our schools in the area. Vlad Putin is a socialist and communist. I am not. I am a proud American. You don't know the first thing about me nor have you done any research on me, so please take your uniformed, ignorant, and stupid communist comments and shove them up your stove pipe.

Thursday, 06/17/2021

I'll be happy to answer Mr. Wheeler's question for him.... Mr. Wheeler, you are a f&%king Communist. And that by the way is thinking objectively.

Wednesday, 06/16/2021

I'll be happy to answer Mr. Wheeler's question for him.... Mr. Wheeler, you are a f&%king Communist. And that by the way is thinking objectively.

Wednesday, 06/16/2021