Archived News
Macon commissioners narrowly approve budget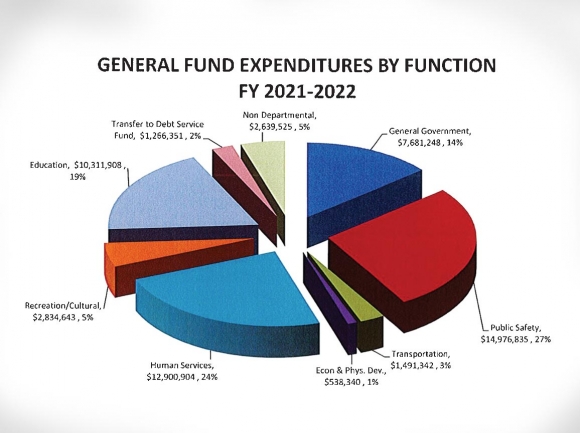 Macon County commissioners approved the 2021-22 fiscal budget, but two Republican commissioners opposed its passage because they disagreed with increasing the tax rate.
Commissioner Paul Higdon, who is serving his third term on the board, and newly elected Commissioner Josh Young both voted against the budget.
Higdon, who has voted against the budget several times during his tenure, said during the public hearing that he wanted to apologize to the county manager for disregarding his proposed budget and to the taxpayers of Macon County for raising taxes.
"The county manager did a great job along with his team bringing us a flat budget and I support it," he said. "But last week, just like last year, we got into pet projects — the Nikwasi Initiative and Cowee School — those are charities and we have $75,000 set aside in a community fund pool and then off the cuff give $25,000 to a charity."
At the last meeting, commissioners voted to increase property taxes from 37 cents per $100 of assessed value to 40 cents even though the county budget saw a significant increase thanks to a 19 percent increase in sales tax revenue. The additional revenue will generate about $2 million a year.
The $2 million gain will go toward providing a 2 percent cost-of-living raise for county employees ($400,000), $600,000 toward implementing the forthcoming recommendations of a pay study, increasing the Fontana Regional Library budget by $30,000 a year, a one-time investment for Nikwasi Initiative and a one-time $10,000 capital project at Cowee School.
The remaining funds will be placed into the county's contingency fund to make sure the county has enough funds to implement the pay study. If the money isn't needed to increase pay for county positions, it will be put toward capital needs for the school system.
County Manager Derek Roland didn't include a 2 percent COLA raise for employees in the budget, anticipating the results of a pay study that will increase wages by an average of 6 percent depending on the position.
However, Commission Chairman Jim Tate recommended moving forward with a COLA this year, which will cost the county an additional $417,000 on top of the $1.8 million set aside in the budget to implement the pay study results when they come in later this summer.
Higdon said he wanted to apologize to taxpayers for increasing their property taxes for the second year in a row and during a time of financial hardship.
"Financially this county is flushed with money. Macon is getting $7 million in COVID relief funds and has $28 million in fund balance," he said. "There's no reason why we need more from taxpayers. Jackson County just reduced their tax rate to 36 (cents) after revaluation. I can't vote for the commissioners' budget."
Even with increasing the property tax rate to 40 cents per $100 of value, Commissioner Ronnie Beale pointed out that Macon still had one of the lowest tax rates in the state. Haywood County's tax rate last year was at 58.5 cents and this year the county approved a rate of 53.5 cents. He also argued that the reasons for the increase were legitimate county needs.
"These are not pet projects — all of these are important. The pay study, raises for employees — out of the four pay studies we've done, none of them have been fully funded so we decided to do it this year," Beale said.
He added that Nikwasi Initiative was doing important economic development work in conjunction with the Eastern Band of Cherokee Indians and that the county should continue to support that effort.
Beale said Cowee School was a county-owned building that needed to be maintained by the county.
"We're putting a new well in our own building. We own it and it's been a desperate need for some time," he said.
As far as the $28 million sitting in the county's fund balance, Beale said it's there for a reason and can't be spent on reoccurring costs. Years ago, the board of commissioners passed a policy to keep 25 percent of the county's annual expenditures in the balance even though the state requires only 8 percent in reserves.
"You're not just voting against the tax increase, you're voting against the budget — all of it," he told Higdon and Young.
The budget passed by a 3 to 2 vote.