Archived News
Trump makes early endorsement 
in 2022 NC Senate race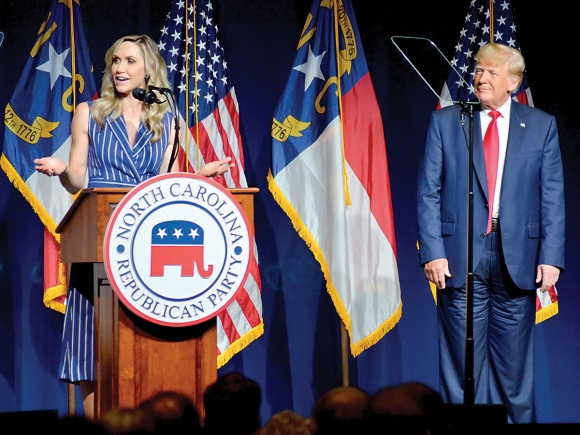 Lara Trump (left) stands with her father-in-law on June 5, 2021 in Greenville, NC.
Cory Vaillancourt photo
Voters excited about the possibility of a new chapter in the Trump family's political legacy were in for a bit of a letdown last Saturday night, but former President Donald Trump did give North Carolina Republicans something else to be excited about.
"Now you may have heard a rumor that I have been considering possibly running for a Senate seat here in North Carolina," said Lara Trump, who since 2014 has been married to Donald Trump's middle son, Eric. "I did a lot of soul searching, a lot of thinking, talking with my father-in-law, my parents, my husband Eric … and because of my two kids who are very young, 1 and 3, Carolina and Luke, it is going to be very hard for me to enter this Senate race right now. But I am saying 'No for now,' not, 'No forever.'"
Lara Trump was born in Wilmington in 1982 and graduated cum laude from North Carolina State University with a Bachelor of Arts degree in communications. In 2012, she became a producer for television news show Inside Edition, but left in 2016 to join Donald Trump's presidential campaign. Since then, she's served as his advisor and surrogate on occasion.
Mentioned as a possible candidate for retiring Republican Senator Richard Burr's U.S. Senate seat, Lara quashed speculation that she would join the 2022 Primary Election field that already includes prominent North Carolina Republicans like former Gov. Pat McCrory and former Rep. Mark Walker.
Donald Trump said he'd waited on Lara's decision before making an endorsement, and once she announced it, he wasted little time in doing so, calling Rep. Ted Budd to the stage.
"I am giving him my complete and total endorsement. We're going to work with them. We're going to campaign with them. You can't pick people that have already lost two races," Trump said in a thinly-veiled barb against McCrory. "You can't pick people that have already lost two races and do not stand for our values, so I'm going with Congressman Ted Budd, complete and total endorsement. Come on up, Ted."
Budd, of Davie County, emerged from a 17-candidate Republican Primary Election in 2016 and benefitted from the "Trump surge" in the General Election to win his first term in Congress.
"The Dems outspent me two-to-one in the worst Republican district and with your help, Mr. President and Lara, you coming in to help, we won," said Budd. "In 2020, Lara, we fought together. We fought to help [U.S. Sen.] Tom Tillis win, we fought to keep the North Carolina legislature, we fought for North Carolina judges. You're a heck of a teammate and you'd be a heck of a Senator. Mr. President, Lara, this means the world to me. Thank you, but we've got a lot of hard work ahead, so let's win this together and let's get back to making America great again."
McCrory responded on Twitter, saying he was "disappointed that President Trump has endorsed a Washington insider who has done more to oppose the Trump agenda than anyone in this race."
Trump's endorsement of Budd also puts him at odds with another Republican congressman with whom he's grown close — Madison Cawthorn. Cawthorn endorsed Rep. Walker back in February.
Now, McCrory and Walker — along with declared Democrats in the field like former state Supreme Court Justice Cheri Beasley, state Sen. Jeff Jackson, and former state Sen. Erica Smith — will be among the first to test the efficacy of the next-generation Trump machine.
"Just because my name is not on the ballot does not mean I am not fighting every step of the way with you here in North Carolina," said Lara. "If we're being honest, this is so much bigger than a Senate seat. It's about the future of America. We have to fight for our conservative values. We have to have a person in that Senate seat who represents North Carolina, and he's going to lead this country in the right direction."
Leave a comment
2

comments
Trump 2024

Sunday, 06/13/2021

I need to get the name of his tailor.

Wednesday, 06/09/2021