Archived Arts & Entertainment
This must be the place: Ode to 22 years, ode 
to being together again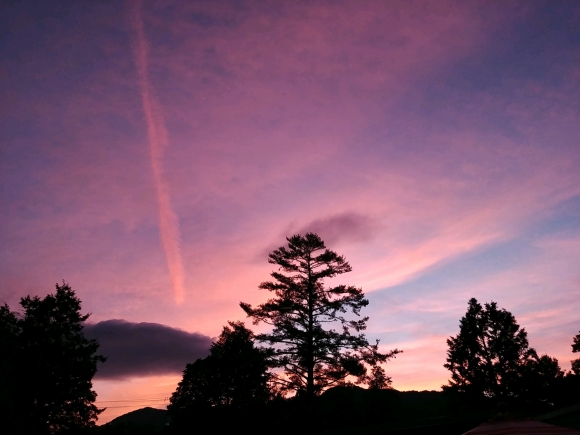 It was exactly a week ago when it was decided as a newsroom to cleanup up our offices for The Smoky Mountain News "Distant Social & Birthday Bash" last Friday afternoon.
Digging through old files, binders, newspaper issues, boxes of archived materials, boxes of objects of unknown origin. Deciding what stays and what gets brought to the dump. Wednesday morning and the excavation began.
A couple years back, I gave up my personal office to one of our advertising representatives. Back then (and to this day), I'm only ever at the office on Tuesdays to edit and proof the newspaper pages before it goes to the printer, soon to be dropped off at newsstands around Western North Carolina come Wednesday morning.
I've never been able to be at the office for long periods of time. I've also never been able to sit still, from childhood through adulthood. Besides, I'd rather do my interviews and writing at coffee shops or at my desk in my apartment, a bustling Russ Avenue in downtown Waynesville floating by my front window, my fingers typing away wildly as they are right now on this quiet Sunday afternoon.
I let go of my old office to someone who needed her own space (and more of it). That said, my boxes of files and objects of unknown origin got put in the back office, right across from our conference room. From constantly being on road on assignment or simply frolicking around Southern Appalachia, I've neglected unpacking the boxes or just getting around to tossing them out.
During the chaos of 2020 and such, the boxes still sat there atop the office desk in the back, untouched and gathering dust. It got to the point where I didn't even notice the boxes and files piling up higher and higher with each passing week of putting the newspaper together.
Thus, there I was last Wednesday, with orders from my publisher, Scott McLeod, to finally clean out our building and its offices before we welcomed the general public over for free Boojum beer from its antique keg truck and small plates of culinary delights emerging from the Fuego food truck also onsite for the "Distant Social & Birthday Bash."
As with any time one finally cleans up their space and starts digging into all their junk, you soon find yourself amid a cathartic moment, this sense of self about where you came from, where you are, and where you may go from here.
You start to pick through things and realize each item — old newspaper, receipts, business cards, letters from readers, post it notes with interview reminders, etc. — is a moment in time in the continuing motion of your life's journey. Names on pieces of paper you haven't talked to in way too long. Assignment notebooks filled with quotes from countless stories, some I had forgotten about in the grand scheme of things.
And all of those old copies of The Smoky Mountain News, those interview subjects and matters that seemed so urgent at the time. All of those columns about whatever I was up to that particular week. Words about femme fatales now long gone from my field-of-vision, but never forgotten. Words about being back home in my native North Country, of heading out West to find myself once again, and seemingly everywhere (and everything) in-between.
I even unearthed my first article for The Smoky Mountain News, a cover story on Balsam Range's "Papertown" album release party in Canton in August 2012. I was 27 years old and just uprooted my entire life in Upstate New York in hopes of a fresh, promising new chapter in Western North Carolina. Nine years ago, feels like nine days ago, truth be told. And I love it here now more than ever.
What really made me stop in my tracks were all the issues from last spring, when Covid-19, the pandemic and eventual shutdown were just starting to become part of our daily lives. Cover stories trying to make sense of what was happening in real time, and what our landscape of people, places and things may look like with so many unknown back then.
By early Wednesday afternoon, the back office was spotless, my files and old newspapers neatly organized on the nearby shelves. Books and other trinkets finding a home somewhere on the same shelves. My desk completely cleared off, ready to edit and proof this week's issue.
That ride down Memory Lane on Wednesday parlayed itself in deep feelings of compassion and connectivity within our mountain communities as we greeted any and all Friday afternoon at the "Distant Social & Birthday Bash." Celebrating 22 years of The Smoky Mountain News in business, it was a truly full circle thing to be in the presence of all who read and support what we do, and are trying to do.
At one point, which was definitely after a few beers, I found myself standing on a chair in the newspaper parking lot, in front of dozens of birthday patrons. I spoke of the importance of community journalism, and how surreal it was to be around everyone who came, to see their smiling faces once again, to laugh together, and to merely just be together — reconnecting in a time of disconnection.
I missed each and every single one of you. Thank you for being you. And thank you for providing me with a bountiful career of unlimited possibilities.
Life is beautiful, grasp for it, y'all.
Leave a comment
1

comment
Its such a shame that this paper has gone Liberal Leftist with their editorial policies. Very sad.

Monday, 06/14/2021