Archived Arts & Entertainment
Truer picture of me: Graham Sharp of Steep Canyon Rangers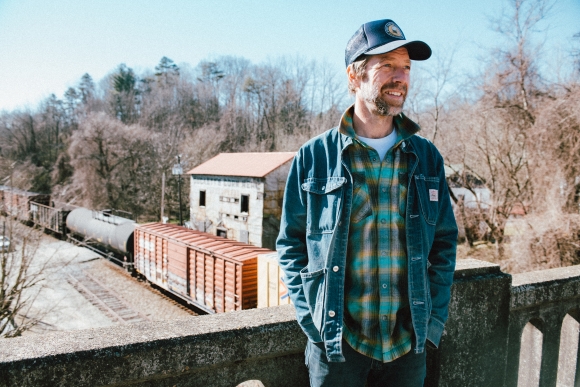 Graham Sharp
Sandlin Gaither
It's late morning at Citizen Vinyl in downtown Asheville. Formerly the Citizen-Times Building, the historic structure is now home to a record manufacturing facility, café, bar, record store and recording studio.
On the third floor is the legendary "Studio A," once home to WWNC, an enormously popular and vital radio station, which broadcasted the first on-air performances by the "Father of Bluegrass" Bill Monroe (in 1939) and folk legend Jimmie Rodgers (the week before he ventured up to the "Bristol Sessions" in 1927, dubbed the "Big Bang of Country Music").
Standing in Studio A is Graham Sharp, Grammy-winning singer/banjoist for the Asheville-based Steep Canyon Rangers, one of the marquee bluegrass/Americana acts of the 21st century. But, today, Sharp is there to pick up the vinyl test pressings of his debut solo album, "Truer Picture."
Created as a result of the shutdown of the music industry last year due to the pandemic, the record is a portrait of a man reflecting on the world surrounding him. Whether it be through the lens of his family, his band, or simply the matters of the day, it's an embracing and intricate offering — a culmination of Sharp's wide-ranging talents and deep appreciation for those who came before him.
Putting "Truer Picture" on the record player in Studio A, it's a full circle kind of thing for Sharp, as he sat down and immersed himself in the sounds radiating from the speakers. Thoughts and visions of Bill Monroe singing in that very spot over 80 years ago, a place Sharp, literally and figuratively, now occupies, this current torchbearer of that "high, lonesome sound" — an artist ever-evolving and reshaping his melodic palette.
Smoky Mountain News: You're used to nonstop touring and recording with the Rangers. But, with the shutdown, you've got to have something to focus on when you're sitting still.
Graham Sharp: Totally. And that was it. I mean, everything else around you stopped, but I wouldn't, I didn't, I couldn't stop. I just needed to keep working and feel productive.
SMN: It must've been kind of a cathartic thing, not only for your personal life, but also your creative side.
GS: Oh yeah. I never had any plan to create all this music or turn it into a record. But, the moment was heavy [in 2020]. The moment was Black Lives Matter, obviously the pandemic and everything that came with that. And the [presidential] election.
So, the next natural reaction for me was just to write songs. That's kind of the way that I'm tuned to react to stuff. And it's a tricky situation. Everybody needs music, and I believe it's a unifying force, a force for positivity. And, at least for me, I feel it's the musician's job to reflect the reality around them.
You can only write with what inspires you, you know?
SMN: What surprised you about the process of putting together a solo record, rather than a group effort with the Rangers?
GS: Well, you're ridiculously nimble when you're solo. [With] the Rangers, we're democratic to a fault. We've been together for 20-something years now and have very little turnover. It's definitely has been the right way to go, but it can be slow and it can be messy.
And there were times when I missed the band's input on music. But, it's just so nimble. Like, the cover [photo] to the [solo] album. My other project during the pandemic was that I took my garage stall and turned it into an apartment [for an] Airbnb.
[That Airbnb] was part of my B-game for the pandemic, [in] how to survive [financially]. So, I was jackhammering out the slab at the bottom of my basement for the channels for the plumbing. And just snapped a picture — let's make it the album cover, simple as that.
SMN: The Rangers celebrated 20 years together recently. What do you think about that number, the road from then to now?
GS: Hugely proud of it. You know, for something that started [out in the dorms at UNC-Chapel Hill] with very little expectations besides, "let's just learn how to play this music," I'm unbelievably proud of it — this is our life's work.
SMN: And yet, 20 years probably feels like 20 days sometimes.
GS: It feels like about 20 days. I still think I'm a young man, but last night's [solo gig in Winston-Salem] proved that I'm not. [Laughs]. Driving out there [from Asheville] for the show, do the show, then turn around and drive home.
But, I look back on the Rangers, and I still feel like we're just getting started, I still feel like we're growing into ourselves. And that's a good feeling, there's just so much musical talent and energy in that group, so many different skills that when the thing really starts working and in the energy swirling — it's amazing. It's powerful.
SMN: What's it like to be here in the legendary Studio A, the same place Bill Monroe got his start those many years ago?
GS: It's heavy being in this room. I've heard about this [place] forever, ever since I moved to Asheville. The music scene in Asheville is really, really special. And I feel like it's just getting broader and better all the time. And a lot of it has to do with places like [Studio A], venues like The Orange Peel and The Grey Eagle, and all of the incredible musicians who call these mountains home.
Want to go?
Grammy-winning singer-songwriter Graham Sharp will host an intimate seated show at 8 p.m. Friday, June 18, at The Orange Peel in Asheville. Doors at 7 p.m.
For more information and/or to purchase tickets, go to www.theorangepeel.net and click on the "Shows" tab. To learn more on Graham Sharp, www.grahamsharp.com.