Archived Reading Room
A few lessons in virtue from a veteran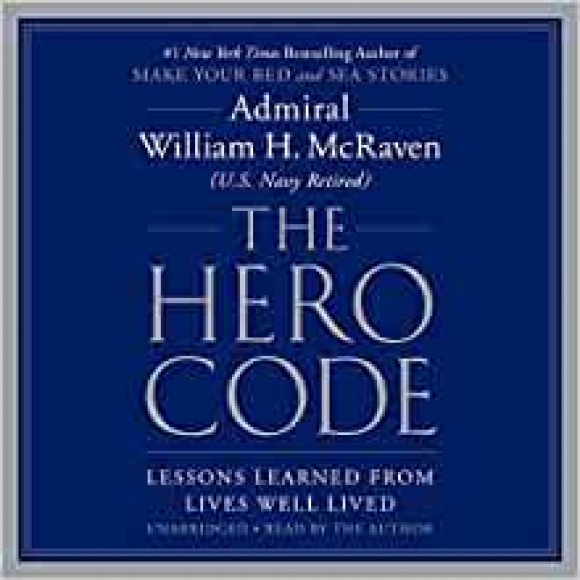 On the shelves around the room where I write and work a visitor would find all sorts of books, including a few "self-help" guides and manuals on writing and composition. My theory on spending money on such books is this: If they contain even one piece of advice, however small, that might improve my life or my writing, then the money I paid for that book is more than worth that expense.
Admiral H. McRaven's The Hero Code: Lessons Learned From Lives Well Lived (Grand Central Publishing, 2021, 157 pages) came to me via the public library, and I doubt I will purchase my own copy — I've made a conscious effort the last two or three years to cut down on my book buying — but here's a slender book with some great stories and some life-affirming advice.
McRaven, author of the bestsellers Make Your Bed and Sea Stories: My Life in Special Operations, served for 37 years in the Navy Seals and takes many of his stories from his time in the service and the military personnel with whom he worked. We travel with him from the Pentagon to Afghanistan, and we learn of the exploits of battlefield heroes and those who have gone above and beyond the call of duty in other areas of life, like actor Gary Sinise, most famous for his role as Lieutenant Dan in the film "Forrest Gump," whom McRaven met when Sinise was personally delivering pallets of school supplies for Afghani children.
McRaven divides The Hero Code into chapters under such titles as "Humility," "Sacrifice," "Compassion," and "Humor." After telling his stories of the role models who exhibit these virtues, he ends these chapters with a short reflection on the virtue discussed, followed by a simple summary under "The Hero Code." Under "Hope," for example, McRaven speaks of the hope Gary Sinise brings to veterans through his assistance to wounded warriors and to the families of those who have lost loved ones in combat. He then writes how some of us have difficulty taking the time to be kind to others.
"Fortunately, the fix is easy: one dollar for the homeless, one hour at a soup kitchen, one dinner for the church bazaar, one thank-you for returning soldiers, one small act of kindness to forge your character, strengthen your soul, and keep you connected to the rest of the world."
And under "The Hero Code" for this chapter is "I will be kind and compassionate to at least one person every single day and expect nothing in return."
McRaven begins his book by recounting his boyhood adoration of Superman. In the "Epilogue," he reminds us that if we open our eyes we find heroes all around us, "common people thrust into the crucible of action," men and women who do the right thing even at great personal cost. He ends with these words about heroes, touching again as he does so on The Man of Steel of his youth:
"Their actions rise above the crowd. They separate themselves from the weak-kneed, the bench-sitters, those who lack the moral fortitude to do the right thing, and in the end, the heroes make us better people, a better society, and a better world. As much as I hoped the Man of Steel would be around to save the world, he is not. It is up to us. It is up to you."
If you're looking for some inspiration in a bad time, or if you just want a small book chock full of good stories, The Hero Code is the book for you.
•••
A few years ago, I spent almost 12 months making my way through Will and Ariel Durant's 11-volume magnum opus, The Story of Civilization. Along the way I marked many pages and passages with slips of paper or penciled comments, and the set still sits on my shelves looking as much like a hedge hog as books can look.
In writing an article about Roman women and their virtues for another publication, I recently opened Will Durant's volume titled Caesar and Christ. I had forgotten his wit and his way with humor and language. At the time I read these books, I even considered putting many of these observations, some of them now politically incorrect, into a book of its own.
Here are a few of these "Durantisms" from Caesar and Christ to brighten your day and perhaps give you pause for thought:
On the power of Roman women: "Since the greater urgency of the male supplies women with charms more potent than any law, her status in Rome must not be judged from her legal disabilities."
On judging famous leaders from the past: "We must think of Caesar as at first an unscrupulous politician and a reckless rake, slowly transformed by growth and responsibility into one of history's most profound and conscientious statesmen. We must not forget, as we rejoice at his faults, that he was a great man notwithstanding."
On the impact of wealth on families in the later republic: "Children were now luxuries which only the poor could afford."
On the growth of "reckless luxury" among the upper classes: "'The citizens,' Cato mourned, 'no longer listen to good advice, for the belly has no ears.'"
On the fall of Rome: "The political causes of decay were rooted in one fact — that increasing despotism destroyed the citizen's civic sense and dried up statesmanship at its source.
On Rome's influence and a long thought: "Our Roman heritage works in our lives a thousand times a day."
(Jeff Minick reviews books and has written four of his own: two novels, Amanda Bell and Dust On Their Wings, and two works of nonfiction, Learning As I Go and Movies Make the Man. This email address is being protected from spambots. You need JavaScript enabled to view it.)