Archived Outdoors
Trail race proceeds help SCC students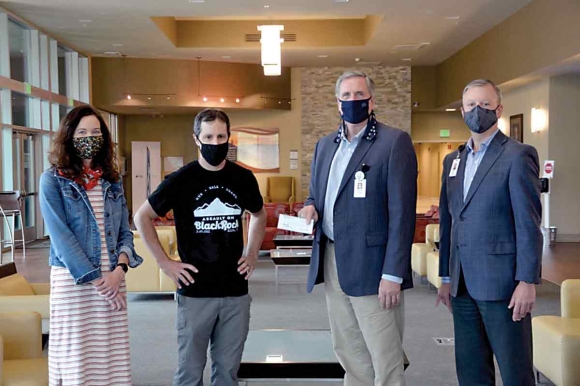 Dominique (from left) and Brian Barwatt present a donation from the Assault on Blackrock trail race to SCC President Dr. Don Tomas and SCC Foundation Director Brett Woods. Donated photo
The 2021 Assault on Blackrock trail race raised $4,100 for the Southwestern Community College Student Emergency Fund.
"I try to give the proceeds from the race to different organizations in Sylva every year," said Race Director Brian Barwatt. "I've graduated from and worked at SCC, and Scott Clontz with his graphic design students have helped with the race for years. I felt it was a good time to give back to the college."
The Student Emergency Fund was created by the SCC Foundation to support students who encounter a sudden financial emergency that could impact their education at SCC. Contribute to the fund at www.southwesterncc.edu/sef.