Archived Arts & Entertainment
This must be the place: I feel summer creepin' in and I'm tired of this town again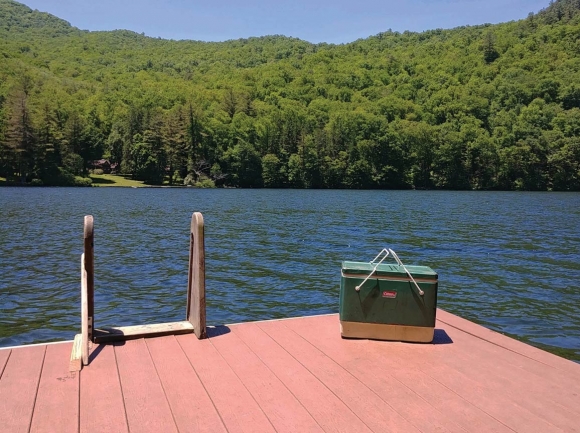 Grandpa's cooler on Lake Logan. (photo: Garret K. Woodward)
He walked into the bar, grabbed a seat next to me, and proceeded to order four shots of Jameson Irish whiskey. He was surrounded by two friends to the left and one friend (me) to the right. I figured he was buying us a round, even if I wasn't in the mood for liquor this past Monday evening.
Nope. He ordered the shots and when the bartender placed all four glasses in front of him, he grabbed one, tapped the wooden counter with a salute of the glass, and threw it down, leaving the other three shots unattended and quiet. Purposely silent.
He swallowed the firewater and shook his head back into reality, his gaze raising upward with a 1,000-yard stare — through the bartender, the back wall, through the window onto the parking lot, onward into the never-ending abyss outside.
His name is John, and he's been a friend of mine for, well, at least a few years at this point. We met a while back at The Water'n Hole on North Main Street in Waynesville, a blurry interaction of camaraderie and conversation way past the midnight hour. Shots of whiskey and cheap domestic beers shared between us.
Monday night, his clothes smelled of long gone and smoked cigars. His words spoke of his tours of duty as a Marine overseas in the Middle East. We were the same age, same taste in music, same life philosophies, same dreams of global travel. And yet, he had served and experienced war first-hand. I had not.
"Hey, brother, where have yah been?" I said, extending my hand to shake his.
"I've been driving a lot. All over the country — for work, for whatever. Doing a lot of thinking," he said with a heavy presence.
"Well, I just wanted to say again, thank you for your service," I leaned in and said in a humble tone. His next beer was on me as he waited for his to-go order.
"And I appreciate that," he said quietly. "But, today is not my day. Today is their day, all three of'em." He then gestured to the untouched three shots of Jameson, symbolizing three friends of his, three fellow soldiers who didn't make it home.
John finished his (now) lukewarm domestic beer. He grabbed the bartender's attention and paid his bill, but not before telling her to leave those three shots of Jameson alone at the end of the counter, at least until the bar closed.
She said OK. He smiled with a slight tear in his right eye, only to shake my hand goodbye and leave the bar. Exit to the parking lot, crank the engine of his truck, go home and try again tomorrow.
In his absence, I sat there on the barstool. Empty seats now on both sides of me. NHL Stanley Cup Playoffs on the numerous glowing TVs in seemingly every direction of where I was positioned. I sipped my beer and smiled as I watched my beloved Montreal Canadiens win Game 7 of this divisional round against the Toronto Maple Leafs.
Monday night. Memorial Day 2021. Earlier that afternoon, I found myself on a dock on Lake Logan, in the depths of Haywood County. Warm sunshine and cold mountain waters. Friends and laughter. Grilled hot dogs and ice-cold beer.
Nearby on the dock, as per usual, was my late grandfather's old Coleman cooler, used for decades on his hunting and fishing trips in the North Country. He served in the Army and was there at Pearl Harbor on Dec. 7, 1941. I thought of all he saw and partook in amid the Pacific Theatre.
I thought of my other late grandfather and all he witnessed in the European Theatre, especially during the Battle of the Bulge. I thought of all my extended family and ancestors who all served, some never coming home.
I thought of all the World War II, Korean War and Vietnam War veterans that I've interviewed over the years as a journalist, telling their stories through the written word. I thought of my high school buddies who left our hometown for Iraq and/or Afghanistan, many never the same when we'd cross paths later on.
And I thought of how lucky I was to sit on that lake, in that sunshine and with those friends, in that moment, in a place where I'm free to roam and free to think, free to choose, and with the deeply-held right to stand up for others.
Shortly after John left, the bar soon turned a sing-along once Tom Petty & The Heartbreakers' "Mary Jane's Last Dance" came over the speakers. Several patrons erupted into a sense of solidarity amid odd times, even though the struggles of the human condition are as eternal as they remain mysterious, "Well, I don't know, but I've been told/You never slow down, you never grow old/I'm tired of screwin' up, tired of going down/Tired of myself, tired of this town."
Monday night. The smile on my face slowly evened out once the hockey game ended and I thought of John, of all my old friends who served in the military, of those I never knew (but will always love) who also served, and of those I will befriend along this continued journey of understanding, humanity, and the push to make sense of why people do what they need to do to preserve justice and compassion for others.
Life is beautiful, grasp for it, y'all.
Hot picks
1 Frog Level Brewing (Waynesville) will host Kevin Fuller (singer-songwriter) 4 p.m. Sunday, June 6.
2 Lazy Hiker Brewing (Franklin) will host Duo of the Decade June 4, Positive Mental Attitude (rock/roots) at 8 p.m. Saturday, June 5.
3 The Classic Wineseller (Waynesville) will host a special dinner show with Sheila Gordon (vocals/piano) at 7 p.m. Saturday, June 5.
4 "Pickin' on the Square" (Franklin) will host Lisa Boone Band (variety) 7 p.m. Saturday, June 5.
5 Nantahala Outdoor Center (Nantahala Gorge) will host "Bluegrass with Blue" at 6 p.m. Friday, June 4.