Archived News
Eviction moratorium expiration looms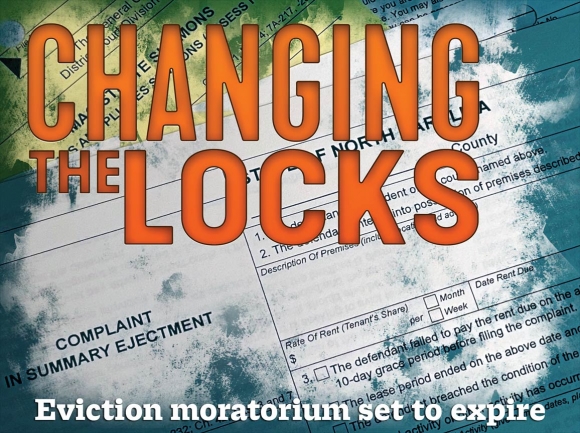 The Coronavirus Pandemic appears to be winding down and with it, protections designed to ameliorate the ensuing economic devastation that would have wreaked further havoc on vulnerable low-income populations.
Although the best known protections include extended eligibility for enhanced unemployment payments, a lesser known provision of the Trump administration's COVID-19 response could soon result in a flood of evictions, exacerbating the existing homelessness problem across the country, when it expires on June 30.
"I expect there to be a lot more filings in a short period of time and a lot of fairly large money judgements against tenants who haven't been paying," said Chase Wells, a Murphy native and attorney with Legal Aid of North Carolina's Sylva office.
SEE ALSO:
• Eviction moratorium strains local landlords
• Housing cases double for Legal Aid
• Mountain Projects receives affordable housing grant
Legal Aid is a statewide non-profit law firm that provides a variety of free services to low-income North Carolinians in the seven westernmost counties. Since last September, it's been more difficult for landlords to evict tenants due to non-payment of rent, but that could soon change.
"When the CDC order first came out last year, evictions slowed down significantly but there have been more and more fillings every month since then," Wells said.
In 2019, there were 637 small claims cases filed in Haywood County, according to Clerk of Courts Hunter Plemmons. The majority of those were evictions. The same goes for 2020, during which 404 cases were filed. Through early May 2021, there were 90 evictions actions filed.
The legal term for evictions in North Carolina is "summary ejectment," and there are basically four different reasons it can occur.
The first and most common reason is nonpayment of rent.
Another is when a tenant stays beyond the end of their lease and becomes what's called a "holdover." This is especially prevalent with people who have a month-to-month lease. Often, these kinds of leases are oral.
"Leases can be oral or written. In fact, you don't even have to say a word, if someone who owns a piece of property just looks at you and nods and you go and start living on the property and paying rent by the month, then you've established just by your conduct a month-to-month lease," said Wells.
The third reason is when a specific term in the lease has been violated, like no pets, no smoking, upkeep/lawn responsibilities or excessive guests.
The final reason is criminal activity taking place on the premises, although the standard of proof is far lower than in criminal courts.
"In a criminal court, we've all heard the expression, 'beyond a reasonable doubt.' The state has to prove to the jury beyond a reasonable doubt that a criminal action has occurred, and every element of that crime has occurred," Wells said. "In civil court, for evictions, you don't have to prove it beyond a reasonable doubt, you have to prove it by a lower standard — essentially, that it's very likely that it did occur."
The summary ejectment process begins with a notice to vacate. A lot of times, the lease will outline a waiting period between delivery of the notice and the landlord filing an action in court. In an oral, month-to month lease, notice is defined by law as seven days. People on a week-to-week lease get two days unless otherwise stipulated in the lease (if there is one). People on a yearly lease get 30 days, and tenants who own a mobile home but rent the lot get 60.
If the case originates due to an alleged breach of the lease, there's often a cure period required after notice — like, cut the lawn in five days or you're out.
In nonpayment cases, landlords have to give 10 days' notice before filing.
After the notice period has expired, the landlord will file several documents including a summons, a complaint outlining the type of summary ejectment proceedings and any claims for damages, a servicemembers affidavit (to ensure they're not evicting an active duty or deployed member of the armed forces who may miss the notice) and a CDC affidavit.
The CDC affidavit simply states that the landlord delivered a blank copy of something called a CDC declaration to the tenant. The tenant has to deliver a signed, dated CDC affidavit to the landlord, but should also file one with the clerk of courts as well.
A court hearing must be scheduled within seven days after the landlord files all those documents.
If the landlord gets the judgment they've asked for, there's a 10-day grace period to allow the tenant time to consider an appeal. If the last day of that 10-day period is on a weekend, the deadline becomes the next business day.
Chase Wells, an attorney at Legal Aid of North Carolina's Smoky Mountain office, does plenty of summary ejectment work. Donated photo
On day 11, the landlord can get a writ of possession from the clerk. This is the actual "get out" letter.
A sheriff's deputy then typically gives the tenant five days' notice before executing the writ of possession.
If the tenant appeals, it goes to district court, which is far slower than magistrate court.
Getting a hearing usually takes a month. That period can be further lengthened if tenant files for discovery, asking for things like a copy of the lease, or a copy of payment history. That period can also be lengthened if the tenant files counterclaims, like for not fixing things around the house. Asking for a jury trial can push the date out even further.
During that appeal period, usually the tenant would have to pay what's called "rent bond" to the clerk of court and can be evicted if it's not paid — unless a CDC declaration is in place.
The core of COVID-19 protections aren't automatically granted, but rather center around that all-important CDC declaration.
A CDC order was filed on Sept. 4, 2020, and was originally slated to expire on Dec. 31, 2020, then Jan. 31, 2021, then on March 31, 2021, but ended up being extended through June 30.
Currently, the order covers all residential leases and is described as a "temporary eviction moratorium to prevent the further spread of COVID-19. This Order does not relieve any individual of any obligation to pay rent, make a housing payment, or comply with any other obligation that the individual may have under a tenancy, lease, or similar contract. Nothing in this Order precludes the charging or collecting of fees, penalties, or interest as a result of the failure to pay rent or other housing payment on a timely basis, under the terms of any applicable contract."
To claim protection under the order, a tenant must deliver that CDC declaration to the landlord.
By doing so, in essence the tenant swears that they: have "used best efforts" to obtain rental assistance from governments; have received any stimulus check under the CARES Act; don't expect to earn more than $99,000; cannot pay full rent due to "substantial loss of household income" or medical expenses; are using best efforts to make "timely partial payments that are as close to the full payment … as the individual's circumstances" allow; would likely become homeless or have to move into a shelter or a new residence shared by people living in close quarters; understand they will have to eventually pay all back rent, fees and fines; and understand that when the order expires, the landlord may require payment in full and could initiate summary ejectment proceedings based on non-payment.
If all of those declarations are attested to by the tenant, then the tenant acquires the protections of the CDC order prohibiting evictions so long as the order remains in effect.
The constitutionality of the CDC order has been challenged in other states, but North Carolina Gov. Roy Cooper's Executive Order 171 applies CDC protections to all North Carolina tenants, even if the CDC order is eventually struck down.
It's unclear whether the CDC order will be extended again, and Cooper's order runs though Dec. 31, but it could be repealed at any time, including if the State of Emergency is rescinded.
However, the protections in the order only extend to summary ejectment proceedings based on non-payment, meaning tenants can still be evicted for the other three reasons — being a "holdover," committing a breach of contract or engaging in criminal activity.
"Landlords are finding creative ways to get around this," said Wells.
One example is when a landlord claims a breach case because another person is now living with the tenant in breach of the lease, but that person has already been there for years and the landlord was well aware of their presence, but only filed the breach case after the tenant became three months late on rent.
There are plenty of other horror stories of landlords engaging in illegal tactics to violate the rights of tenants by intimidating them, including supergluing locks, even banging on the sides of trailers with baseball bats to terrify tenants and hasten their departure.
Sometimes, the tactics are downright bizarre, like what happened to Tony Smith and Carolyn Atchley, of Whittier, who weren't late on their rent but were subject to a period of harassment by their landlord last year.
"A day after we signed the lease, she attempted to spend the night with me and my female, tried to push herself in the home," said Smith, speaking of what should have been a sign that the arrangement was off to a bad start.
From there, the landlord began directing prospective tenants for an adjacent unit to Smith and Atchley, who objected. When they complained, the landlord told them that if they didn't like it, they should leave. Then came the harassing phone calls, and the padlock on the gate, and the attempts to disconnect Smith and Atchley's electric service.
Confrontations and police intervention ensued, and after three months, Smith and Atchley were served with summary ejectment papers. Representing themselves, they lost and subsequently appealed while continuing to pay their rent.
After their appeal, they were awarded $2,224 in damages and a refund of their last three months' rent, with the help of Legal Aid.
"They did good," Atchley said of Legal Aid. "Every time we called with a question they answered us, they found the answer. They did real good."
What to do if
you're being evicted right now

• Consult an attorney or contact Legal Aid of North Carolina or Pisgah Legal Services.

• Sign and date the CDC declaration, keep the original, deliver a copy to landlord/property management company in a manner that can be documented (registered mail, photo).

• File the CDC declaration with the court if there's an active eviction case.

• An eviction order can be in place, but if a CDC declaration is also in place, a writ of possession cannot be issued until the CDC declaration expires.
What happens
after the CDC

declaration expires

• We revert to all basic rules without the COVID protections. Tenants are still responsible for all late rent, late fees, utilities, etc.

• For those evicted who still owe damages, they may file for exemptions "notice of rights to have exemptions designated" that protect certain portions of certain assets like cars or trade tools from collections proceedings.

• In North Carolina, wages can only be garnished for child support or taxes.

• There is a 10-year statute of limitations for landlords to collect judgements, but a landlord can file a "new case" to reset the 10-year timer.
Leave a comment
5

comments
Mr. Jerry Cram you are spot on Sir. Glad IM an old man and sold my businesses and property. Why would any honest hard working man or woman keep at it? To heck with these you ones. Let them make it on their own in this world they voted for and defiled America for. Good luck kids.

Friday, 06/11/2021

People who cannot like their lives responsibly always get the bail out. We hard working Americans do for ourselves, save for rainy days, don't have kids out of wedlock and expect everyone else to pay and suffer for them. No wonder nobody wants to work in this country anymore. Roy Cooper wants to break small landlords and he's doing a great job. Embarrassed to say I'm from NC. Once a great state now a liberal welfare state.

Friday, 06/11/2021

For anyone having trouble paying rent, the NC HOPE program has been rebooted. It can provide up to 6 months of rent directly to the landlord. Visit http://www.hope.nc.gov to see if you are eligible and apply.

Wednesday, 06/02/2021

The law always favors the deadbeats... What about the rights of the honest business man or woman who has saved and invested wisely in order to purchase these properties and provide a dwelling for those who are forced to rent?... Doesn't he deserve to be treated fairly? All of the "extensions" and delays are provided to keep the tenant in the home as long as possible without paying rent. Meanwhile, the owner, who likely has a mortgage to pay on the rental property, is forced to keep his payments current or lose the property and damage his or her credit rating. All I read in your paper is whining sentimentality for the poor downtrodden tenant... For God's sake when are we going to stop enabling the deadbeats and start considering the rights of the honest businessman?

Wednesday, 06/02/2021

The law always favors the deadbeats... What about the rights of the honest business man or woman who has saved and invested wisely in order to purchase these properties and provide a dwelling for those who are forced to rent?... Doesn't he deserve to be treated fairly? All of the "extensions" and delays are provided to keep the tenant in the home as long as possible without paying rent. Meanwhile, the owner, who likely has a mortgage to pay on the rental property, is forced to keep his payments current or lose the property and damage his or her credit rating. All I read in your paper is whining sentimentality for the poor downtrodden tenant... For God's sake when are we going to stop enabling the deadbeats and start considering the rights of the honest businessman?

Wednesday, 06/02/2021