Archived News
Home sales double over 2020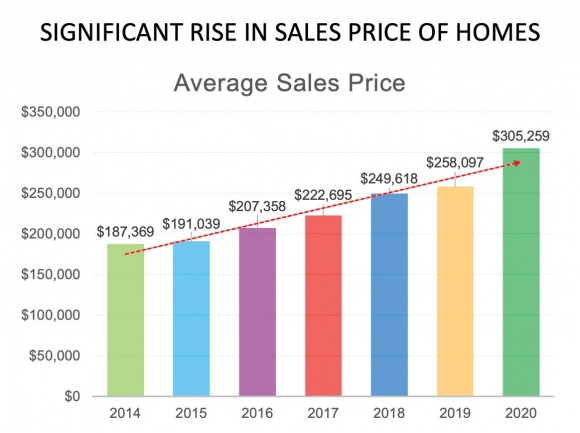 With vaccinations underway and COVID-19 restrictions easing, April home sales rose 48.8 percent year-over-year with 1,138 homes sold across the Asheville region.
This time last year, home sales across the 13-county region declined 14.5 percent year-over-year, as buyers, sellers and agents were sidelined during lockdowns. Month-over-month, April 2021 sales were nearly on par with March 2021 sales, declining slightly by 1.9 percent. These are completed transactions from Canopy MLS that include single-family homes, condos and townhomes across the 13-county Asheville region.
The region's pending sales activity, or contracts where offers have been submitted but have not yet closed, rose significantly by 91.2 percent year-over-year and totaled 1,417 compared to 741 contracts submitted in April 2020. Compared to March 2021, contract activity is up a modest 3.6 percent.
New listing activity showed sellers responding favorably to the spring market, rising 53.3 percent year-over-year with 1,438 properties listed versus 938 properties listed in April 2020. New listings compared to March 2021 are up 9.9 percent month-over-month, while year-to-date figures show the region's new listing activity for the first four months of the year pacing ahead of the same period by 14.4 percent, with sellers listing nearly 600 more properties than they did during the first four months of 2020.
Still, even as inventory declined 62.9 percent year-over-year, leaving 1,541 homes for sale at report time, supply continues to hold steady at 1.3 months of supply in both March 2021 and April 2021. A year ago, in April 2020 there was 4.5 months of supply.
Low supply and high demand continue to push prices higher, with both the median sales price ($330,000) and the average sales price ($408,032) rising 24.1 percent and 29.9 percent year-over-year, respectively. The average list price increased 23.1 percent year-over-year to $471,712 in April, bringing the original list price to sales price ratio to 98.2 percent, while days on market averaged 48 days versus 78 days this time last year.
"The growth in new listing activity is a welcome sign and a trend that we'd like to see continue, as this will definitely help buyers with more choice," said Dave Noyes, a Canopy MLS Board of Directors member and Broker-in-Charge with RE/MAX Results. "We are aware that remote learning and work-from-home situations have kept many sellers from listing, but with summer approaching we hope to see more seller activity. However, buyers still face a difficult and fast-moving market due to inventory challenges."
The Asheville region includes Burke, Buncombe, Haywood, Henderson, Jackson, Madison, McDowell, Mitchell, Polk, Rutherford, Swain, Transylvania and Yancey counties.
Haywood County experienced positive sales trends this past month, as buyers purchased 109 homes in April 2021, an increase of 16 percent year-over-year, while pending sales rose 128.2 percent year-over-year. New listings showed seller confidence continuing to rise, increasing 112.3 percent year-over-year with 172 new listings added to the market compared to 81 new listings added this time last year.
In the short-term this will help buyers with more choice, however with inventory critically low and down 52.3 percent year-over-year to 1.5 months of supply, heavy buyer competition in the county will continue to pressure prices.
For more residential-housing market statistics, visit www.carolinahome.com.