Archived News
June per capita payments exceed pre-pandemic levels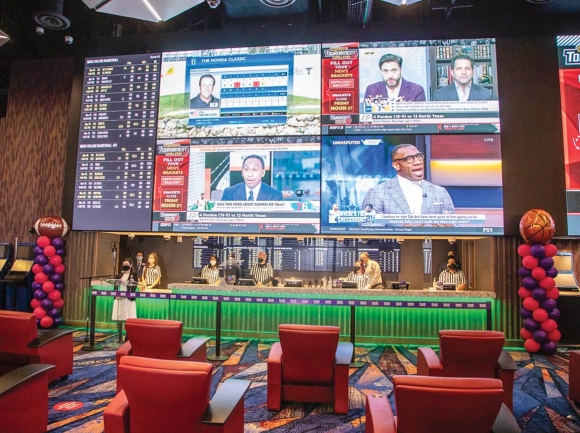 The Book opened as a sports betting venue this March, with locations in both Murphy and Cherokee. Harrah's Cherokee photo
Despite a raging pandemic, Harrah's Cherokee Casinos' revenues for October 2020 through March 2021 delivered a larger per capita payment to tribal members than the last June distribution based on pre-pandemic earnings.
On June 1, the tribe sent out pre-tax distributions of $6,583 per member, or $5,596 after taxes. That's $724 more than the pre-tax amount in the June 2020 distribution, which included two weeks of complete closure at the beginning of the pandemic, and $274 more than the June 2019 distribution, which was based on revenues accrued in a booming economy before COVID-19 was ever heard of.
"The last year has had more than its fair share of challenges, but our customers have been resilient," said Harrah's Cherokee General Manager Brooks Robinson. "Visitation and revenue have steadily increased since reopening last May and exceeded our forecasts each month. This is a testament to our team members who continue to provide world-class customer service while following enhanced health and safety protocols. Without them, our guests may not have felt as confident in returning."
Between October 2020 and March 2021, 1.1 million people visited Harrah's Cherokee Casinos in Cherokee and Murphy, 84.6 percent of the 1.3 million visits logged from October 2019 to March 2020. However, the casino sold 5.4 percent more internal room nights during the 2020-2021 period, 194,000 compared to 184,000.
June distributions are typically smaller than December distributions, which are based on revenues realized during the busier season from April to September. In December 2020, tribal members received a pre-tax distribution of $4,899 — $2,315 less than the record-breaking $7,214 sent out in December 2019.
Currently, the two casinos employ just over 3,300 people, but more than 600 positions are vacant, with jobs available in culinary, hospitality and guest service areas. With a new 725-room hotel, 140,000-square-foot convention center and 2,000-space parking deck opening in late 2021, the casino's need for new hires won't slack off anytime soon.
"We typically see an increase in the number of open positions annually as we go into our busy summer season," said Regional Vice President for Marketing Brian Saunooke. "This year, we are hiring for new amenities like The Book, our new hotel and convention center and several new restaurants, so the impact is amplified."
The Book opened for sports betting in March, with locations in both Cherokee and Murphy. On May 28, Asheville-based Wicked Weed Brewing opened a 12,000-square-foot brewpub on the second floor of the Cherokee casino. The pub features a 36-seat main bar, walk-up tasting bar and small entertainment stage.
In an effort to attract more employees, Harrah's announced in a May 17 press release that it would increase the starting pay rate for all non-tipped positions to $15 per hour, and that many tipped, salaried and experienced employees would see increased compensation too. Additionally, the casino is now offering hiring bonuses between $500 and $3,000.
"Harrah's Cherokee is committed to being the employer of choice in Western North Carolina," the press release reads. "In this competitive job market, we are hopeful that the combination of a $15 per hour starting wage, an exceptional benefits package and hiring bonuses will help us recruit the top talent. We're looking for employees who enjoy building connections with each other and our guests by creating memorable moments — creating the extraordinary."
The number of open positions has been hard on current team members, Saunooke said. Some are being asked to work six-day weeks, and certain areas of the casino have had to constrain their hours of operation.
Harrah's is by far the largest employer in the seven western counties, accounting for about 10 percent of jobs in Jackson, Swain and Cherokee counties. However, it's far from being the only business having difficulty filling open positions — at the moment, "Now Hiring" is the common refrain on business district signs and marquees across the region.