Archived Travel Guide
'A trail for everybody': YouTuber raises funds for Canton bike park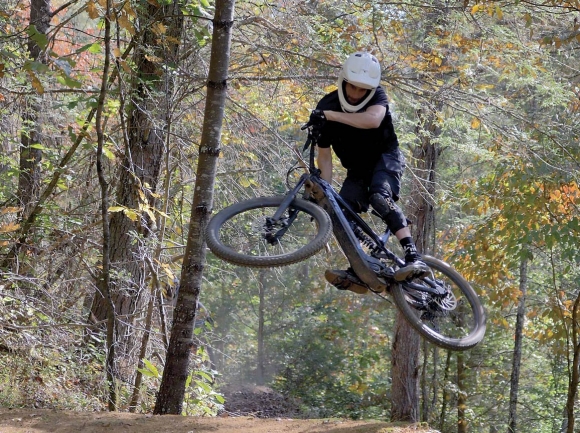 A biker takes a jump at a bike park similar to the one Alvo envisions for Canton. Seth Alvo photo
The first trails at Canton's Chestnut Mountain Park will be ready to ride before the leaves drop this fall thanks to an overwhelmingly successful fundraising effort from Asheville YouTuber Seth Alvo.
Alvo, whose biking-focused YouTube channel "Berm Peak" has more than two million subscribers, had the idea in mind before Canton even announced its intention to open a 448-acre natural park in Haywood County. Having traveled all over the country to ride trails and film his adventures, Alvo wanted to bring something he saw as a norm in other areas of the United States back home to Asheville, where he has lived since early 2017.
"Free public bike parks are really, really common across the United States, especially on the West Coast," said Alvo. "But here on the East Coast they're kind of few and far between, especially the kind of bike park we're building here."
When Alvo started asking around, he quickly heard about the massive outdoor recreation effort that Canton is undertaking just 15 minutes away from downtown Asheville and enthusiastically offered his support.
The previous owners of the 448-acre property, located right off U.S. 23/74 and Interstate 40, considered pursuing various business ventures there before eventually selling it to the Southern Appalachian Highlands Conservancy in 2020 with the town later purchasing an adjacent 3.3-acre parcel. The land trust is placing conservation easements on the property and will soon transfer it to Canton for use as a public park. The town will develop the property in partnership with Haywood County to offer a variety of backcountry and frontcountry recreation experiences.
Alvo's project, which he describes as "a park within a park" will be the first amenity to open there.
"This is one of those projects that will be slow moving," said Canton Mayor Zeb Smathers. "There will be a lot of excitement and there will be a lull, but we are moving into an exciting phase of this. Berm Park will be the first addition and amenity at Chestnut Mountain."
Smathers is hoping to see the park open this summer, though Alvo said the project might not be complete until the fall, depending on weather and other factors, including the town's work schedule. Before work can begin on Berm Park, Canton has to finish building a parking lot and access to it.
Once that's done, the town's next order of business will be to build pedestrian access from the parking lot to the bike trails.
"Our goal for the town especially as we go into budget season is to get people from the parking lot to Berm Park," said Smathers. "So, during the budget season we will see cost estimates for that and how much we will budget for that."
The town and its partners are also seeking grants for various other efforts, including signage, stream restoration and trail building.
Alvo has raised "well north" of $200,000 in business sponsorships and individual donations to build Berm Park, quickly outstripping his original fundraising goal to end up with about 120 percent of that figure.
"Instead of getting millions of companies or thousands of companies to give little bits and find a way to shout them all out, I said to be part of the project you have to cover an entire trail," said Alvo.
While he's not yet ready to announce the project's sponsors, he said they include a bike tool company, bicycle company, national bicycle products retailer, non-alcoholic brewery and an independent donor — a fan of the channel who credits mountain biking with changing his life and health for the better.
Additionally, the project is supported by thousands of people from across the world who are donating $2 per month on Patreon, a subscription platform that allows fans to give to their favorite artists and creators. Many YouTubers use it to earn an income without running ads or securing business sponsorships. Alvo doesn't need Patreon to support his YouTube channel but saw it as the perfect tool to raise support for Berm Park. Now, the project's 2,442 subscribers are contributing nearly $4,400 per month, which Alvo plans to use for maintenance and upkeep of the park until it eventually transitions to a volunteer-supported model.
Western North Carolina may already have tons of mountain biking opportunities, but it's short on offerings that are beginner-friendly and accessible without driving for an hour and packing a bag full of emergency supplies.
"I've seen rescues happen out in Pisgah — it's a really gnarly place, and it's unbelievable and we're lucky to have it, but if you want to start as a beginner, it's really, really intimidating," said Alvo. "We don't have anything for beginners out here. It's sort of baptism by fire if you start mountain biking in Asheville."
Cullowhee and Cherokee both have professionally designed mountain biking trails located close to the heart of their respective communities, but those systems are more backcountry-oriented and don't offer the type of short but progressive loops Alvo has in mind. The Jackson County Greenway opened a kids bike park in collaboration with the Nantahala Area Southern Off Road Bicycle Association in fall 2019, but that location doesn't offer any challenging options for more advanced riders.
"You don't really have anything like this," Alvo said. "The rest of the country does, and I feel like Asheville is just ready for that. We have the people, we have the demand. We build something like that, the parking lot's going to be packed every day."
Asheville-based Elevated Trail Designs will plan and execute the project, which Alvo envisions as a series of flow trails offering enjoyment and challenge for all skill levels — from children trying out a mountain bike for the first time to expert riders perfecting adrenaline-fueled tricks. Berm Park will feature just a couple miles of trail all told, but length is not the point, said Alvo. Rather, the point is to offer progressive, clearly labeled trails of the highest quality that riders can loop again and again and again.
"These entire trails are going to be 'the best part of the trail,' he said. "We're building extremely high-quality trail from top to bottom. You're going to want to ride it again. We're just putting tons of resources into short stretches of trail. It's about putting in laps."
At Berm Park, everybody will start on the same trail — a double-track climbing path from which the five planned descent trails will branch off. The easier routes will start earlier on so that beginning riders will be required to do less climbing and manage a smaller drop in elevation. More advanced riders, meanwhile, might want to try out a slopestyle ride, taking a jump and maybe even doing some mid-air tricks before landing on the other side. However, even these options will be offered with an all-skills-welcome attitude. Riders who fall short of the target will find themselves landing on a sloped dirt bed waiting to catch them.
"We don't have anything to prove," said Alvo. "We want a safe and progressive place for people to ride, and we want it to be fun."
Aesthetic appeal will also be a key element of the park, and Alvo's subscribers are a big part of the reason for that. People from all over the world donated to the project, including residents of Sweden, Austria, Germany and the United Kingdom who are unlikely to ever visit in person.
"It's really important for us to give them a way to feel like they're there, so we're making the park very visually pleasing and we're making it easy for people to take photos and pictures and post it on social media and tag it to give these contributors a way to see what they've built," said Alvo.
An artist from Asheville will create a sculpture featuring the Berm Park logo to go at the top of the park, and it will feature benches at strategic locations and features made of rough-sawn wood designed to look good in photos and videos.
"Any type of bike is going to be welcome here," he said. "There's going to be a trail for everybody."